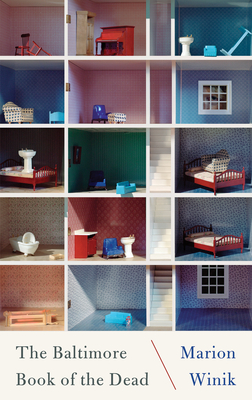 The Baltimore Book of the Dead
Hardcover

* Individual store prices may vary.
Description
"This book is both brief and miraculous, and it will be finished before you're ready to let it go. Like life." —Ann Patchett, author of Commonwealth



When Cheryl Strayed was asked by The Boston Globe to name a book she finds herself recommending time and again, she chose The Glen Rock Book of the Dead. Now, a decade later, that beloved book has a moving companion volume. The Baltimore Book of the Dead is a new collection of portraits of the dead, weaving an unusual, richly populated memoir of compressed narratives.



Approaching mourning and memory with intimacy, humor, and an eye for the idiosyncratic, the story starts in the 1960s in Marion Winik's native New Jersey, winds through Austin, Texas, and rural Pennsylvania, and finally settles in her current home of Baltimore.



Winik begins with a portrait of her mother, the Alpha, introducing locales and language around which other stories will orbit: the power of family, home, and love; the pain of loss and the tenderness of nostalgia; the backdrop of nature and public events. From there, she goes on to create a highly personal panorama of the last half century of American life.
Praise For The Baltimore Book of the Dead…
Praise for The Baltimore Book of the Dead

A Finalist for the 2019 NAIBA Book of the Year in Nonfiction
A PBS NewsHour Best Book of the Year
Winner of the 2019 Towson Prize for Literature
One of the Top Ten Books of the Year, The Star–Ledger (Newark, NJ)

"An affecting collection of brief, incisive portraits of departed figures both public and private." —People

"Crystalline remembrances . . . By turns reverent and wry, intimate and universal, these pieces capture the essence of friends, neighbors, a tiny baby, a young man lost to fentanyl, and even a few celebrities . . . [Winik's] mission is not to be morbid but to find a place in our collective conversation for grief, which might be one of the last social taboos . . . A welcome salve to all of us, and encouragement to honor the people we've lost who are forever with us." —Oprah.com

"Feast on Marion Winik's jewelbox of a book filled with gold nuggets of prose and a fevered passion for life even though much is an homage to death itself. Every sentence is a carefully considered slam dunk . . . Breathless, heartbreaking, invigorating."" —Literary Hub

"With the same candid and humorous writing style she fine–tuned through her years as an All Things Considered commentator, Winik memorializes the departed in short essays that evoke a tender sense of connection in readers." —Baltimore Magazine

"I was so blown away by Marion Winik's ability to artfully distill a person into a few pages that tens of thousands of pages later, I find myself thinking about her subjects. Winik's mission of ensuring those we would never have heard about won't be forgotten is noble . . . Each chapter is extremely short, yet powerful." —Jacqueline Cutler, The Star–Ledger (Newark, NJ)

"Every so often I stumble across books where my first reaction is regret. How have I never heard of this writer? My second reaction is a hunger to read all he or she has written. This does not happen often enough so, please know I do not toss this sort of praise lightly. Marion Winik is one of the most elegant, evocative and incisive writers I have encountered . . . Her gift is using the fewest words to capture their spirits, and though as the title broadcasts, this is a book about the dead, it is a glorious account of living." —The Star–Ledger (Newark)

"Spending time with dead people might make you wonder: Do I want to take this trip? You do, when Winik is telling the stories, two–page hits that read like flash nonfiction, highlight reels of what these people have meant to her, and sometimes to American culture, over the past 60 years . . . Winik's voice is strong and clear, as if she has been called to sing these paeans and she will do it, she's honored to do it, but she's going to do it her way, with elation and sadness . . . Death is always in season, and it takes someone of Winik's good humor and willingness to say, in essence, see that big door there? The one we are all going to walk through? Let's just take a little look now, and know you will be remembered, that you are loved." —Newsday

"The Baltimore Book of the Dead [is] a compilation of 400–word essays—yes, only 400 words!—about people who have died, some known to her, some known to all of us, some not even people. I know that might sound morbid, but it's a joyful and hopeful book." —Laura Lippman, Creative Loafing Tampa

"The 60–plus essays are heartbreaking . . . Additional writings are humorous or tender, offering a glimpse of Winik's own life and tremendous powers of observation. An exquisite, quick read that most will want to reread and turn to when their loved ones are gone." —Library Journal

"This is a book about dead people, and lots of them. The subject matter, however, belies just how lively and joyous this collection of poetic remembrances really is . . . Winik has been writing about death for a long time, which is why it's so impressive that her new collection of hilarious, heartbreaking, and tender vignettes feels so fresh . . . Brevity lends a charmed pithiness, as well as an unexpected momentum, to each story." —Kirkus Reviews

"Empathy figures in Marion Winik's The Baltimore Book of the Dead (Counterpoint, Oct.), along with her sharp eye and wicked wit. This sequel to The Glen Rock Book of the Dead has more achingly beautiful and succinct obituaries of the people (and a few pets) from Winik's wide, idiosyncratic circle of family, friends, colleagues, lovers, and enemies. This superfast read will spur rereading and the terrible wish that more people in Winik's circle would expire just so she could memorialize them." —Library Journal

"In writing about these dozens of deaths, the author is writing about life in general, how quickly it can change and how long a memory can persist, and her life in particular, 'how big ideas about art and revolution were so easily infected with the stupid romance of self–destruction' . . . Insightful pieces with a cumulative impact." —Kirkus Reviews

"[An] unconventional though captivating blend of memoir and biography . . . Throughout these understated portraits, Winik writes with a delightfully light and nuanced hand." —Publishers Weekly

"Trust me on this one: these tiny vignettes about people who have died are the literary equivalent of a fabulous box of chocolates. Winik is so tender and insightful you'll just want more and more." —Musing (Parnassus Books)

"You'll want to read The Baltimore Book of the Dead as slowly as possible because every observation is a marvel, every sentence a heartbreak or a revelation of joy. This book is both brief and miraculous, and it will be finished before you're ready to let it go. Like life." —Ann Patchett, author of Commonwealth

"This slim, deeply moving book is full of elegies that bear witness to the departed and remind us of the beauty and pain and complexity in every life, no matter how obscure. Marion Winik's prose is deceptively rich, suffused with quiet emotion and tender humor. She teaches us how to remember." —Tom Perrotta, author of The Leftovers and Mrs. Fletcher

"Marion Winik's writing is always a wild and true marvel and never more so than in her latest work, The Baltimore Book of the Dead. With riveting compassion, she looks at all the love and the pain and the detritus that accumulates in the corners of all of our lives and pieces together something sad and lovely and new out of it." —Bill Clegg, author of Did You Ever Have a Family

"Marion Winik is such an excellent writer that you will want to gobble up The Baltimore Book of the Dead, but you won't. After each chapter, you will pause and take a breath. You will have experienced the life and death of a stranger made friend, made familiar, through Winik's compassionate genius. Savor every word." —Abigail Thomas, author of What Comes Next and How to Like It

"The Baltimore Book of the Dead is a book about the living, a generous, loving celebration of the sometimes complex, sometimes sticky ties that bind people together. In this series of funny, poignant, and beautifully written portraits, Winik's voice is so warmly intimate and frank and badass, I felt, on finishing this memoir, that they were all as lucky to know her as she was to know them." —Kate Christensen, author of Blue Plate Special and The Last Cruise

"What a strange, perfect little book. Wink's collection of short remembrances proves without a doubt that you can write something personal—in this case, a requiem for people known and lost—while saying something universal about human relationships." —Mary Laura Philpott, Parnassus Books (Nashville, TN)



Praise for The Glen Rock Book of the Dead

"I read this book in one sitting. It's so beautiful, sad, interesting, funny, and true that I simply could not put it down. This is one cool book. Each chapter is about a dead person the author knew. The chapters are short and intense and riveting and beautifully written. Winik has many gifts as a writer, but one I appreciate the most is her ability to write about the hardest, darkest subjects with a light, knowing hand. Situations are bleak, but life is not. Life is hard and hilarious and good and complex and often, entirely inexplicable. Winik shows us that in this book. I love The Glen Rock Book of the Dead. I think you will too." —Cheryl Strayed, author of Wild

"Few among us, when we die, will be lucky enough to be eulogized as intriguingly as the individuals in Marion Winik's The Glen Rock Book of the Dead. The slender and elegantly illustrated volume chronicles the stories of some 50 individuals the author once knew, compressing their lives and personal significance into brief, two–page essays. The eighth book from this critically acclaimed writer and poet is a sort of modern–day version of Edgar Lee Masters' Spoon River Anthology – the almost century–old classic that told the tale of a town in the voices of its deceased." —Susan Carpenter, The Los Angeles Times

"Much of literature is elegiac in nature. Much of Winik's propulsive, come–clean writing has been about coping with loss. So it makes sense that her newest essay collection comprises tributes to her dead. Glen Rock is the quiet place she lives; Spoon River Anthology was her template. Bold and funny, Winik is the queen of pithiness and punch, and the micro–lives she has created here are far more difficult to forge than their brevity and blithe tone might suggest. Each family member, friend, lover, or neighbor is identified by occupation, temperament, obsession, or curse, such as The Art Star, The Junkie, The Mah Jongg Player, The Bad Influence. And each portrait is a window onto some aspect of Winik's life, one that has been pitted and torn by deaths accidental, suicidal, and simply tragic, including many due to AIDS. It is a fine and noble act to remember the dead as Winik has with candor, bemusement, and sorrow, and her gracefully crafted miniatures will inspire others to summon memories of their own lost ones." —Donna Seaman, Booklist

"... Although she's known many people who died young, in sad or unsavory ways, the book is uplifting, funny and deep. This is partly because Winik resists the temptation to be overly reverent or poetic, though there are plenty of graceful passages. Her fascinating, tiny tributes tell the bare–assed truth about relationships while coming together to create a portrait of Winik's own imperfect, love–filled life." —Marcia Menter, More; Ten Best Books of 2008

"Spoon River Anthology as told by a female Jack Kerouac." –This Week's Book

"Winik offers memoir, prose and warmth – expressed with precise evocative details." —Diane Scharper, Baltimore Sun

"The Glen Rock Book of the Dead is a quiet tour de force from former Austinite Marion Winik." —Mike Shea, Texas Monthly

"I only hope that Winik will continue to write, and share her insightful stories with the world. If that requires her to use a sixth sense, talk to dead people, reminisce old times, I won't be one to judge." —Jess Krout, Hanover Evening Sun

"The truth, so tragic and so exhilarating, is the gift Marion Winik offers up with honesty and compassion in this incomparable book." —Harvey Freedenberg, Harrisburg Patriot–News's Sunday magazine

"If you have read First Comes Love—Winik's memoir about her marriage to a gay man and his death from AIDS—you may imagine what you are in for: equal parts laceration and exhilaration, 100% brilliance. To say there has never been a book like this doesn't begin to get at my admiration for what Winik does here—I'm dazzled by the highwire act of her writing, her willingness to go deep and then go deeper, and her immense wisdom about life . . . If you have the guts to read this book—easily the most powerful document I've read in years—you will almost surely make your own list of the lost. You can't not.The Glen Rock Book of the Dead is that haunting, that beautiful, that necessary." —Jesse Kornbluth, HeadButler.com

"Alongside the numerous deaths from AIDS and the poignant lament that there are no gay couples of Winik's generation, there is a house ravaged by Katrina, a soldier lost in Iraq, the World Trade Center, Winik imbuing each departed with a dignity and grace everyone deserves in death but might not have had in life . . . Death comes, they say, like a thief in the night. It comes for all of us; if we're lucky, there is a Marion Winik in our lives to document who we were and what we meant as we cool our heels in the VIP lounge of the afterlife. We all deserve it, and, as evidenced by this book, no one knows that more keenly than Marion Winik." —Melanie Haupt, Austin Chronicle
Counterpoint, 9781640091214, 160pp.
Publication Date: October 9, 2018
About the Author
Longtime All Things Considered commentator MARION WINIK is the author of First Comes Love, The Glen Rock Book of the Dead, and seven other books. Her Bohemian Rhapsody column at BaltimoreFishbowl.com has received the Best Column and Best Humorist awards from Baltimore Magazine, and her essays have been published in The New York Times Magazine, The Sun, and many other publications. She is the host of The Weekly Reader radio show and podcast, based at the Baltimore NPR affiliate. She reviews books for Newsday, People, and Kirkus Reviews and is a board member of the National Book Critics Circle. She is a professor in the MFA program at the University of Baltimore.
or
Not Currently Available for Direct Purchase