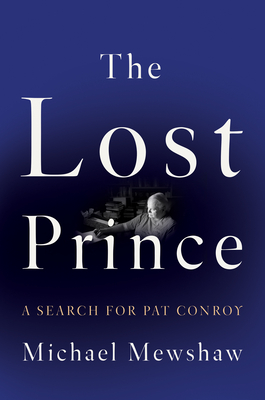 The Lost Prince (Hardcover)
A Search for Pat Conroy
Counterpoint LLC, 9781640091498, 256pp.
Publication Date: February 26, 2019
* Individual store prices may vary.
Description
At once a moving story of friendship, a memoir, a biography, and an attempt to come to peace with a deeply camouflaged author, Pat Conroy. Pat Conroy was America's poet laureate of family dysfunction. A larger-than-life character and the author of such classics as The Prince of Tides and The Great Santini, Pat was remembered by everybody for his energy, his exuberance, his self-lacerating humor. Michael Mewshaw's The Lost Prince is an intimate memoir of his friendship with Pat Conroy, one that involves their families and those days in Rome when they were both young--when Conroy went from being a popular regional writer to an international best-seller. Shortly before his 49th birthday, Conroy telephoned Mewshaw to ask a terrible favor. With great reluctance Mewshaw did as he was asked--and never saw Pat Conroy again. Although they never managed to reconcile their differences completely, Conroy later urged Michael to "write about you and me and what happened . . . I know it would cause much pain to both of us but here is what the story has that none of the others have." The Lost Prince is Mewshaw's fulfillment of a promise.
About the Author
MICHAEL MEWSHAW's five decade career includes award-winning fiction, nonfiction, literary criticism and investigative journalism. He is the author of the nonfiction works Sympathy for the Devil: Four Decades of Friendship with Gore Vidal and Between Terror and Tourism; the novel Year of the Gun; and the memoir Do I Owe You Something? He has published in the New York Times, the Washington Post, the Los Angeles Times and numerous international outlets. In winter he lives in Key West, Florida, with his wife Linda.