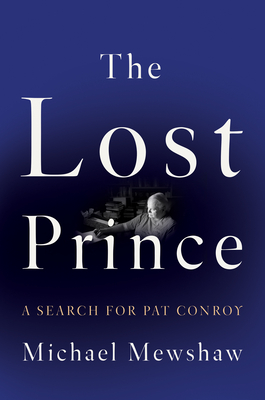 The Lost Prince
A Search for Pat Conroy
Hardcover

* Individual store prices may vary.
Other Editions of This Title:
Digital Audiobook (2/25/2019)
Description
"In The Lost Prince Michael Mewshaw sets down one of the most gripping stories of friendship I've ever read." —Daniel Menaker, author of My Mistake: A Memoir

Pat Conroy was America's poet laureate of family dysfunction. A larger–than–life character and the author of such classics as The Prince of Tides and The Great Santini, Conroy was remembered by everybody for his energy, his exuberance, and his self–lacerating humor.

Michael Mewshaw's The Lost Prince is an intimate memoir of his friendship with Pat Conroy, one that involves their families and those days in Rome when they were both young—when Conroy went from being a popular regional writer to an international bestseller. Family snapshots beautifully illustrate that time. Shortly before his forty–ninth birthday, Conroy telephoned Mewshaw to ask a terrible favor. With great reluctance, Mewshaw did as he was asked—and never saw Pat Conroy again.

Although they never managed to reconcile their differences completely, Conroy later urged Mewshaw to write about "me and you and what happened . . . i know it would cause much pain to both of us. but here is what that story has that none of your others have." The Lost Prince is Mewshaw's fulfillment of a promise.
Praise For The Lost Prince: A Search for Pat Conroy…
Praise for The Lost Prince

Long–listed for the 2020 PEN/Jacqueline Bograd Weld Award for Biography


"Anyone who has lost a friend can relate to this compassionate but no–holds–barred memoir by Michael Mewshaw about his complicated relationship with Pat Conroy. A prolific writer of fiction and nonfiction, Mewshaw met Conroy in the 1980s when they were ex–pats in Rome. The book chronicles their decadeslong friendship." —Suzanne Van Atten, Atlanta Journal–Constitution, 1 of 10 Southern Books We Want to Read This Year

"Michael Mewshaw is an exquisite writer, and The Lost Prince is a gem traveling a path that is mostly unchartered." —David Rothernberg, WBAI, Any Saturday

"[A] resonantly poignant memoir . . . It is the remembrance of his Conroy experiences that forms the basis of this charming autobiographical story . . . The book's lasting value lies in Mewshaw's letting Conroy's vibrancy, whether striking the reader as a positive or negative factor, shine through." —Booklist

"At heart, this fascinating memoir from Mewshaw . . . of his friendship with the late novelist Pat Conroy is a love story . . . An honest, eminently readable look at the fraught but rewarding bond between two writers." —Publishers Weekly

"Novelist and journalist Mewshaw's . . . portrait of his close friend Pat Conroy (1945–2016) is breezy, sympathetic, and affectionate . . . The book is full of wonderful anecdotes and vignettes about fellow writers . . . A fiercely honest and melancholy portrait of a 'protean figure who cast a large shifting shadow.'" —Kirkus Reviews

"In The Lost Prince Michael Mewshaw sets down one of the most gripping stories of friendship I've ever read. With joy and sadness, and great psychological acuity, Mewshaw redeems and supersedes his often turbulent connection to Pat Conroy with the two qualities essential to all great stories: honesty and love." —Daniel Menaker, author of My Mistake: A Memoir

"The Lost Prince: A Search for Pat Conroy is a book about male bonding rituals and reversals, but it's also about so much more than that. It's about how perplexed and inadequately prepared we can be as characters who pop up in other people's lives. It's about unknowability and its repercussions. It's a fluidly written, fascinating book about Michael Mewshaw and Pat Conroy caught in the crossbeams of past and present, fated to overlap, bond, retreat, and then—as Mewshaw clearly hopes—to unite in a different configuration a final time." —Ann Beattie, author of The Accomplished Guest
Counterpoint, 9781640091498, 288pp.
Publication Date: February 26, 2019
About the Author
Michael Mewshaw's five–decade career includes award–winning fiction, nonfiction, literary criticism, and investigative journalism. He is the author of the nonfiction works Sympathy for the Devil: Four Decades of Friendship with Gore Vidal and Between Terror and Tourism; the novel Year of the Gun; and the memoir Do I Owe You Something? He has published in The New York Times, The Washington Post, Los Angeles Times, and numerous international outlets. He spends much of his time in Key West, Florida.