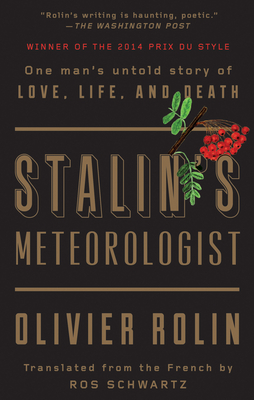 Stalin's Meteorologist (Paperback)
One Manas Untold Story of Love, Life, and Death
Counterpoint LLC, 9781640091573, 192pp.
Publication Date: December 11, 2018
* Individual store prices may vary.
Description
Winner of the 2014 Prix du Style "Rolin proves to be a comforting and companionable guide to a gruesome period of history . . . Stalin's Meteorologist serves two functions: for readers to pay tribute to the victims by bearing witness to their oppressor's crimes, and to understand the measures dictators take to silence their enemies, even a devoted husband and father with his head in the clouds." --Los Angeles Times In 1934, the highly respected head of the Soviet Union's meteorology department, Alexey Feodosievich Wangenheim, was suddenly arrested without cause and sentenced to a gulag. Less than a year after being hailed by Stalin as a national hero, he ended up with thousands of other "political prisoners" in a camp on the Solovetsky Islands. He was violently executed in 1937--a fact kept from his family for nearly twenty years. Stalin's Meteorologist casts light on the devastating consequences of politically inspired paranoia and the mindlessness and trauma of totalitarianism--relevant revelations for our time. Olivier Rolin masterfully weaves together Alexey's story and his eventual fate, drawing on an archive of letters and delicate drawings of the natural world that Wangenheim sent to his family from prison.
About the Author
OLIVIER ROLIN's three books have all been critically acclaimed and have won prizes in France: Port Sudan won the Prix Femina in 1994, Paper Tiger won the 2003 Prix France Culture, and The Meteorologist was awarded the Prix du Style in 2014. ROS SCHWARTZ is an English literary translator, who translates Francophone literature into English. In 2009 she was awarded the Chevalier d'Honneur dans l'Ordre des Arts et des Lettres for her services to French literature.