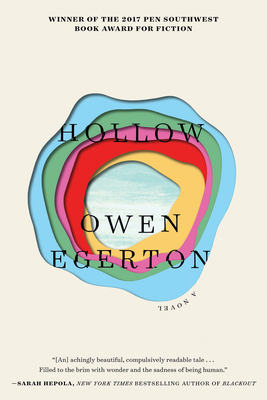 Hollow (Paperback)
Counterpoint LLC, 9781640091610, 256pp.
Publication Date: December 11, 2018
* Individual store prices may vary.
Description
Winner of the 2017 PEN Southwest Book Award for Fiction
An NPR Best Book of 2017, now in paperback When Oliver Bonds loses his toddler son and undergoes intense legal scrutiny over his involvement, grief engulfs him completely. His life is upended, costing Oliver his wife, home, and faith. Three years after his son's death, Oliver lives in a shack and frequents the soup kitchen where he used to volunteer. It's only when befriended by Lyle, a bombastic, oversexed con artist with a passion for conspiracy theories, that Oliver begins to re-engage with the world. Inspired by Lyle and a community of eccentrics, Oliver becomes convinced that the Earth is hollow and holds a true Eden. Desperate to find a place where he can escape his past, Oliver chases after the most unlikely of miracles. With unforgettable characters, wild imagery, and dark humor, Hollow explores the depths of doubt and hope, stretching past grief and into the space where we truly begin to heal. "With the kind of grace not usually seen in accessible modern fiction, Egerton also invokes many other things with this central metaphor . . . Ollie's voice is one of the most believable I've encountered this year, sustained by honesty, realism, and compassion. In his exile, Ollie has taken stock. His reckoning with the past creates the story's exquisite tension and makes the final scene bloom with tenderness . . . The core of Hollow is anything but." --NPR
About the Author
OWEN EGERTON is the author of two novels, The Book of Harold and Everyone Says That at the End of the World, and one story collection, How Best to Avoid Dying. He's also the writer and director of the psychological horror film Follow. His pieces have appeared in The Huffington Post and Salon. He cowrote the creative writing guide This Word Now with his wife, poet Jodi Egerton. Egerton also hosts public radio's The Write Up.