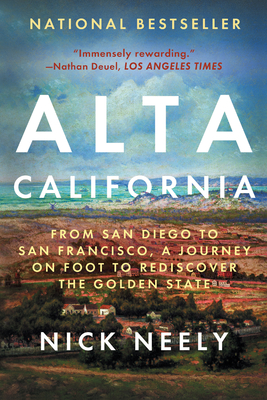 Alta California
From San Diego to San Francisco, A Journey on Foot to Rediscover the Golden State
Hardcover

* Individual store prices may vary.
Other Editions of This Title:
Paperback (6/9/2020)
Compact Disc (4/14/2020)
MP3 CD (4/14/2020)
Description
This national bestseller chronicles one man's 650–mile trek on foot from San Diego to San Francisco—sure to appeal to readers of naturalist works like Edward Abbey's Desert Solitaire, Paul Thoreau's On the Plain of Snakes, and Mark Kenyon's That Wild Country.

In 1769, an expedition led by Gaspar de Portolá sketched a route that would become, in part, the famous El Camino Real. It laid the foundation for the Golden State we know today, a place that remains as mythical and captivating as any in the world.

Despite having grown up in California, Nick Neely realized how little he knew about its history. So he set off to learn it bodily, with just a backpack and a tent, trekking through stretches of California both lonely and urban. For twelve weeks, following the journal of expedition missionary Father Juan Crespí, Neely kept pace with the ghosts of the Portolá expedition—nearly 250 years later.

Weaving natural and human history, Alta California relives Neely's adventure, while telling a story of Native cultures and the Spanish missions that soon devastated them, and exploring the evolution of California and its landscape. The result is a collage of historical and contemporary California, of lyricism and pedestrian serendipity, and of the biggest issues facing California today—water, agriculture, oil and gas, immigration, and development—all of it one step at a time.

"Rich in little–known history . . . Up the Santa Barbara and San Luis Obispo county coasts, then inland into the Salinas Valley to Monterey Bay. Somewhere along here, the owl moons and woodpeckers do something you might not have thought possible in 2019: they make you fall, or refall, in love with California, ungrudgingly, wildfires and insane housing prices and all . . . What a journey, you think. What a state." —San Francisco Chronicle
Praise For Alta California: From San Diego to San Francisco, A Journey on Foot to Rediscover the Golden State…
NATIONAL BESTELLER

Long–listed for the 2019 Northern California Golden Poppy Book Award in Fiction

"In the summer and autumn of 2016, Nick Neely walked from San Diego to San Francisco Bay—a six–hundred–and–fifty–mile trek that took him twelve weeks to complete. He was following the trail of the Gaspar de Portolá expedition, a Spanish convoy that made its way up the California coast in 1769. Portolá's men are traditionally called explorers, but they were really invaders . . . That grim history has been much in the news in California in recent weeks: indigenous activists have toppled statues of Padre Junípero Serra, who travelled with the Portolá expedition. Alta California, Neely's account of his improbable journey, touches on many other layers of California's fiendishly complex history. An uncommonly sensitive writer, Neely trains his eye equally on the natural landscape, on plant and animal life, and on the variegated human worlds through which his strange itinerary takes him . . . What results is a kind of rhapsody of Californian chaos, emerging in densely packed but lyrically shaped paragraphs." —Alex Ross, The New Yorker

"Neely is a skillful writer, wry and watchful . . . Alta California is also rich in little–known history, much of it pulled from the journal of Franciscan father Juan Crespi, who accompanied Portola . . . up the Santa Barbara and San Luis Obispo county coasts, then inland into the Salinas Valley to Monterey Bay. Somewhere along here, the owl moons and woodpeckers do something you might not have thought possible in 2019: they make you fall, or refall, in love with California, ungrudgingly, wildfires and insane housing prices and all . . . What a journey, you think. What a state." —Peter Fish, San Francisco Chronicle

"Constantly vibrating at the background of Neely's journey is his single–minded focus on the original trek . . . That ghostly 650 miles of the original trek, known as the El Camino Real, is a great way to talk about how much has changed, but it's also an artful way for Neely to think critically about some of our founding mythologies . . . Neely also is an excellent field guide . . . He is, moreover, a thoughtful observer of people in public, the way we live and the way we work, and the decisions we've made about how to manage our land, the so–called 'built California' he's spending months traversing . . . Immensely rewarding." —Nathan Deuel, Los Angeles Times

"[Neely's] travelogue account of natural and human history is sprinkled with firsthand encounters with wild animals, a tarantula, ants, nettles and poison oak, as well as detailed descriptions of Native cultures and Spanish missions. He also touches on more modern–day topics such as immigration, agriculture, resources and development." —Kate Daly, The Almanac

"Beautifully written . . . Neely goes on an ambitious plunge into the heart of his home state . . . It's a journey worth taking—and savoring." —Dean Kuipers, Alta

"His eye for detail is sharp and incisive. The best parts are when he gives a natural history to the unnatural landscapes of places like Legoland. How wild and scary was California 250 years ago, and how wild and scary is it now?" —Heather Hansman, Outside

"A wonderful read . . . This book is not only [Neely's] account of the journey itself, but a reminder of the history of our state, both natural and human." —Elayna Trucker, Napa Valley Register

"In his new book, Alta California, Neely chronicles his own journey and the layered insights he gained about history, ecology, geography and society along the way. With a background in journalism and environmental science, Neely's ever–observant eye catches all the minutiae of both the natural world he traverses and the human influence—past and present—he encounters. As a writer, he collects and organizes all these diverse images and narrative elements into a story that is both richly thoughtful and a highly entertaining read."—Chris Melville, Idaho Mountain Express

"Neely's prose is luminous; his eye for detail ensures that you can practically envision yourself in the surroundings, but he doesn't lose sight of the bigger picture, either. In addition to telling the story of his journey and providing a vivid history of California's evolution, the book also tackles contemporary issues like oil and agriculture, immigration, public land issues, and development." —Jaime Herndon, Book Riot

"Neely's naturalist, erudite work will appeal to readers of Thoreau's Walden and Edward Abbey's Desert Solitaire." —Publishers Weekly

"Throughout the narrative, the author offers precise and often lyrical descriptions of landscapes and vistas, sky and sea, flora and fauna . . . A sprawling record of a unique adventure." —Kirkus Reviews

"Neely's account is a solid mix of adventure story and history lesson. Recommended for anyone interested in California history." —Library Journal

"Few American landscapes have been loved and filmed and written about with more passion than California's coast, fewer still with such profound cultural amnesia. Nick Neely's beautifully written Alta California, chronicling his bizarrely quixotic 650–mile walk through subdivisions and beaches and highways, offers precisely the antidote that our cultural moment demands. Tough–minded, poetic, and relentlessly strange, Alta California creates an entirely new vision of the Golden State." —Daniel Duane, author of Caught Inside: A Surfer's Year on the California Coast

"In fine detail, Neely binds the past to the present. He is as fearless and curious with Legoland as he is with prickly pear fruit or poking under urban bridges. Sleeping wherever he can, he goes wide–eyed into this journey, experiences magnetized to him. He could have chosen more beautiful places to walk, certainly easier routes, but his fealty to this Spanish expedition is unshakable, and he is willing to meet every obstacle and trinket along the way. The book becomes a pilgrimage, every step noted, weighed out, and laid over history where Spanish boot prints and horse tracks underlie car washes and racetracks. Time becomes so thin you forget which century you're in. That's clearly what he wants. Neely's writing makes now as real as 1769, and as relevant. This book does everything you want it to: time travel, precise reporting, and a journey into an ordinary world that turns fantastic." —Craig Childs, author of Atlas of a Lost World
Counterpoint, 9781640091658, 432pp.
Publication Date: November 5, 2019
About the Author
Nick Neely grew up south of San Francisco, in the oak and chaparral on the bay side of the Santa Cruz Mountains. He holds an MA in Literature and the Environment from the University of Nevada, Reno, and MFAs in nonfiction and poetry from Hunter College and Columbia University. He is the author of two books, Alta California and Coast Range. His nonfiction has appeared in magazines such as Orion, Audubon, Mother Jones, High Country News, Kenyon Review, The Threepenny Review, The Georgia Review, and Ecotone. He is a recipient of PEN/Northwest's Margery Davis Boyden Wilderness Writing Residency, a UC Berkeley–11th Hour Food and Farming Journalism Fellowship, and the 2015 John Burroughs Nature Essay Award. He lives in Hailey, Idaho, with his wife, the painter Sarah Bird.