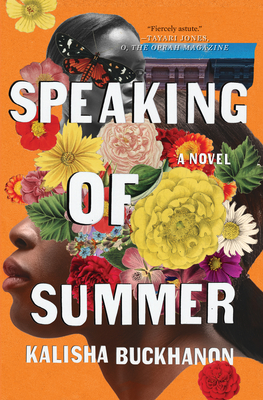 Speaking of Summer
A Novel
Hardcover

* Individual store prices may vary.
Other Editions of This Title:
Digital Audiobook (7/29/2019)
Paperback (7/7/2020)
Description
"Powerful." —The Washington Post
"Fiercely astute." —Tayari Jones, O, The Oprah Magazine
"A voice for the invisible." —Essence

A sister seeks to uncover the truth about her twin's disappearance in this critically acclaimed novel hailed as "a powerful song about what it means to survive as a woman in America" (Jesmyn Ward, National Book Award winner)

On a cold December evening, Autumn Spencer's twin sister, Summer, walks to the roof of their shared Harlem brownstone and is never seen again. The door to the roof is locked, and the snow holds only one set of footprints. Faced with authorities indifferent to another missing Black woman, Autumn must pursue the search for her sister all on her own.

With her friends and neighbors, Autumn pretends to hold up through the crisis. But the loss becomes too great, the mystery too inexplicable, and Autumn starts to unravel, all the while becoming obsessed with the various murders of local women and the men who kill them, thinking their stories and society's complacency toward them might shed light on what really happened to her sister.

In Speaking of Summer, critically acclaimed author Kalisha Buckhanon has created a fast–paced story of urban peril and victim invisibility, and the fight to discover the complicated truths at the heart of every family.
Praise For Speaking of Summer: A Novel…
Nominated for the 2020 AAMBC Literary Awards Urban Book of the Year

"Kalisha Buckhanon's characters are both fearless and haunted, brave and burdened by the past. Speaking of Summer gives us a powerful song about what it means to survive as a woman in America."
—Jesmyn Ward, National Book Award winner and author of Sing, Unburied, Sing

"Powerful."
—The Washington Post

"Buckhanon unravels a powerful story that examines violence, race and grief."
—Time

"Thrilling."
—Entertainment Weekly

"An absolutely riveting thriller about a woman who's desperate to find her missing twin sister amid a criminal justice system that's weighted against people of color. Come for Kalisha Buckhanon's addictive writing and stay for a truly mind–blowing twist."
—Cosmopolitan

"Novels of psychological suspense often employ unreliable narrators—think Gone Girl or Shutter Island—but Buckhanon, who's also known for her work as an on–air true crime expert, employs the device not to keep readers off–balance, but rather to evoke Autumn's fragility and raise universal questions about mental illness, racism, and love . . . Fiercely astute."
—Tayari Jones, O, The Oprah Magazine

"This book packs a punch, so buckle in . . . [A] quick read that creatively and captivatingly approaches themes of mental health and identity."
—Sarah Neilson, Shondaland

"A voice for the invisible."
—Essence

"Will grab ahold of your mind and your heart."
—Elite Daily

"Kalisha Buckhanon has created a narrative voice that's authentic, emotionally charged and wise, but beneath the surface of the story lurks the unraveling of a life and how 'even the biological imperative to survive' can sometimes lose against the 'power of past experiences.' Buckhanon has crafted a deeply moving psychological mystery with twists that come in unhurried moments like the small notes the sisters buried in bottles in their garden shed. I'm going to be talking about Summer for a while."
—Star–Tribune (Minneapolis)

"Mysterious urgency is what drives this complex and suspenseful novel, which follows 34–year–old Autumn as she sacrifices her professional and personal life—as well as her emotional and psychological wellbeing—in the pursuit of her missing sister, Summer. The story unravels in Autumn's mind, reading at times like a stream of consciousness with flashbacks woven throughout, and culminates in a powerful story of discovery—on the surface, a search for Autumn's sister, but ultimately an excavation of herself."
—BuzzFeed

"A dynamic and important story that will provoke needed conversations about the devastating effects of trauma and mental illness."
—Chicago Review of Books

"What do you do when your twin, your other half, disappears, and no one seems to notice? . . . Buckhanon (Solemn, 2016) captures Autumn's frustration at the undervaluing of Black women, accompanied by the creeping gentrification of her Harlem neighborhood. Not only are individual Black women disappearing, so are the communities that keep them safe."
—Booklist (starred review)

"The novel explores issues of race, gender, and violence with nuance . . . Buckhanon understands the complexities of trauma. Her portrait of Autumn's grief, fragmented memories, and inner turmoil all synthesize current scientific research on how people cope with traumatic experiences and might seek to heal."
—Kirkus Reviews

"A spellbinding masterpiece, a riveting read from a young woman who has become a major American storyteller."
—Sapphire, author of Push and The Kid
Counterpoint, 9781640091917, 304pp.
Publication Date: July 30, 2019
About the Author
Kalisha Buckhanon is the author of the novels Solemn, Conception, and Upstate, which was selected as an inaugural National Book Foundation Literature for Justice title. Her other honors include an American Library Association Alex Award, an Illinois Arts Council Artist Fellowship, Pushcart Prize and Hurston/Wright Awards nominations, and a Terry McMillan Young Author Award. She also appears on Investigation Discovery, BET, and TV One as a true crime expert in cases involving women. She lives in Chicago. Find out more at kalisha.com.
or
Not Currently Available for Direct Purchase