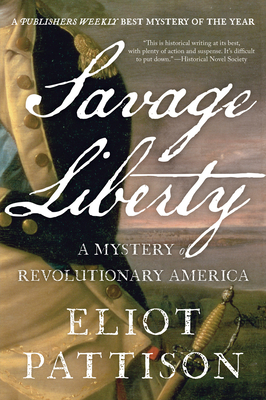 Savage Liberty (Paperback)
A Mystery of Revolutionary America
Counterpoint LLC, 9781640091993, 400pp.
Publication Date: May 14, 2019
* Individual store prices may vary.
Description
"Pattison has few peers when it comes to integrating historical events into a complex but plausible whodunit plot." --Publishers Weekly (starred and boxed review) When a ship arriving from London explodes in Boston Harbor, both the peace of the colonial city and Duncan McCallum's life are shattered. Summoned by his new friend John Hancock to a beach awash with the bodies of the victims, Duncan discovers that the ship was deliberately sabotaged, apparently to cover the theft by French agents provocateurs of a secret document being carried to the Sons of Liberty. Hancock refuses to let him take his evidence to the authorities, for this is 1768 and relations with the government are so sour that officials are being hanged in effigy. Fearing that the intrigues of Hancock and the Sons might set the colonies ablaze, Duncan relentlessly pursues the truth, only to be falsely charged with treason and murder. To escape the hangman's noose and restore his honor, Duncan has no choice but to follow a northbound trail of violence and deception while being relentlessly hounded by bountymen and vengeful soldiers. With the help of unexpected new friends, including Ethan Allen, aged natives, and outlawed Jesuits, he survives scalp hunters, imprisonment, and his own spiritual crisis, only to realize he cannot resolve the terrible crimes until he first understands the emerging truths about freedom in the American colonies.
About the Author
ELIOT PATTISON is the author of The Skull Mantra, winner of an Edgar Award and finalist for the Gold Dagger; as well as Water Touching Stone, Bone Mountain, Beautiful Ghosts, Prayer of the Dragon, Bone Rattler, The Lord of Death, Eye of the Raven, and, most recently, Original Death. Pattison resides in rural Pennsylvania with his wife, three children, two horses, and two dogs on a colonial-era farm.