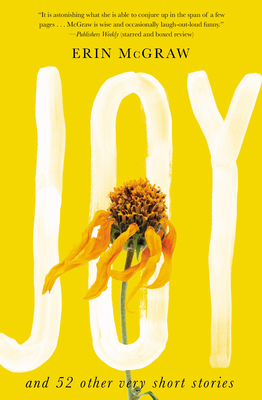 Joy
And 52 Other Very Short Stories
Hardcover

* Individual store prices may vary.
Other Editions of This Title:
Paperback (3/17/2020)
Description
"How can stories this brief be so satisfying? . . . McGraw] deals with the profound, the dire, the mundane, and the ridiculous, paying particular attention to relationships between parents and children, siblings, spouses, criminals, and their victims. While some stories are meant purely to amuse, many are intense and beautiful . . . Fifty-three gems that demonstrate all the things a short story can do. Wow." --Kirkus Reviews (starred review) Claire Messud described Erin McGraw's last collection of stories as "at once laugh-out-loud funny and utterly serious, exploring] life's profundity through its details." This is even more true with McGraw's new collection, Joy. In these very short stories, narrators step out of themselves to explain their lives to us, sometimes defensively, sometimes regretfully, other times deceitfully. Voices include those of the impulsive first-time murderer, the depressed pet sitter, the assistant of Patsy Cline, the anxiety-riddled new mother, the aged rock-and-roller, the girlfriend of your husband--human beings often (incredibly) unaware of the turning points staring them in the face. Crossing time, states, class, and religions, McGraw's stories are on the edge, causing you to wince even as you laugh. And McGraw will draw you to a deep need to read some sentences aloud--a sweet voice, a shrewd insight, some uneasy charm.
Counterpoint LLC, 9781640092082, 304pp.
Publication Date: March 5, 2019
About the Author
ERIN McGRAW, born and raised in Southern California, lived and taught for many years in the Midwest before retiring to rural Tennessee with her husband, poet Andrew Hudgins, and her dogs. She has written six previous books--three novels and three collections of stories--along with essays and occasional journalism. Find out more at erinmcgraw.com.