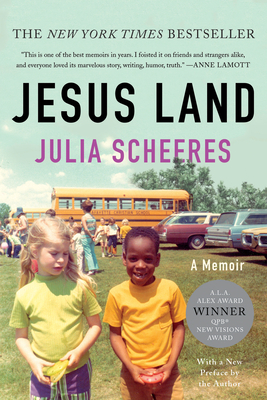 Jesus Land
A Memoir; With a New Preface by the Author
Paperback

* Individual store prices may vary.
Other Editions of This Title:
Paperback (9/1/2006)
MP3 CD (5/10/2016)
Paperback (10/30/2012)
Description
"A page turner . . . heart–stopping and enraging . . . focused, justified, and without a trace of self–pity. Shot through with poignancy." —The New York Times Book Review

Over a decade after its first publication, Jesus Land remains deeply resonant with readers. This New York Times bestselling memoir is a gripping tale of rage and redemption, hope and humor, morality and malice—and most of all, the truth: that being a good person takes more than just going to church.

Julia and her adopted brother, David, are sixteen years old. Julia is white. David is black. It is the mid–1980s and their family has just moved to rural Indiana, a landscape of cottonwood trees, trailer parks, and an all–encompassing racism. At home are a distant mother—more involved with her church's missionaries than her own children—and a violent father. In this riveting and heartrending memoir Julia Scheeres takes us from the Midwest to a place beyond imagining. Surrounded by natural beauty, Escuela Caribe—a religious reform school in the Dominican Republic—is characterized by a disciplinary regime that extracts repentance from its students by any means necessary. Julia and David strive to make it through these ordeals and their tale is relayed here with startling immediacy, extreme candor, and wry humor.
Praise For Jesus Land: A Memoir; With a New Preface by the Author…
Praise for Jesus Land

New York Times Bestseller
Winner of the ALA Alex Award
Winner of the QPB New Visions Award

"This is one of the best memoirs in years. I foisted it on friends and strangers alike, and everyone loved its marvelous story, writing, humor, truth." —Anne Lamott, author of Bird by Bird

"As the story gains momentum, it becomes clear that Scheeres is driven by two things: the fierce love she feels for her brother and the rising anger she experiences as she witnesses the injustices he endures. There is much praise, these days, for the detached, quietly elegant narrative. But there is little mention of the power a well–tended rage can bring to a good story. It is Scheeres's high emotion and her tight control of her narrative within that emotion that is most striking. Her anger serves her well: it is focused, justified and without a trace of self–pity. Shot through with poignancy." —The New York Times Book Review

"What makes Jesus Land unique and easy to relate to is its unadorned, dark humor . . . Many of us could have had the misfortune of stumbling into Jesus Land but few would have the spirit to survive." —Los Angeles Times

"[An] exquisitely wrought memoir, Scheeres emerged with sensibilities intact and learned that love can flourish even in the harshest climates." —People

"[A] gripping memoir." —Essence

"Unflinchingly honest." —Washington Post

"[A] rough, brutal, and shockingly good memoir . . . Jesus Land is matter–of–fact, clear–eyed, and compassionate, without vindictiveness, which is, of course, what real Christian charity is about." —Boston Globe

"Julia Scheeres's engrossing debut won over most of our readers . . . a reminder that what matters is not just the tale but the telling." —Elle

"A clear–eyed memoir . . . with judicious restraint. To spend your childhood in a doctrinaire environment, whether political or religious, is to become too familiar, too fast, with the worst of human frailties––hypocrisy, bigotry, moral cowardice." —Vogue

"[A] darkly comic memoir." —GQ

"Julia Scheeres has written a love story that is as romantic and as sad as any recent memoir you'll read . . . What Scheeres' devastating book maps out is the story of this thwarted relationship, which somehow survives every twisted setback and deprivation to emerge intact. . . . It's tough going, but life–affirming." —San Francisco Chronicle

"[Jesus Land] is a book readers are sure to be talking about, and references to such titles as Running With Scissors and Girl, Interrupted will likely be drawn. Scheeres succeeds at relating a harrowing life story with effortless humor and wisdom." —Chicago Tribune

"What did Julia and David learn from their strict Christian upbringing? How to write apparently . . . Everything in this memoir, including its final tragedy, is brightly, clearly rendered, by a voice as rich in forgiveness as it has unforgivable stories to tell." —Milwaukee Journal Sentinel

"A harrowing memoir of coming–of–age amid religious zealotry . . . Scheeres manages to balance her righteous rage against fanatical hypocrisy with a smart sense of humor . . . poignant and heartbreaking." —Mother Jones

"Jesus Land is a fascinating study of how so–called discipline warps young minds . . . poignant and [more] important to share." —Seattle Weekly

"A real–life coming–of–age tale is told in Jesus Land. . . Scheeres . . . looks back with journalistic clarity and literary grace at her teenage years." —PW Daily

"Jesus Land is an extraordinary memoir not just for the jaw–dropping tale it depicts, but for the wit and honesty, and literary courage within it pages. This book will make readers think of the Liar's Club and Bastard Out of Carolina, but there's nothing derivative in it. For all its hardship and terror, it is above all a love story. Scheeres is the real thing, and this is a book that should last for a long, long time." —Tom Barbash, author of The Dakota Winters

"This book will break your heart and mend it again. Julia Scheeres peels back the shiny, plastic veneer of fundamentalist Christianity to reveal the intolerance, hypocrisy and cruelty that can lie beneath. She does this with a merciless eye for detail, and an uncanny ability to evoke the essence of the Midwest. However, it is the exquisite candor and humor which makes Jesus Land so worth the reading. That, and the simple human love that shines out of every page." —Lisa Reardon, author of The Mercy Killers

"The grace and emotional brawn that carried Julia Scheeres through the pummeling brutality of her youth has enabled her to tell the tale with a measured intensity that pulls you to her side and keeps you there. I could not stop reading this book." —Mary Roach, best–selling author of Stiff

"Julia Scheeres' beautifully–written memoir took my breath away—for the cruelties she suffered, for the courage it took to survive and tell her story, and for her enduring, sparkling faith. She is able to describe the everyday details of her experience with a clear, candid eye, and without bitterness—making her story vividly alive, at turns heart–breaking and humorous." —Laura Fraser, author of All Over the Map

"In this brilliant, sorrow–filled, race–tangled memoir, Ms. Scheeres story–telling skill makes you cheer for her and her adopted brother every step of the way as they navigate a cruel childhood. You will especially love the well–written sections about Ms. Scheeres' exile to a Dominican Republic reform school—inhabited by many emotionally–uneven adults who prove the adage that some Christians are too heavenly minded to be any earthly good." —Joe Loya, author of The Man Who Outgrew His Prison Cell

"[Scheeres] deftly exposes the disparity between her parents' religious beliefs and their actions . . . and confesses with honesty and emotion her guilt and shame at abandoning her little brother in her search for acceptance. This work will force readers to relive the angst of being a teenager at a new school and desperately trying to fit in. Highly recommended." —Library Journal

"The writing is Dickensian in its blend of the tender, the brutal, and the absurd." —Booklist

"The road out of an intolerant small town leads straight to a faith–based reform school in journalist Scheeres's scarifying memoir . . . A bristly summoning of unpretty events, conveyed with remarkable placidity." —Kirkus Reviews

"A frank and compelling portrait . . . Tinged with sadness yet pervaded by a sense of triumph, Scheeres's book is a crisply written and earnest examination of the meaning of family and Christian values, and announces the author as a writer to watch." —Publishers Weekly
Counterpoint, 9781640092167, 400pp.
Publication Date: June 11, 2019
About the Author
Julia Scheeres's essays, articles, and book reviews have been published in the New York Times, Elle, Marie Claire, O, The Oprah Magazine, Wired and other publications. Her second book, A Thousand Lives: The Untold Story of Jonestown, won the Northern California Independent Bookseller Association's Nonfiction Book of the Year award. She lives in Berkeley, California, and is a member of The Grotto.