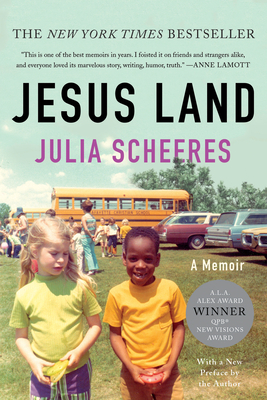 Jesus Land (Paperback)
A Memoir; With a New Preface by the Author
Counterpoint LLC, 9781640092167, 400pp.
Publication Date: June 11, 2019
Other Editions of This Title:
Paperback (10/30/2012)
Paperback (9/1/2006)
Hardcover (9/6/2005)
MP3 CD (5/10/2016)
Hardcover (3/1/2006)
* Individual store prices may vary.
Description
"A page turner...heart-stopping and enraging...focused, justified, and without a trace of self-pity. Shot through with poignancy." --New York Times Book Review Over a decade after its first publication, Jesus Land remains deeply resonant with readers. Now with a new preface by the author, this New York Times bestselling memoir is a gripping tale of rage and redemption, hope and humor, morality and malice--and most of all, the truth: that being a good person takes more than just going to church. Julia and her adopted brother, David, are sixteen years old. Julia is white. David is black. It is the mid-1980s and their family has just moved to rural Indiana, a landscape of cottonwood trees, trailer parks, and an all-encompassing racism. At home are a distant mother--more involved with her church's missionaries than her own children--and a violent father. In this riveting and heartrending memoir Julia Scheeres takes us from the Midwest to a place beyond imagining. Surrounded by natural beauty, Escuela Caribe--a religious reform school in the Dominican Republic--is characterized by a disciplinary regime that extracts repentance from its students by any means necessary. Julia and David strive to make it through these ordeals and their tale is relayed here with startling immediacy, extreme candor, and wry humor.
About the Author
JULIA SCHEERES' essays, articles and book reviews have been published in the New York Times, Elle, Marie Claire, O Magazine, Wired and other publications. Her second book, A Thousand Lives: the Untold Story of Jonestown, won the Northern California Independent Bookseller Association's Nonfiction Book of the Year award. She lives in Berkeley, California and is a member of the San Francisco Writers' Grotto.