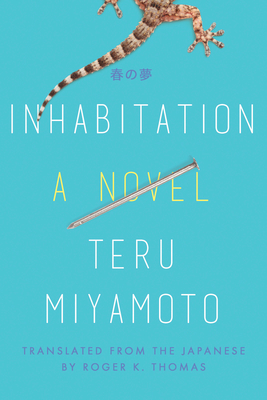 Inhabitation (Paperback)
Counterpoint LLC, 9781640092174, 320pp.
Publication Date: July 9, 2019
* Individual store prices may vary.
Description
A living lizard nailed to a pillar and a young man bound by a family misfortune--a tale that poses questions about life, death, and karma by one of Japan's most beloved living writers. In 1970s Osaka, college student Tetsuyuki moves into a shabby apartment to evade his late father's creditors. But the apartment's electricity hasn't been reconnected yet, and Tetsuyuki spends his first night in darkness. Wanting to hang up a tennis cap from his girlfriend, Yōko, he fumbles about in the dark and drives a nail into a pillar. The next day he discovers that he has pierced the body of a lizard, which is still alive. He decides to keep it alive, giving it food and water and naming it Kin. Inhabitation unfolds from there, following the complications in Tetsuyuki's relationship with Yōko, a friendship with his supervisor who hides his heart disease at work, and his father's creditors, always close on his heels. Daunted, Tetsuyuki speaks to Kin night after night, and Kin's peculiarly tortured situation reflects the mingled pain, love, and guilt that infuses Tetsuyuki's human relationships. For more than four decades, Teru Miyamoto's gentle prose--which often explores a kind of spiritual isolation--has enthralled Japanese readers. Now, translator Roger K. Thomas brings one of Miyamoto's most well-loved novels to an English-speaking audience for the first time.
About the Author
Born in Kobe in 1947, TERU MIYAMOTO is among Japan's most widely read living authors. He has received Japan's most prestigious literary distinctions, including the Osamu Dazai Prize and the Akutagawa Prize. Several of his works have been made into award-winning movies, including Maborosi, directed by Hirokazu Kore-eda. ROGER K. THOMAS is a professor of East Asian languages and cultures at Illinois State University, where he also directs the program in East Asian Studies. He has translated two of Teru Miyamoto's books, along with other works of modern Japanese fiction, including Enchi Fumiko's A Tale of False Fortunes, winner of the Japan-U.S. Friendship Commission Japanese Literary Translation Prize.