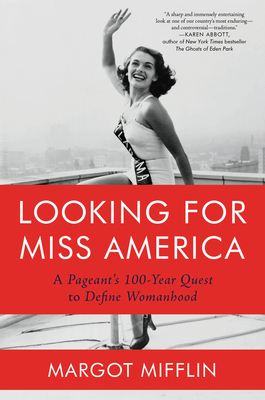 Looking for Miss America
A Pageant's 100-Year Quest to Define Womanhood
Hardcover

* Individual store prices may vary.
Other Editions of This Title:
Paperback (8/3/2021)
MP3 CD (8/4/2020)
Compact Disc (8/4/2020)
Description
Winner of the Popular Culture Association's Emily Toth Best Book in Women's Studies Award

From an author praised for writing "delicious social history" (Dwight Garner, The New York Times) comes a lively account of memorable Miss America contestants, protests, and scandals—and how the pageant, now in its one hundredth year, serves as an unintended indicator of feminist progress

Looking for Miss America is a fast–paced narrative history of a curious and contradictory institution. From its start in 1921 as an Atlantic City tourist draw to its current incarnation as a scholarship competition, the pageant has indexed women's status during periods of social change—the post–suffrage 1920s, the Eisenhower 1950s, the #MeToo era. This ever–changing institution has been shaped by war, evangelism, the rise of television and reality TV, and, significantly, by contestants who confounded expectations.

Spotlighting individuals, from Yolande Betbeze, whose refusal to pose in swimsuits led an angry sponsor to launch the rival Miss USA contest, to the first black winner, Vanessa Williams, who received death threats and was protected by sharpshooters in her hometown parade, Margot Mifflin shows how women made hard bargains even as they used the pageant for economic advancement. The pageant's history includes, crucially, those it excluded; the notorious Rule Seven, which required contestants to be "of the white race," was retired in the 1950s, but no women of color were crowned until the 1980s.

In rigorously researched, vibrant chapters that unpack each decade of the pageant, Looking for Miss America examines the heady blend of capitalism, patriotism, class anxiety, and cultural mythology that has fueled this American ritual.
Praise For Looking for Miss America: A Pageant's 100-Year Quest to Define Womanhood…
*Winner of the Popular Culture Association's Emily Toth Best Book in Women's Studies Award*

A Cosmopolitan Best Nonfiction Book of 2020
A New York Post Best Book of 2020
A Publishers Weekly Best Summer Book
A PureWow 12 Best Nonfiction Books of 2020
A Library Journal 2020 Title to Watch
A LitHub Best Reviewed Book
A National Book Review 5 Hot Books Pick

"Mifflin is no Miss America apologist. She's cleareyed about the pageant's many hypocrisies and failures . . . But Mifflin, too, is invested in the pageant's sense of specialness; she's mining Miss America for meaning . . . The pageant's tensions and ambiguities emerge most vividly through the way particular women understood them in the context of their particular time . . . Lively." —Molly Fischer, The New York Times Book Review

"Mifflin is as alive to the pageant's historical grotesqueries as she is to the weirdo details of its founding." —Lauren Collins, The New Yorker

"Nothing short of fascinating." —Laura Hanrahan, Cosmopolitan, A Best Nonfiction Book of the Year

"A fascinating look at how Miss America has struggled to stay relevant in the 21st century, without condescension or ridicule toward the women who have fought tooth and nail to be crowned." —Sarah Stiefvater, PureWow, A Best Nonfiction Book of the Year

"A comprehensive history of how a beauty contest moonlighting as a scholarship program evolved over a century . . . Looking for Miss America is an exploration into the pageant's past, but the contest's days might be numbered." —Shannon Carlin, Bust

"In this well–written and thoroughly researched book, Mifflin explores how the evolution of the Miss America pageant has echoed ongoing women's rights movements and examines the overall impact of a beauty–based scholarship competition."—Bitch

"In her formidably researched book, Looking for Miss America: A Pageant's 100-Year Quest to Define Womanhood, scholar Margot Mifflin provides a lavish and detailed account of the various milestones that have defined the pageant for decades . . . A fascinating and entertaining account for anyone interested in reading a first-rate analysis of the United States's most distinctive beauty contest." —Elwood Watson, Los Angeles Review of Books

"Historian Margot Mifflin encourages us to view Miss America as more complicated than just sashes, hairspray and high heels . . . Even if you've never watched a single Miss America pageant on TV, anyone with an interest in American history would benefit from this deep dive into a complex cultural figurehead."—Jessica Wakeman, BookPage (starred review)

"Vigorously researched and wryly humorous . . . This incisive and entertaining history deserves the spotlight." —Publishers Weekly

"Lively and probing . . . Whether fans or foes of Miss America, few readers will see the pageant in the same way after finishing this book. A cleareyed look at an iconic beauty pageant and its efforts to stave off irrelevance." —Kirkus Reviews

"Smart and witty narrative . . . Mifflin reveals how the contest wormed its way into the national subconscious, taking us through its disasters, hypocrisies and ambitions over the last century." —The National Book Review

"Though she explores the serious failings of the contest, Mifflin also relishes the nostalgia and camp associated with Miss America, making this social history a perfect summer read." —Booklist
Counterpoint, 9781640092235, 320pp.
Publication Date: August 4, 2020
About the Author
Margot Mifflin is the author of Looking for Miss America, Bodies of Subversion: A Secret History of Women and Tattoo, and The Blue Tattoo: The Life of Olive Oatman. She has written for publications including The New York Times and The New Yorker. Find out more at margotmifflin.com.