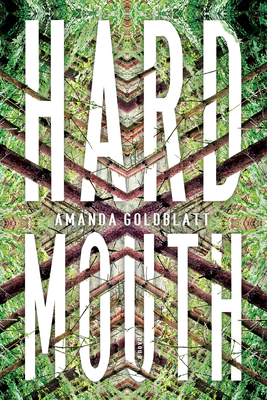 Hard Mouth
A Novel
Paperback

* Individual store prices may vary.
Other Editions of This Title:
Digital Audiobook (8/12/2019)
Hardcover (8/13/2019)
Description
"Playfully, poetically unstable . . . What compels a woman to turn to the wilderness? What brings one, after a decade of caregiving, to exchange a terminal parent's final vigil for the company of strangers? Goldblatt poses these questions with great assurance." —Lisa Locascio, The New York Times Book Review

Denny works nights as a tech in a labyrinthine facility outside of D.C., readying fruit flies for experimentation. Her life's routine is straightforward, limited. But when her father announces that he won't be treating his recurrent, terminal cancer, she responds by quietly dismantling her life. She constructs in its place the fantasy of perfect detachment. Unsure whether her impulse is monastic or suicidal, she rents a secluded cabin in the mountains.

Without saying goodbye, she leaves her parents behind and enters a new, solitary world. It's not without disruption: her blowsy trash bag of an imaginary pal is still lingering. And then a house cat appears out of nowhere. And after a bad storm rips through the mountainside, someone else shows up, too. Her time in the wilderness isn't the perfect detachment she was expecting. Denny is forced to reckon with this failure while confronting a new life with its own set of pleasures and dangerous incursions.

Morbidly funny, subversive, and startling, Hard Mouth, the debut novel from 2018 NEA Creative Writing Fellow Amanda Goldblatt, unpacks what it means to live while others are dying.

"The novel begins existential (think: Camus as an intersectional feminist), and ends with a gut punch that somehow manages a deeply felt sympathy for its characters." —Rebekah Frumkin, NYLON
Praise For Hard Mouth: A Novel…
Praise for Hard Mouth

Los Angeles Times, 1 of 7 Highly Anticipated Books to Get You Through the Dog Days of August

Chicago Review of Books, One of the Best New Books of the Month

"Goldblatt's language is playfully, poetically unstable . . . I enjoyed Denny's company; I was pulled through the book by a desire to know more about her. What compels a woman to turn to the wilderness? What brings one, after a decade of caregiving, to exchange a terminal parent's final vigil for the company of strangers? Goldblatt poses these questions with great assurance, and if the book's denouement ultimately left me wanting more, that isn't a bad thing, not at all." —Lisa Locascio, The New York Times Book Review

"Surprising and grimly funny . . . A pithy and offbeat blend of cancer story and adventure tale . . . Goldblatt keeps the pages turning with her incisive descriptions of Denny's interior state, coupled with her ineptitude as an adventurer and her physical suffering as she experiences the rougher sides of roughing it. What emerges is a portrait of protracted grief, the deep sorrow that usually comes with the event of someone's death, but in this case comes preemptively and over an excruciatingly extended period. By the end, Hard Mouth leaves readers to consider the vast human question of how to justify going on living—or as Denny's father puts it, 'keeping body and soul together'—when death and suffering are all around." —Kathleen Rooney, Chicago Tribune

"Goldblatt's writing is both tender and linguistically textured; every sentence is its own acoustic experience. The effect leaves the reader rapt . . . Hard Mouth is as darkly funny as its characters, modulating between entertaining and disturbing tonal registers . . . An exceptionally complex text on the nature of empathy. Literature, like life, isn't always nice. In the case of Hard Mouth, readers are all the better for it." —Garrett Biggs, Chicago Review of Books

"Goldblatt's introspective novel is for those wishing Phoebe Waller–Bridge and Henry David Thoreau were friends . . . Hilarious and thought–provoking, Goldblatt's debut offers a dark twist on the search for escape." —Adam Vitcavage, Electric Literature, 1 of the 20 Best Debuts of the Second Half of the Year

"Hard Mouth manages an offbeat expedition while also bringing a one–of–a–kind dark humor to the page. Evading the predictable, Goldblatt wanders through the momentary and unanticipated emotions of knowing the worst is coming, and suggests that even if bad decisions are made along the way, there might be self awareness waiting on the other side." —Aram Mrjoian, Chicago Review of Books

"Goldblatt's writing is smart, witty, and engaging. Denny's narration is quick–paced, making for a captivating read, and Goldblatt successfully and with care shows us the complicated and oftentimes confusing manifestations of grief." —Deena ElGenaidi, The Brooklyn Rail

"In Hard Mouth, Goldblatt invites readers to exercise their own empathy, following Denny to the mountains to understand her grief." —Andrea Michelson, Chicago Reader

"Imagine that the charming, audience–addressing protagonist of Phoebe Waller–Bridge's runaway–hit TV show Fleabag was—instead of a jumpsuit–wearing café owner in London—a reclusive lab tech in the suburbs of Washington, DC. Imagine that character addressing readers with Fleabag's charm and humor, but, rather than talking about the hot priest she's in love with, she's talking about her plan to disappear to a wholly isolated cabin somewhere in the remote East Coast woods. That's Denny, the protagonist of Amanda Goldblatt's stellar debut, Hard Mouth. Denny, like Fleabag, is an inveterate fourth–wall–breaker, narrating her own behavior with perfect control even as she struggles to control herself." —Lily Meyer, Electric Literature

"NEA Fellow Amanda Goldblatt's first novel is as bold and unflinching as its title suggests . . . Goldblatt nails suburban MD ennui, outdoor unpreparedness, gritty sex scenes, and a refutation of sentimentality in what R. O. Kwon calls a 'blazing feat of a book.'" —The Millions, Most Anticipated

"[A] knockout debut ... As a reader, the experience of moving through this self–imposed sad and searching, dangerous and scary, and strangely funny exile with Denny is astonishing. Hard Mouth is absolutely singular in how it accomplishes this. It is careful as well as wild. Its precise language opens up murky spaces for the reader to excavate ... This book asks to be studied. To have its pieces and parts pinned insanely on a wall with colored strings going every which way trying to connect all the feelings and ideas to discover the extraordinary heart beating at its core." —Diane Cook, The Rumpus

"Hard Mouth recasts the traditional adventure novel as an intense psychological portrait of contemporary malaise. Unlike so much writing about nature, the book remains decidedly unromantic . . . For Denny, her journey is brutal but rewarding. For readers, though, Hard Mouth is all reward." —Zack Ravas, ZYZZYVA

"Both wild and deeply thoughtful, a singular and beautifully rendered work . . . Ultimately, [Goldblatt's] sentence and story constructions create an embroidered sense that is particular to this novel in a way that recalls Barnes' Nightwood and Woolf's To the Lighthouse." —Jennifer Solheim, Fiction Writers Review

"An indelible first novel." —Paris Close, Paperback Paris

"At times a meditative look into life and loss, the novel delves into psychological moments that can only be described as thrilling." —Adam Vitcavage, Debutiful

"Hard Mouth is, alternately, an edge–of–your–seat thriller and a claustrophobic, psychological study of womanhood, individualism, and the vulnerability of letting others 'in.' It's a pleasurably subtle novel, until it isn't; until it turns, quickly, dangerous, reckless, gripping." —Elizabeth Ellen, Hobart



"The novel begins existential (think: Camus as an intersectional feminist), and ends with a gut punch that somehow manages a deeply felt sympathy for its characters." —Rebekah Frumkin, NYLON

"In her debut novel, Hard Mouth, Amanda Goldblatt faces the existential dread of loss, and finds her characters clinging to a nexus of imaginary friends, isolated nature, and the lessons of futility as a way of escaping, processing and coping with that loss." —Michael Workman, Newcity Lit

"A masterwork concerning wilderness survival and grief." —Tess Crain, Epiphany



"Stunning . . . Goldblatt's book is an astonishingly fresh take on the kind of universal human anxiety that can avalanche down on a life without warning, and Denny is an iconic new voice among our current cultural surge of anti–heroines." —Kea Wilson, Alive

"Goldblatt may be an emerging novelist, but she is already one of our most canny and sly writers as well as a unique stylist . . . Confronting life on the mountain may be a victory for Denny. But in talking to us, her receptive imaginaries, she has succeeded to be alive. Amanda Goldblatt knows this signal achievement occurs in the moment of language, often beyond intention and forethought—and has created a most artfully spirited novel to let us hear what the idea of being alive sounds like." —Ron Slate, On the Seawall

"Propulsive and beguiling . . . This debut is a striking psychological portrait of despair." —Publishers Weekly

"By turns creepy and thought–provoking, this is a resonant debut about love, independence, and mourning." —Kirkus Reviews

"Goldblatt's take on grief is both refreshing and extremely human . . . Goldblatt's language throughout is indicative of this idea that grief is complicated to process—it's bleak and messy and sometimes even humorous." —Kailey Brennan, Write or Die Tribe

"Engrossing and wonderful . . . Hard Mouth is a novel, but it seems to me, ultimately, to be a terror–pleasure study in affect and in control over a multi–modal voice." —Olivia Cronk, Tarpaulin Sky

"Goldblatt's spare and illuminating language suits her protagonist, who spends a good deal of time lonely inside her own head and experience." —Booklist

"An astute, luminous examination of the complexities of love and grief, with never a careless word. Hard Mouth is a blazing feat of a book." —R. O. Kwon, author of The Incendiaries

"Hard Mouth is a heartbreaker of a novel. A mind–bruiser, too. Amanda Goldblatt has written an astonishing, destabilizing, and beautifully human book. It's wildly empathetic, strangely funny, and so sharp it cuts. I loved it." —Diane Cook, author of Man V. Nature: Stories

"Frank, funny, cool, and deceptively aloof, Hard Mouth gets to the heart of what it is to be a vulnerable thing living in this world. A beautiful book, and a totally pure reading experience." —Halle Butler, author of Jillian and The New Me

"Hard Mouth's surprises chase each other down like dominoes, both in plot and language. Goldblatt masters the balance of the epic and the personal, the adventurous and the introspective. I clung to every page." —Jac Jemc, author of The Grip of It and False Bingo

"In Hard Mouth, Amanda Goldblatt unsettles every old tale, disturbs every familiar sentence, shows us prose so new it's almost jarring in its beauty, all while telling a story that's impossible to put down. Her narrator Denny's maybe a revolutionary, maybe a feral runaway in a hollow tree, maybe just a sad, angry girl with a gun—but she's certainly the Bartleby of grief." —Andrea Lawlor, author of Paul Takes the Form of a Mortal Girl

"Hard Mouth is an astonishing, moving, and transcendent grief–work with an absurd sense of humor. In this stunning debut, Amanda Goldblatt announces herself as a certified literary technician of detachment and despair." —Patty Yumi Cottrell, author of Sorry to Disrupt the Peace

"Hard Mouth is a breathless and original debut from a strong writer. A funny, heartfelt, and beautifully written novel." —Brandon Hobson, National Book Award finalist and author of Where the Dead Sit Talking

"Lyrical, poetic, and playful, Hard Mouth is the story of a slow death and the inevitability of the questions, revelations, griefs, and strangenesses that come with it. Beautifully written, sorrowful, funny. A book to be savored." —Deb Olin Unferth, author of Wait Till You See Me Dance and I, Parrot
Counterpoint, 9781640092426, 256pp.
Publication Date: August 13, 2019
About the Author
Amanda Goldblatt is a writer and teacher living in Chicago. She is a 2018 National Endowment for the Arts Creative Writing Fellow, and her fiction and essays have appeared in such journals as The Southern Review, Noon, Fence, Diagram, Hobart, and American Short Fiction. Hard Mouth is her debut novel.
or
Not Currently Available for Direct Purchase