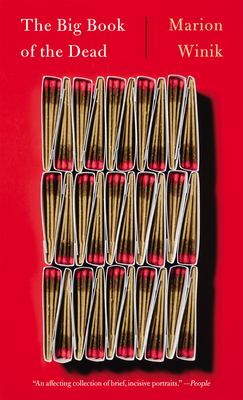 The Big Book of the Dead
Paperback

* Individual store prices may vary.
Other Editions of This Title:
Digital Audiobook (9/16/2019)
MP3 CD (9/17/2019)
Compact Disc (9/17/2019)
Description
Marion Wink is esteemed for bringing humor and wit to that most unavoidable of subjects: death.

At last, Winik's critically acclaimed, cult favorites, Glen Rock Book of the Dead and Baltimore Book of the Dead, have been carefully combined in their proper chronological order, revealing more clearly than ever before the character hidden throughout these stories: Winik herself.

Featuring twelve additional vignettes along with a brand–new introduction, The Big Book of the Dead continues Winik's work as an empathetic, witty chronicler of life.
Praise For The Big Book of the Dead…
Praise for The Big Book of the Dead

"The image that suffused my reading was one of stringing pearls. Each pearl is gorgeous and luminescent . . . Each of them seemed to me better than the one previous to it, and I continued reading even as I wiped away tears . . . Regardless of the proximity of her relation to Winik's subjects, each of these pieces is written with gorgeous turns of phrase and her recognition of the quiet dignity of their lives." —Lorraine Berry, Star–Tribune (Minneapolis)

"Marion Winik's The Big Book of the Dead is a masterclass in flash fiction. It is a grand tapestry of life that you get to see created thread by thread . . . Cathartic and strangely comforting." —Rachel Gonzalez, Paperback ParisPraise for The Baltimore Book of the Dead

A Finalist for the 2019 NAIBA Book of the Year in Nonfiction
A PBS NewsHour Best Book of the Year
Winner of the 2019 Towson Prize for Literature
One of the Top Ten Books of the Year, The Star–Ledger (Newark, NJ)

"An affecting collection of brief, incisive portraits of departed figures both public and private." —People

"You'll want to read The Baltimore Book of the Dead as slowly as possible because every observation is a marvel, every sentence a heartbreak or a revelation of joy. This book is both brief and miraculous, and it will be finished before you're ready to let it go. Like life." —Ann Patchett, author of Commonwealth

"Crystalline remembrances . . . By turns reverent and wry, intimate and universal, these pieces capture the essence of friends, neighbors, a tiny baby, a young man lost to fentanyl, and even a few celebrities . . . [Winik's] mission is not to be morbid but to find a place in our collective conversation for grief, which might be one of the last social taboos . . . A welcome salve to all of us, and encouragement to honor the people we've lost who are forever with us." —Oprah.com

"Few among us, when we die, will be lucky enough to be eulogized as intriguingly as the individuals in Marion Winik's The Glen Rock Book of the Dead. The slender and elegantly illustrated volume chronicles the stories of some 50 individuals the author once knew, compressing their lives and personal significance into brief, two–page essays. The eighth book from this critically acclaimed writer and poet is a sort of modern–day version of Edgar Lee Masters' Spoon River Anthology – the almost century–old classic that told the tale of a town in the voices of its deceased." —Susan Carpenter, The Los Angeles Times

"Spending time with dead people might make you wonder: Do I want to take this trip? You do, when Winik is telling the stories, two–page hits that read like flash nonfiction, highlight reels of what these people have meant to her, and sometimes to American culture, over the past 60 years . . . Winik's voice is strong and clear, as if she has been called to sing these paeans and she will do it, she's honored to do it, but she's going to do it her way, with elation and sadness . . . Death is always in season, and it takes someone of Winik's good humor and willingness to say, in essence, see that big door there? The one we are all going to walk through? Let's just take a little look now, and know you will be remembered, that you are loved." —Nancy Rommelmann, Newsday

"Feast on Marion Winik's jewelbox of a book filled with gold nuggets of prose and a fevered passion for life even though much is an homage to death itself. Every sentence is a carefully considered slam dunk . . . Breathless, heartbreaking, invigorating." —Literary Hub

"With the same candid and humorous writing style she fine–tuned through her years as an All Things Considered commentator, Winik memorializes the departed in short essays that evoke a tender sense of connection in readers." —Lauren LaRocca, Baltimore Magazine

"Every so often I stumble across books where my first reaction is regret. How have I never heard of this writer? My second reaction is a hunger to read all he or she has written. This does not happen often enough so, please know I do not toss this sort of praise lightly. Marion Winik is one of the most elegant, evocative and incisive writers I have encountered . . . Her gift is using the fewest words to capture their spirits, and though as the title broadcasts, this is a book about the dead, it is a glorious account of living." —Jacqeline Cutler, Newark Star–Ledger

"Empathy figures in Marion Winik's The Baltimore Book of the Dead (Counterpoint, Oct.), along with her sharp eye and wicked wit. This sequel to The Glen Rock Book of the Dead has more achingly beautiful and succinct obituaries of the people (and a few pets) from Winik's wide, idiosyncratic circle of family, friends, colleagues, lovers, and enemies. This superfast read will spur rereading and the terrible wish that more people in Winik's circle would expire just so she could memorialize them. " —Library Journal, Editors' Pick

"In writing about these dozens of deaths, the author is writing about life in general, how quickly it can change and how long a memory can persist, and her life in particular, 'how big ideas about art and revolution were so easily infected with the stupid romance of self–destruction' . . . Insightful pieces with a cumulative impact." —Kirkus Reviews

"[An] unconventional though captivating blend of memoir and biography . . . Throughout these understated portraits, Winik writes with a delightfully light and nuanced hand." —Publishers Weekly

"This slim, deeply moving book is full of elegies that bear witness to the departed and remind us of the beauty and pain and complexity in every life, no matter how obscure. Marion Winik's prose is deceptively rich, suffused with quiet emotion and tender humor. She teaches us how to remember." —Tom Perrotta, author of The Leftovers and Mrs. Fletcher

"Marion Winik's writing is always a wild and true marvel and never more so than in her latest work, The Baltimore Book of the Dead. With riveting compassion, she looks at all the love and the pain and the detritus that accumulates in the corners of all of our lives and pieces together something sad and lovely and new out of it." —Bill Clegg, author of Did You Ever Have a Family

"Marion Winik is such an excellent writer that you will want to gobble up The Baltimore Book of the Dead, but you won't. After each chapter, you will pause and take a breath. You will have experienced the life and death of a stranger made friend, made familiar, through Winik's compassionate genius. Savor every word." —Abigail Thomas, author of What Comes Next and How to Like It
Counterpoint, 9781640092532, 320pp.
Publication Date: September 17, 2019
About the Author
Longtime All Things Considered commentator MARION WINIK is the author of First Comes Love, The Glen Rock Book of the Dead, and seven other books. Her Bohemian Rhapsody column at BaltimoreFishbowl.com has received the Best Column and Best Humorist awards from Baltimore Magazine, and her essays have been published in The New York Times Magazine, The Sun, and many other publications. She is the host of The Weekly Reader radio show and podcast, based at the Baltimore NPR affiliate. She reviews books for Newsday, People, and Kirkus Reviews and is a board member of the National Book Critics Circle. She is a professor in the MFA program at the University of Baltimore.