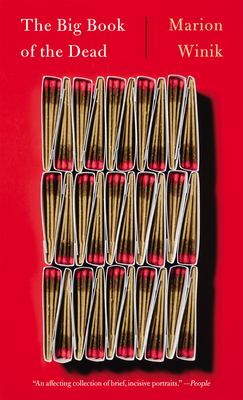 The Big Book of the Dead (Paperback)
Counterpoint LLC, 9781640092532, 288pp.
Publication Date: September 17, 2019
* Individual store prices may vary.
Description
"Every observation is a marvel, every sentence a heartbreak or a revelation of joy." --Ann Patchett, author of Commonwealth Marion Wink is esteemed for bringing humor and wit to that most unavoidable of subjects: death. At last, Winik's critically acclaimed, cult favorites Glen Rock and Baltimore Book of the Dead have been carefully combined in their proper order, revealing more clearly than ever before the character hidden throughout these stories: Winik herself. In The Big Book of the Dead, Winik arranges her arresting portraits of the dead chronologically, spanning "Friends of My Youth," "The Austin Years, including NOLA," "Glen Rock, PA, pop. 2050," and "Love in the Time of Baltimore." Featuring twelve additional vignettes--including remembrances of Anthony Bourdain and Philip Roth--along with a brand new introduction, The Big Book of the Dead continues Winik's work as an empathic, witty chronicler of life.
About the Author
MARION WINIK is the author of First Comes Love, The Baltimore Book of the Dead and eight other books. She writes the Bohemian Rhapsody column at BaltimoreFishbowl.com, and is the host of Baltimore WYPR's The Weekly Reader. She reviews books for Newsday, People, and Kirkus Reviews and teaches in the MFA program at the University of Baltimore.