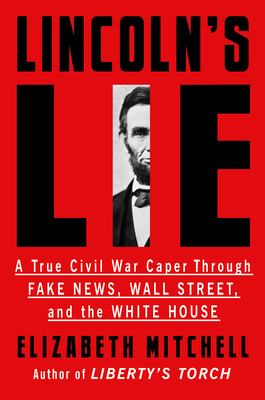 Lincoln's Lie
A True Civil War Caper Through Fake News, Wall Street, and the White House
Hardcover

* Individual store prices may vary.
Other Editions of This Title:
Paperback (2/8/2022)
MP3 CD (1/5/2021)
Description
This "delicious, suspenseful . . . and cleverly written romp through a dramatic and forgotten moment in American history" reveals how Lincoln manipulated the media during the Civil War—shining new light on the current 'fake news' crisis (Elizabeth Gilbert)

In 1864, during the bloodiest days of the Civil War, two newspapers published a call, allegedly authored by President Lincoln, for the immediate conscription of 400,000 more Union soldiers. New York streets erupted in pandemonium. Wall Street markets went wild.

When Lincoln sent troops to seize the newspaper presses and arrest the editors, it became clear: The proclamation was a lie. Who put out this fake news? Was it a Confederate spy hoping to incite another draft riot? A political enemy out to ruin the president in an election year? Or was there some truth to the proclamation—far more truth than anyone suspected?

Unpacking this overlooked historical mystery for the first time, journalist Elizabeth Mitchell takes readers on a dramatic journey from newspaper offices filled with heroes and charlatans to the haunted White House confinement of Mary Todd Lincoln, from the packed pews of the celebrated preacher Reverend Henry Ward Beecher's Plymouth Church to the War Department offices in the nation's capital and a Grand Jury trial.

In Lincoln's Lie, Mitchell brings to life the remarkable story of the manipulators of the news and why they decided to play such a dangerous game during a critical period of American history. Her account of Lincoln's troubled relationship to the press and its role in the Civil War is one that speaks powerfully to our current political crises: fake news, profiteering, Constitutional conflict, and a president at war with the press.
Praise For Lincoln's Lie: A True Civil War Caper Through Fake News, Wall Street, and the White House…
"This thrilling account of a nearly forgotten chapter of Civil War history echoes present–day political controversies." —Booklist

"A dramatic retelling of a Civil War–era mystery . . . A colorful portrait of the rough–and–tumble worlds of 19th–century journalism, politics, and finance. This well–researched account turns a historical footnote into an entertaining whodunit." —Publishers Weekly

"Lincoln's Lie is a delicious, suspenseful, exquisitely well–researched, and cleverly written romp through a dramatic and forgotten moment of American history. Mitchell's thorough examination of a strange example of nineteenth–century 'fake news' brings Lincoln back to life in all his subtlety, contradictions, and savvy. This is a wonderful read, as well as a fascinating history lesson. I loved it." —Elizabeth Gilbert, author of City of Girls and The Signature of All Things

"Elizabeth Mitchell has woven together some of my favorite subjects—nineteenth–century New York City, early newspapermen, the Civil War, secrets, gold, America's iffy history with alternative facts—into a riveting and delicious work of nonfiction that could pass for a novel. I knew nothing of the historical episode at the center of Lincoln's Lie, and its contemporary resonances are remarkable." —Kurt Andersen, author of Fantasyland: How America Went Haywire: A 500–Year History

"Lincoln's Lie exemplifies the very best of narrative nonfiction: an intriguing, long–forgotten slice of Civil War history, a rogue's gallery of devious characters, meticulous research and dazzling prose, and a stranger–than–fiction tale that will stay with you long after you turn the last page. Elizabeth Mitchell has written a classic that will appeal to history buffs and fiction fans alike. I couldn't put it down."— Karen Abbott, New York Times bestselling author of The Ghosts of Eden Park

"Elizabeth Mitchell's excellent Lincoln's Lie is a wild ride into one of the strangest episodes of the Civil War era. Mitchell is a gifted storyteller, and this book about greedy profiteers is loaded with narrative horsepower. I was stunned by the revelations. Highly recommended!" —Douglas Brinkley, author of American Moonshot: John F. Kennedy and the Great Space Race

"Meticulously researched and carefully argued." —Michael Burlingame, author of Abraham Lincoln: A Life and The Inner World of Abraham Lincoln

"This historical thriller takes us into some of the darkest days of the Civil War and the dramatic tension between Abraham Lincoln and the reporters covering him—including one with a penchant to invent stories of his own. How Lincoln navigated the fake news of his day makes a compelling story, and Elizabeth Mitchell handles it beautifully, with deep research, careful attention to detail, and the flair of a novelist. Highly recommended." —Ted Widmer, author of Lincoln on the Verge: Thirteen Days to Washington

"Lincoln's Lie is a delightful, fun and easy read full of colorful characters, telling details, and fresh perspective. Mitchell combines a journalist's talent for storytelling with an historian's knack for intensive research to offer a fresh new look at an old story. The book reads more like a suspense novel than a work of history. I did not want to put it down. I turned each page searching for new clues to who leaked the proclamation and why 'honest' Abe lied about it." —Steven M. Gillon, scholar–in–residence at the History Channel and author of New York Times bestsellers, including The Pact: Bill Clinton, Newt Gingrich, and the Rivalry That Defined a Generation
Counterpoint, 9781640092822, 320pp.
Publication Date: October 6, 2020
About the Author
Elizabeth Mitchell has authored nonfiction books, covering politics, sports and history, including her most recent acclaimed saga, Liberty's Torch: The Great Adventure to Build the Statue of Liberty. Her novella–length work, The Fearless Mrs. Goodwin, was a nonfiction bestseller. Formerly the executive editor of George, the nation's largest political magazine, she has worked as an investigative reporter and features writer. She makes her home in Brooklyn, New York.