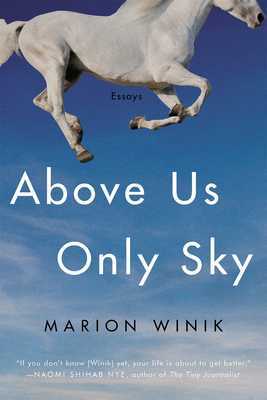 Above Us Only Sky
Essays
Paperback

* Individual store prices may vary.
Other Editions of This Title:
Paperback (9/1/2005)
Description
These essays on a woman's wild ride through life give us Marion's bracing tonic-of-truth voice in splendid form--her voice that is always brilliantly funny, intelligent, brave, haunting, and full of surprises, revelations, and wise, wild connections. At this point, I don't think I could live without it. If you don't know her yet, your life is about to get better. --Naomi Shihab Nye Whether she is writing about the vagaries of family vacations on land and sea, about getting her tubes tied and the importance of a woman's right to choose, or her battles with her rebel pyromaniac teenage son, Marion Winik is searingly honest and unfailingly witty in the face of adversity. In this collection of essays, a treat for dedicated fans and new readers alike, Winik explores domesticity, midlife, and aging. A brand new final section brings Above Us Only Sky--originally published in 2005--up to date with essays from her award-winning column in the Baltimore Fishbowl, taking us through experiences with blended families, adult children, and empty nest.
Counterpoint LLC, 9781640093089, 336pp.
Publication Date: July 14, 2020
About the Author
Longtime All Things Considered commentator Marion Winik is the author of First Comes Love, The Glen Rock Book of the Dead, and seven other books. Her Bohemian Rhapsody column at BaltimoreFishbowl.com has received the Best Column and Best Humorist awards from Baltimore Magazine, and her essays have been published in The New York Times Magazine, The Sun, and many other publications. She is the host of The Weekly Reader radio show and podcast, based at the Baltimore NPR affiliate. She reviews books for Newsday, People, and Kirkus Reviews and is a board member of the National Book Critics Circle. She is a professor in the MFA program at the University of Baltimore.