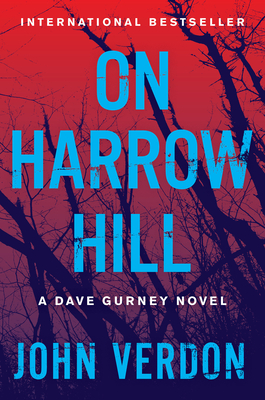 On Harrow Hill (Dave Gurney #7)
Hardcover

* Individual store prices may vary.
Other Editions of This Title:
Digital Audiobook (3/15/2021)
Paperback (9/27/2022)
Description
When an old colleague comes to him for help solving the mysterious death of his town's most prominent resident, retired NYPD detective Dave Gurney must use all of his analytical skills to hunt a murderer who just might be killing from beyond the grave.

The idyllic community of Larchfield is rocked to its core when Angus Russell, its wealthiest and most powerful citizen, is found dead in his mansion on Harrow Hill. A preliminary analysis of DNA gathered at the crime scene points to the guilt of local bad boy Billy Tate, whose hatred for the victim was well known. Except that Tate fell from the roof of a local church and was declared dead by the medical examiner the day before Russell was killed. When police rush to the mortuary, they discover Tate's coffin has been broken open from the inside, and the body is gone.

A series of murders soon follows as Larchfield loses its collective mind. Gun sales explode. Conspiracy theories and religious fundamentalism spread. The once-peaceful town becomes a magnet for sensation seekers, self-proclaimed zombie hunters, TV producers eager for ratings, and apocalyptic preachers rallying the faithful for the end of days. His quiet retirement shattered, ex-NYPD detective Dave Gurney finds himself not only facing down a murderer, but struggling to restore order to the town rapidly spiraling out of control.
Praise For On Harrow Hill (Dave Gurney #7)…
"I believe John Verdon to be the finest mystery writer working today . . . Verdon does not crank out his stories using a formula. Each and every mystery is a gift to readers who love to play along and try to identify the culprit with no tricks used at all." —Richard Klinzman, The Florida-Times Union 

"A truly ingenious play-fair mystery novel that's police procedural adjacent while still being able to bend the rules of the latter by featuring an unconventional sleuth and his unconventional friends . . . A thrilling mystery with a smart, sympathetic detective that will puzzle you every step of the way." —Doreen Sheridan, Criminal Element

"Sure to impress . . . The best Verdon piece I have read, though I have loved them all a great deal. The flow of the story is perfect, revealing much as the narrative builds. Verdon has done well to develop this quirky, layered story that is not a simple A to Z crime thriller . . . A book I could not stop reading." —Matt Pechey, Mystery and Suspense Magazine

"Verdon's brilliant seventh mystery featuring retired NYPD homicide detective Dave Gurney (after 2018's White River Burning) showcases a nifty impossible crime variant . . . The surprises keep coming as the plot builds to an impressive reveal. Verdon has never been better at crafting a bizarre setup and resolving it in a satisfactory way." —Publishers Weekly (starred review)

"A glorious explosion of detective fireworks." —Booklist

"Clever, cerebral . . . Part puzzle, part police procedural and all entertainment. Verdon has a knack for creating outlandish, almost unbelievable, situations that reach logical, realistic conclusions . . . No matter how weird the circumstances of On Harrow Hill become, Verdon retains tight control of his plot." —Oline H. Cogdill, Shelf Awareness 

"On Harrow Hill is the latest airtight mystery only ex-NYPD detective Dave Gurney can solve. Drawn into another seemingly impossible murder case in a small town with far too many secrets––and suspects––Gurney's keen skills and almost preternatural insights are once again on dazzling display. John Verdon is a master at crafting these Sherlockian stories, each more mind-bending than the last, and On Harrow Hill is destined to be the next hit in the series." —J. Todd Scott, author of Lost River

"John Verdon has written another tightly-wound, intelligent mystery that keeps you guessing until the very end. Retired NYPD detective Dave Gurney, a sharp-minded, Sherlockian sleuth with an old soul, is drawn into a murder investigation in a seemingly idyllic small town that has been corrupted by one family's manipulative power. When the family's patriarch is brutally killed, the list of suspects with motives rooted in betrayal, loss, and toxic social inequality seems endless, but all evidence points to the one man with the perfect alibi: he died two days before the murder. Or did he? As the plot's precisely calibrated gears move from one revelation to the next with sure-handed finesse, On Harrow Hill engages the mind and heart in equal measure." —Heather Young, author of The Lost Girls and The Distant Dead

Praise for the Dave Gurney series:

"John Verdon writes grown-up detective novels, by which I mean stories with intelligent plots, well-developed characters and crimes that have social consequences . . . the author's brainy gumshoe-for-hire, Dave Gurney, checks all these boxes." —The New York Times Book Review

"Verdon is a gifted writer and storyteller." —Booklist

"Why isn't John Verdon huge? Like household name huge? Verdon has a very distinctive style, one that is slightly offbeat without being off-putting . . . Verdon is an author deserving of your time and attention." —Bookreporter.com
Counterpoint, 9781640093102, 400pp.
Publication Date: March 16, 2021
About the Author
JOHN VERDON is the author of the Dave Gurney series of thrillers, international bestsellers published in more than two dozen languages: Think of a Number, Shut Your Eyes Tight, Let the Devil Sleep, Peter Pan Must Die, Wolf Lake, and White River Burning. Before becoming a crime fiction writer, Verdon had two previous careers: as an advertising creative director and a custom furniture maker. He currently lives with his wife, Naomi, in upstate New York.
or
Not Currently Available for Direct Purchase