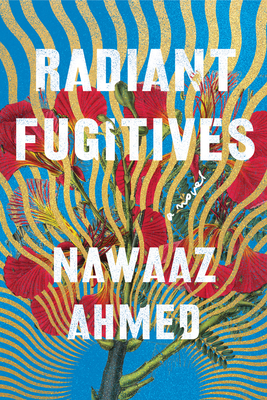 Radiant Fugitives
A Novel
Hardcover

* Individual store prices may vary.
Description
A dazzling, operatic debut novel following three generations of a Muslim Indian family confronted with a nation on the brink of change.

Working as a consultant for Kamala Harris's attorney general campaign in Obama-era San Francisco, Seema has constructed a successful life for herself in the West, despite still struggling with her father's long-ago decision to exile her from the family after she came out as lesbian. Now, nine months pregnant and estranged from the Black father of her unborn son, Seema seeks solace in the company of those she once thought lost to her: her ailing mother, Nafeesa, traveling alone to California from Chennai, and her devoutly religious sister, Tahera, a doctor living in Texas with her husband and children.

But instead of a joyful reconciliation anticipating the birth of a child, the events of this fateful week unearth years of betrayal, misunderstanding, and complicated layers of love—a tapestry of emotions as riveting and disparate as the era itself.

Told from the point of view of Seema's child at the moment of his birth, and infused with the poetry of Wordsworth and Keats and verses from the Quran, Radiant Fugitives is a moving tale of a family and a country grappling with acceptance, forgiveness, and enduring love.
Praise For Radiant Fugitives: A Novel…
A Library Journal Title to Watch

"[A] sweeping family saga . . . [Radiant] Fugitives teems with the beautiful specificity of real lives lived, loved, and fought for—a genuinely radiant debut." —Leah Greenblatt, Entertainment Weekly

"Nawaaz Ahmed's Radiant Fugitives (Counterpoint, August 3) is expansive, graceful, and astounding in its tenderness; it's a novel that untangles the infinite layers a love can conjure." —Bryan Washington, Vulture

"Guaranteed to entertain and engage." —Vanity Fair

"Nawaaz Ahmed's remarkable debut is both a profound meditation on political and social injustices, and an intimate, delicately wrought examination of the complications inherent to issues of desire, identity, and family . . . Political and poetic, Ahmed's novel is a provocative meditation on forgiveness, compassion, and family." —Kristin Iversen, Refinery29

"In Radiant Fugitives, a multi-layered, multi-generational Sapphic novel, first-time author Nawaaz Ahmed writes the way an impressionist paints. He ensures the scenes unfold before the reader's eyes. The 384-page novel is a bold, sweeping book featuring broad themes such as politics, sexuality, mixed-race marriage, and a dysfunctional family. Ahmed's prose is imaginative and poetic . . . Ahmed accomplishes a rare feat, writing about three generations of the Hussein family. He does not stray from complicated topics such as sexuality and the pain of a shunned daughter. His mastery of poetry elucidates many passages, and his respect for the Quran helps readers understand Muslim culture. The narrative technique—told from a newborn baby and spoken from a fetus's point-of-view—is unique and evokes emotion, bringing the reader into the unforgettable lives of the Hussein women. Let us hope Ahmed is working on his next book because he is a rare talent, and the memorable ending of Radiant Fugitives is proof of his gift." —Wayne Catan, The Brooklyn Rail

"I've never read a novel like Nawaaz Ahmed's Radiant Fugitives, and, I kid you not, I've been waiting for this tremendous, complex, moving novel for years, but never expected to receive it . . . There is so much of life in this book." —Anita Felicelli, Electric Literature

"This rich, unafraid debut novel offers a masterclass in perspective-taking and will leave readers feeling all the things . . . Ahmed's impressive insight into his characters' lives is lifted up by a lovely use of intelligent and beautiful language. Additionally, the author's project of showing his characters honestly and authentically in the full ranges of their different and shared humanities succeeds in meaningful ways. Recommended for readers who enjoy multi-generational epics with deep emotionality." —Booklist (starred review) 

"This dazzling, heartrending debut follows two Indian sisters and their mother as they work to patch up fractures in their family . . .  Ahmed brilliantly maps the tension between the three women with emotional acuity, and as Seema's pregnancy unfolds, Ahmed slowly builds to a showdown, culminating in a shattering and unforgettable conclusion. This is a gem." —Publishers Weekly (starred review)

"[A] luminously intelligent, culturally magisterial debut." —Kirkus Reviews

"Rising star." —Library Journal

"Radiant Fugitives indeed glows. This is such a beautiful novel, full of light and luminous sentences. Reading it felt like basking in a generous and lucid intelligence. Ahmed writes his characters and their worlds with honesty and compassion. This is a writer to watch, a voice we need." —Matthew Salesses, author of Disappear Doppelgänger Disappear

"Lyrical and deeply moving, Nawaaz Ahmed's Radiant Fugitives is about the search for love, acceptance, and family, both chosen and received. The novel is big-hearted and clear-eyed, a stellar debut." —Vanessa Hua, author of A River of Stars

"A tender and heartbreaking love letter to San Francisco, to family, faith, tradition, and all the ways we get lost in them, Radiant Fugitives is richly drawn, poetic, and mesmerizing. Nawaaz Ahmed is a marvelous and intricate storyteller." —Natashia Deón, author of The Perishing and Grace

"Elegantly crafted and luminously written, Nawaaz Ahmed's first novel is a fearless exploration of the clash between identity, sexuality, and religion." —Manil Suri, author of The City of Devi

"Radiant Fugitives is a rare marvel, an intimate epic of faith and family, love and politics, knit together by a magical omniscience of profound compassion." —Peter Ho Davies, author of A Lie Someone Told You About Yourself

"Nawaaz Ahmed's remarkable debut novel brings to life a loving family torn apart by parental rejection, clashing values, sibling rivalry, and geographical and emotional distances. Radiant Fugitives is a profound and in-depth exploration of our common humanity, and the ways in which we are more alike than different." ―Wally Lamb, New York Times bestselling author of I Know This Much Is True
Counterpoint, 9781640094048, 384pp.
Publication Date: August 3, 2021
About the Author
NAWAAZ AHMED was born in Tamil Nadu, India. Before turning to writing, he was a computer scientist, researching search algorithms for Yahoo. He holds an MFA from University of Michigan–Ann Arbor and is the winner of several Hopwood Awards. He is the recipient of residencies at MacDowell, Yaddo, Djerassi, and VCCA. He's also a Kundiman and Lambda Literary Fellow. He currently lives in Brooklyn.