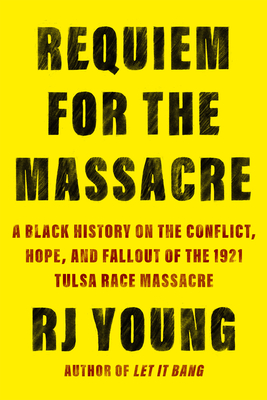 Requiem for the Massacre
A Black History on the Conflict, Hope, and Fallout of the 1921 Tulsa Race Massac re
Hardcover

* Individual store prices may vary.
Description
With journalistic skill, heart, and hope, Requiem for the Massacre reckons with the tension in Tulsa, Oklahoma, one hundred years after the most infamous act of racial violence in American history

More than one hundred years ago, the city of Tulsa, Oklahoma, perpetrated a massacre against its Black residents. For generations, the true story was ignored, covered up, and diminished by those in power and in a position to preserve the status quo. Blending memoir and immersive journalism, RJ Young shows how, today, Tulsa combats its racist past while remaining all too tolerant of racial injustice.

Requiem for the Massacre is a cultural excavation of Tulsa one hundred years after one of the worst acts of domestic terrorism in U.S. history. Young focuses on unearthing the narrative surrounding previously all-Black Greenwood District while challenging an apocryphal narrative that includes so-called "Black Wall Street," Booker T. Washington, and Black exceptionalism. Young provides a firsthand account of the centennial events commemorating Tulsa's darkest day, as the city attempts to reckon with its self-image, commercialization of its atrocity, and the aftermath of the massacre that shows how things have changed and how they have stayed woefully the same.

As the United States is in the throes of Black Lives Matter demonstrations spurred by the killing of George Floyd, and as Tulsa heads into the next one hundred years, Young's own reflections thread together the stories of a community trying to heal and trying to hope.
Praise For Requiem for the Massacre: A Black History on the Conflict, Hope, and Fallout of the 1921 Tulsa Race Massac re…
Praise for Requiem for the Massacre

"This fierce book attacks the whole spectrum of racism—from genocide to gentrification—that has colored life in Tulsa, Oklahoma, for a century. Young is a curious and courageous local, and Requiem for the Massacre is his intense account of awakening to the lingering tentacles of the 1921 massacre and wrestling with how to help heal a city." —Ben Montgomery, author of A Shot in the Moonlight

"Requiem for the Massacre is at times overwhelmingly powerful—part exhumation of a horrific past, part exploration of a dangerous present that makes that horror feel not so past at all. RJ Young's book is a profound examination that's both historical and deeply personal. It's an impressive feat—and an incredibly impressive one." —Will Leitch, author of How Lucky

Praise for Let It Bang

"It's easy to stand outside the fray and criticize the gun-hung whites and radical rednecks defending the Second Amendment. It takes real courage to grab a pistol, head to the range, and try to understand where they're coming from. This is RJ Young's success with Let It Bang." —Ben Montgomery, author of Grandma Gatewood's Walk
 
"RJ Young's Let It Bang is a penetrating and personal look at America's gun culture that hits the mark, finding both what brings us together as much as what tears us apart." —Glenn Stout, author of Young Woman and the Sea and series editor, The Best American Sports Writing
Counterpoint, 9781640095021, 336pp.
Publication Date: November 1, 2022
About the Author
RJ YOUNG is the author of Let It Bang: A Young Black Man's Reluctant Odyssey into Guns and a national college football writer and analyst at FOX Sports.