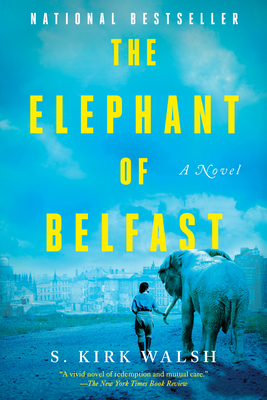 The Elephant of Belfast
A Novel
Paperback

* Individual store prices may vary.
Other Editions of This Title:
Digital Audiobook (4/5/2021)
Library Binding, Large Print (8/17/2021)
Hardcover (4/6/2021)
Compact Disc (4/6/2021)
MP3 CD (4/6/2021)
April 2021 Indie Next List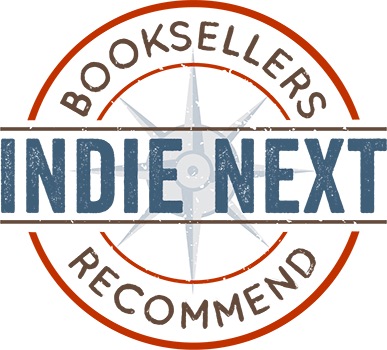 "
The Elephant of Belfast
is a gem of historical fiction involving a young female zookeeper and an elephant during the Belfast bombings in 1941. The beautiful writing weaves an intricate balance between themes of loss, identity, and resilience during a difficult time. A wonderful book for those who need an element of surprise and who believe the love between animals and humans can make us whole."
— Kathy Detwiler, Buttonwood Books and Toys, Cohasset, MA
View the List
Description
Inspired by true events, this vivid and moving story of a young woman zookeeper and the elephant she's compelled to protect through the German blitz of Belfast during WWll speaks to not only the tragedy of the times, but also to the ongoing sectarian tensions that still exist in Northern Ireland today—perfect for readers of historical and literary fiction alike.

Belfast, October 1940. Twenty-year-old zookeeper Hettie Quin arrives at the city docks in time to meet her new charge: an orphaned three-year-old Indian elephant named Violet. As Violet adjusts to her new solitary life in captivity and Hettie mourns the recent loss of her sister and the abandonment of her father, new storm clouds gather. A world war rages, threatening a city already reeling from escalating tensions between British Loyalists and those fighting for a free and unified Ireland.

The relative peace is shattered by air-raid sirens on the evening of Easter Tuesday 1941. Over the course of the next five hours, hundreds of bombs rain down upon Belfast, claiming almost a thousand lives and decimating the city. Dodging the debris and carnage of the Luftwaffe attack, Hettie runs to the zoo to make sure that Violet is unharmed. The harrowing ordeal and ensuing aftermath set the pair on a surprising path that highlights the indelible, singular bond that often brings mankind and animals together during horrifying times.

Inspired by a largely forgotten chapter of World War II, S. Kirk Walsh deftly renders the changing relationship between Hettie and Violet, and their growing dependence on each other for survival and solace. The Elephant of Belfast is a complicated and beguiling portrait of hope and resilience—and how love can sustain us during the darkest moments of our lives.
Praise For The Elephant of Belfast: A Novel…
Fiction Finalist for the 2021 Writers' League of Texas Book Awards
32nd Annual Reading the West Book Awards Nominee
The Christian Science Monitor, A Best Book of the Year
Kirkus Reviews, 1 of 10 Fiction Books to Look for This Year

"In 1941, with Nazi bombs shattering Belfast, a young zookeeper rushed to save the elephant in her charge. Walsh's lovely debut spins this historical sliver into a vivid novel of redemption and mutual care." —The New York Times Book Review

"Based on real events, this engrossing novel takes place a year into the Second World War. A three-year-old elephant named Violet arrives at Belfast's Bellevue Zoo, where Hettie Quin, a young zookeeper mourning the recent death of a sister, finds purpose and solace in caring for her . . . The novel vividly evokes the speed with which war makes the commonplace surreal, as Hettie and Violet become fugitives in a ruined city." ––The New Yorker

"The streets of Belfast, both before and after destruction, are compelling in their beauty and horror, and Walsh does well to paint the specifics of such a singular landscape . . . Ultimately, the story is redemptive. It is the second step of recovery, after all, to believe in something bigger than yourself, like an elephant." —Steve Amick, Michigan Public Radio

"Breathtaking . . . Walsh explores love, loyalty, and tragedy at a level that makes walking an elephant seem heartbreakingly simple . . . It's heartening to remember that even through the worst sacrifices, love and courage can prevail." —Rebekah Denn, Christian Science Monitor

"A charming debut around a little-known chapter of World War II—the German blitz of Belfast in a city already reeling from sectarian violence. But the real heart of this story centers around the love and devotion between Hettie and Violet, a twenty-year-old zookeeper and an orphaned three-year-old Indian elephant. While war rages on, Hettie will go to great lengths to protect Violet giving readers a riveting story of strength and survival, hope and resilience." —Barnes & Noble

"A beguiling and compelling story of historical fiction set during the 1941 Belfast Blitz . . . Walsh's research pays dividends for the reader as the sights, sounds, and smells of Belfast rise in the imagination . . . The Elephant of Belfast is a heartfelt and heartbreaking, ultimately inspiring and uplifting, tale of coming-of-age in extraordinary circumstances." —Michelle Newby Lancaster, Lone Star Review

"The finely drawn prose is cinematic in places, and the characters are vividly brought to life with Walsh's deft portraiture. The Elephant of Belfast is historical fiction at its best." —D.A. Spruzen, Washington Independent Review of Books

"The Elephant of Belfast is deeply emotive . . . Action is heart-pounding; the imagery vivid; the message universal: connections and friendships among living creatures, both animal and human, offer solace, support, and strength in the darkest times." ––K.M. Sandrick, Historical Novels Review

"Inspired by the true story of the 'elephant angel' of Belfast, Walsh's debut is a stirring tale of grief, loss, and survival against the chaotic backdrop of the war and the IRA's actions. The unique setting of Belfast during WWII makes this book stand out . . . Overall, fans of WWII fiction and historical fiction will enjoy this fresh take on the era." —Booklist

"Offering a distinctive slant among this year's strong World War II novels." —Library Journal

"Walsh fictionalizes in her charming debut a little-known true story from WWII, that of a female Irish zookeeper and a 3,000-pound young elephant. The year is 1940 when 20-year-old Hettie Quin, a part-time zookeeper, waits at the Belfast docks for the arrival of Bellevue Zoo's latest attraction—a three-year-old elephant named Violet . . . Hettie's devotion to Violet forms the emotional core of this novel, which does an excellent job of recreating daily life in Belfast during WWII. Hettie and Violet's bond is one to treasure." —Publishers Weekly

"Walsh delivers a turbulent portrait of life in a divided city . . . A unique perspective of a country at war and the lengths people will go for those they love." —Kirkus Reviews

"Sensitively rendered and finely drawn, this remarkable story, based on true events, is both uplifting and heartbreaking." —Christina Baker Kline, #1 New York Times bestselling author of Orphan Train and The Exiles
Counterpoint, 9781640095113, 352pp.
Publication Date: April 5, 2022
About the Author
S. Kirk Walsh is a writer living in Austin, Texas. Her work has been widely published in The New York Times Book Review, Longreads, StoryQuarterly, and Electric Literature, among other publications. Over the years, she has been a resident at Ucross, Yaddo, Ragdale, and Virginia Center for the Creative Arts. Walsh is the founder of Austin Bat Cave, a writing and tutoring center that provides free writing workshops for young writers throughout Austin. The Elephant of Belfast is her first novel.