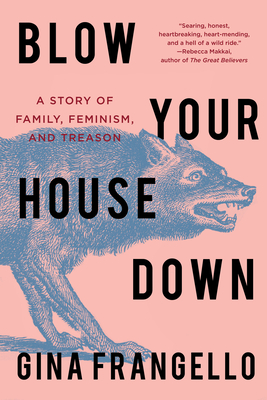 Blow Your House Down
A Story of Family, Feminism, and Treason
Paperback

* Individual store prices may vary.
Other Editions of This Title:
Digital Audiobook (4/5/2021)
Hardcover (4/6/2021)
Compact Disc (4/6/2021)
MP3 CD (4/6/2021)
Description
A Good Morning America Recommended Book • A BuzzFeed Most Anticipated Book of the Year • A Lit Hub Most Anticipated Book of the Year • A Rumpus Most Anticipated Book of the Year • A Bustle Most Anticipated Book of the Month

"A pathbreaking feminist manifesto, impossible to put down or dismiss. Gina Frangello tells the morally complex story of her adulterous relationship with a lover and her shortcomings as a mother, and in doing so, highlights the forces that shaped, silenced, and shamed her: everyday misogyny, puritanical expectations regarding female sexuality and maternal sacrifice, and male oppression." —Adrienne Brodeur, author of Wild Game

Gina Frangello spent her early adulthood trying to outrun a youth marked by poverty and violence. Now a long-married wife and devoted mother, the better life she carefully built is emotionally upended by the death of her closest friend. Soon, awakened to fault lines in her troubled marriage, Frangello is caught up in a recklessly passionate affair, leading a double life while continuing to project the image of the perfect family. When her secrets are finally uncovered, both her home and her identity will implode, testing the limits of desire, responsibility, love, and forgiveness.

Blow Your House Down is a powerful testimony about the ways our culture seeks to cage women in traditional narratives of self-sacrifice and erasure. Frangello uses her personal story to examine the place of women in contemporary society: the violence they experience, the rage they suppress, the ways their bodies often reveal what they cannot say aloud, and finally, what it means to transgress "being good" in order to reclaim your own life.
Praise For Blow Your House Down: A Story of Family, Feminism, and Treason…
A New York Times Book Review Editors' Choice • A Good Morning America Recommended Book • A LitReactor Best Book of the Year • A BuzzFeed Most Anticipated Book of the Year • A Lit Hub Most Anticipated Book of the Year • A Rumpus Most Anticipated Book of the Year • A Bustle Most Anticipated Book of the Month

"Compelling, honest, and thought-provoking, Gina Frangello's memoir is an inspired addition to her astounding body of work." —Charlize Theron

"A provocative memoir." —The New York Times Book Review, Editors' Choice

"Blow Your House Down: A Story of Family, Feminism, and Treason . . . [is] her most lyrical, adventurous and important work." —Meredith Maran, Los Angeles Times

"My bet for breakout of the year. The Chicagoan's memoir takes on gender expectations and marital affairs in such a brutal, self-lacerating candor, you wonder who should play her in the movie." —Christopher Borrelli, Chicago Tribune

"Candid and engrossing . . . A searing indictment of misogynistic expectations, Blow Your House Down blasts through convention, martyrdom and self-loathing to reach the strength, agency, resilience and empowerment that all women deserve. This book will inspire readers to accept themselves . . . and to live a life full of authenticity and joy." —Ms. Magazine

"An unforgettable book." —K.W. Colyard, Bustle, a Best Book of the Month

"Too many memoirs fall into the trap of mistaking martyrdom for nobility, sacrifice for bravery; they float on the still-shiny surface rather than excavating into the murk. Gina Frangello's Blow Your House Down is not that kind of memoir. Instead, it is fierce and violent, a rampaging storm—a breathtaking, luminous reminder of the wreckage we are capable of making of our own lives." —Kristin Iversen, Refinery29, One of the Best New Books of the Year

"Underlying this generous and intimate personal history is a censure of the broad cultural suppression (and demonization) of women's rage, passion, and autonomy; and the gleeful eagerness to punish women who have transgressed. Frangello presents rationalizations for her actions, but she isn't asking to be excused: This isn't so much about seeking absolution—though she knows she's being judged—as much as it's about reclaiming a story that is too easily appropriated and rewritten by outsiders, often through a lens of misogyny. It's a powerful, electric testimony." —Arianna Rebolini, BuzzFeed

"Raw, edgy, and revealing, it is a book that dares to expose everything, not least its author's vulnerability." —Alta

"Gina Frangello's new memoir Blow Your House Down: A Story of Family, Feminism, and Treason explodes the good girl trope with a vengeance . . . Reading Frangello's confessional account of her years-long affair with a longtime friend turned lover—and the secrecy, pleasure, betrayal, and upheaval surrounding it—I was reminded of both The Scarlet Letter and Lolita, with a little Ferrante thrown in." —Kelly Thompson, Guernica

"Indeed, the attention and nuance which Frangello gives to her life story and the gendered issues of care and livelihood generate multiple readings that dismantle, strip, and rebuild readers' understanding of the present. In the end, Frangello is not simply asking us to blow our own houses down but instead to consider how they are built and what they encompass, while also imagining a new edifice from which to move forward. " —Clancey D'Isa, Chicago Review of Books

"All of me loved Gina Frangello for writing this book. With her unapologetic, hold-nothing-back confessional style, she draws us in as she interweaves the messy milestones of her life with feminist ideology." —Megan Vered, The Los Angeles Review of Books

"I'm a sucker for the sort of story arc in Blow Your House Down: Woman follows the rules. Woman becomes wife, mother. Woman is 'good' in all things. One day, following crisis or unrelenting ennui, woman realizes that her life feels hollow or binding, so she sets about changing said life (sometimes in explosive fashion). I love this story enough in novel form, but better yet, Gina Frangello unravels it in all its reckless, transgressive, messy glory in this memoir about womanhood and misogyny, sex and joy." —Literary Hub, One of the Most Anticipated Books of the Year

"In this searing memoir, novelist Frangello charts the spectacular highs and devastating lows of her midlife with extraordinary candor . . . Frangello describes this bold and tumultuous period of her life in intimate and remarkable detail, and despite the tumult celebrates her own resilience. This unapologetic account both moves and fascinates." —Publishers Weekly (starred review)

"Searingly honest and compulsively readable, this memoir serves as a post–#MeToo feminist dictum about the deeply complex and multilayered emotional and sexual lives of women. With humor and a no-holds-barred self-inspection, the author illuminates these layers and reminds us that 'the clean reduction of a woman to any prime number is always a lie.' Uncompromisingly fearless in its candor, this memoir/feminist manifesto is a powerful account of a woman's self-acceptance that deserves a place among the best literary memoirs of the last decade. Frangello's groundbreaking testimony sets itself apart." —Library Journal (starred review)
Counterpoint, 9781640095250, 336pp.
Publication Date: April 12, 2022
About the Author
Gina Frangello is the author of Every Kind of Wanting, A Life in Men, Slut Lullabies, and My Sister's Continent. Her short fiction, essays, book reviews, and journalism have been published in Ploughshares, The Boston Globe, Chicago Tribune, HuffPost, Fence, Five Chapters, Prairie Schooner, Chicago Reader, and many other publications. She lives with her family in the Chicago area.