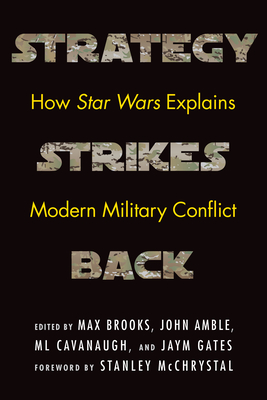 Strategy Strikes Back (Hardcover)
How Star Wars Explains Modern Military Conflict
Potomac Books, 9781640120334, 272pp.
Publication Date: May 1, 2018
* Individual store prices may vary.
About the Author
Max Brooks is a writer, public speaker, nonresident fellow at the Modern War Institute at West Point, and senior resident fellow at the Atlantic Council's Art of Future Warfare project. He is the author of World War Z: An Oral History of the Zombie War and The Harlem Hellfighters, among other works. John Amble is the editorial director of the Modern War Institute. A military intelligence officer in the U.S. Army Reserve, he is a veteran of the Iraq and Afghanistan wars. ML Cavanaugh is a nonresident fellow at the Modern War Institute and a U.S. Army strategist with global experience and assignments ranging from the Pentagon to Korea and Iraq to Army Space and Missile Defense Command. His writing has appeared in the New York Times, the Washington Post, the Wall Street Journal, and USA Today, among other publications. Jaym Gates is a science fiction editor and author, with more than a dozen anthologies to her credit. She is the coeditor of War Stories: New Military Science Fiction. Stanley McChrystal is a U.S. Army general (ret.) who led the Joint Special Operations Command in Iraq during the Persian Gulf wars and was top commander of American forces in Afghanistan.