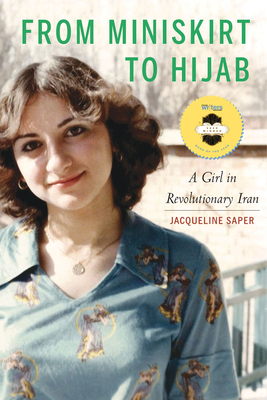 From Miniskirt to Hijab
A Girl in Revolutionary Iran
Hardcover

* Individual store prices may vary.
Other Editions of This Title:
Digital Audiobook (4/12/2021)
MP3 CD (4/13/2021)
Compact Disc (4/13/2021)
Description
2020 Chicago Writers Association Book of the Year Award in Traditional Nonfiction 
2021 Finalist in the Eric Hoffer Awards 

Jacqueline Saper, named after Jacqueline Kennedy, was born in Tehran to Iranian and British parents. At eighteen she witnessed the civil unrest of the 1979 Iranian revolution and continued to live in the Islamic Republic during its most volatile times, including the Iran-Iraq War. In a deeply intimate and personal story, Saper recounts her privileged childhood in prerevolutionary Iran and how she gradually became aware of the paradoxes in her life and community—primarily the disparate religions and cultures.

In 1979 under the Ayatollah regime, Iran became increasingly unfamiliar and hostile to Saper. Seemingly overnight she went from living a carefree life of wearing miniskirts and attending high school to listening to fanatic diatribes, forced to wear the hijab, and hiding in the basement as Iraqi bombs fell over the city. She eventually fled to the United States in 1987 with her husband and children after, in part, witnessing her six-year-old daughter's indoctrination into radical Islamic politics at school. At the heart of Saper's story is a harrowing and instructive tale of how extremist ideologies seized a Westernized, affluent country and transformed it into a fundamentalist Islamic society.
 
Praise For From Miniskirt to Hijab: A Girl in Revolutionary Iran…
"In addition to being a memoir of resiliency and courage, From Miniskirt to Hijab offers glimpses into Iran's history and customs, its arts and laws, how its social institutions operate, and its people think."—Fred Reiss, San Diego Jewish World

"From Miniskirt to Hijab: A Girl in Revolutionary Iran provides a memoir not just of Jacqueline Saper, but of a pivotal time in conservative Iran, and should be required reading for anyone interested in the social evolution of Iran and women's changing experiences and roles in that country."—Diane C. Donovan, Donovan's Bookshelf

"From Miniskirt to Hijab will leave readers with the ability to understand the deeper issues related to post-revolutionary Iran. Simply put, anyone who wants to understand the human element behind American policy vis-à-vis Iran should read (and quote) this book, which should be read widely in college classrooms, among other places."—Tabby Refael, Jewish Journal

"Jacqueline Saper's From Miniskirt to Hijab: A Girl in Revolutionary Iran is a welcome addition in the genre of memoir writing by Iranian women in diaspora."—Claudia Yaghoobi, Reading Religion

"Richly informative, From Miniskirt to Hijab captures a difficult time in Iranian history with honesty and candor. Saper demonstrates her love for the country of her birth while realistically discussing some of the challenges confronting a non-Shiite in a very conservative society."—Mateo Mohammad Farzaneh, associate professor of history at Northeastern Illinois University and author of The Iranian Constitutional Revolution and the Clerical Leadership of Khurasani
 

"From Miniskirt to Hijab is a deeply moving memoir that vividly details the struggle of human life—both collective and individual—under authoritarian rule. Saper's insightful and compelling narrative is extraordinary in its use of personal perspective to mourn the rapid loss of Iran's once progressive society. This book is both an important historical account and a cautionary tale, a poignant reminder of the devastating impact an unchecked regime has on its unwilling participants."—Bardia Fard, chapter president of the Iranian-American Bar Association   
 

"From Miniskirt to Hijab is the best book yet to explain the contrast of life under the rule of the Shah versus that of the Ayatollahs. Saper is uniquely able to articulate the underlying dynamic of Iran's sudden rejection of a Western culture that was idealized for years before 1979. This book is a must-read for anyone who wants to understand the causes of turmoil in one of the most volatile regions of the world."—Bobak Kalhor, director and producer of A Dying King: The Shah of Iran
Potomac Books, 9781640121171, 240pp.
Publication Date: October 1, 2019
About the Author
Jacqueline Saper is a CPA, educator, translator, and public speaker. An expert on Iranian subject matter, her opinion columns and articles regularly appear in national and international publications. She can be reached at JacquelineSaper.com.