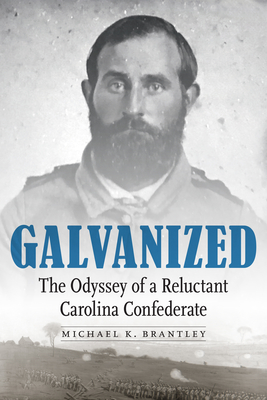 Galvanized
The Odyssey of a Reluctant Carolina Confederate
Hardcover

* Individual store prices may vary.
Description
Every Civil War veteran had a story to tell. But few stories top the one lived by Wright Stephen Batchelor. Like most North Carolina farmers, Batchelor eschewed slaveholding. He also opposed secession and war, yet he fought on both sides of the conflict. During his time in each uniform, Batchelor barely avoided death at the Battle of Gettysburg, was captured twice, and survived one of the war's most infamous prisoner-of-war camps. He escaped and, after walking hundreds of miles, rejoined his comrades at Petersburg, Virginia, just as the Union siege there began. Once the war ended, Batchelor returned on foot to his farm, where he took part in local politics, supported rights for freedmen, and was fatally involved in a bizarre hometown murder.
              
Michael K. Brantley's story of his great-great-grandfather's odyssey blends memory and Civil War history to look at how the complexities of loyalty and personal belief governed one man's actions—and still influence the ways Americans think about the conflict today.
 
Praise For Galvanized: The Odyssey of a Reluctant Carolina Confederate…
"'The Civil War is just as complicated now as the day it started.' . . . Brantley deftly combines military and social history, a gripping narrative of one private soldier, and his personal struggle to make sense of a savage, fratricidal war and the morally fraught heritage that continues to haunt the South."—Philip Gerard, author of The Last Battleground and Cape Fear Rising

"In this meticulously researched account, Michael Brantley weaves the fascinating history of his great-great-grandfather with his own present-day search to understand the complex and tangled issues of culture, place, and identity that divided our country during the Civil War and continue to divide us now."—Rebecca McClanahan, author of The Tribal Knot: A Memoir of Family, Community, and a Century of Change

"Michael Brantley's Galvanized is a conscientious and sweeping hybrid narrative gathering together fragments of the author's personal history—that of his great-great-grandfather's life in nineteenth-century North Carolina—alongside elaborately researched accounts of the Civil War. When Brantley offers, 'These were the stories that had become interesting to me, the stories about real people, regular people,' he focuses our attention on the plural, people, and reminds us how interconnected our histories are and forever will be."—Jon Pineda, author of Let's No One Get Hurt

"As the author's research reveals the journey of his great-great-grandfather across Nash County and battlefields of the Civil War, Michael K. Brantley discovers that exploring the past reveals the explored but changes the explorer. A worthy literary effort!"—Wade G. Dudley, author of Remembering North Carolina and Splintering the Wooden Wall
Potomac Books, 9781640121225, 208pp.
Publication Date: May 1, 2020
About the Author
Michael K. Brantley is the great-great-grandson of Wright Stephen Batchelor. He is an assistant professor of communications at Barton College in Wilson, North Carolina, and a former newspaper editor. He has published creative nonfiction, fiction, and poetry in numerous publications, including the First Day, Dunes Review, Broad River Review, WordRiver, and Broadkill Review. He is the author of Memory Cards: Portraits from a Rural Journey.