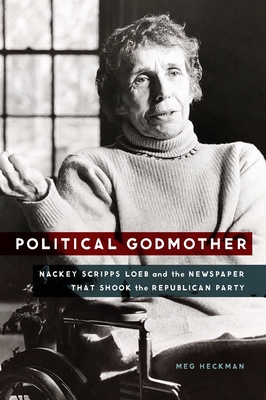 Political Godmother
Nackey Scripps Loeb and the Newspaper That Shook the Republican Party
Hardcover

* Individual store prices may vary.
Description
Newspaper publisher and GOP kingmaker Nackey Scripps Loeb headed the Union Leader Corporation, one of the most unusual—and influential—local newspaper companies in the United States. Her unapologetic conservatism and powerful perch in the home of the first-in-the-nation presidential primary elicited fear and respect while her leadership of New Hampshire's Union Leader gave her an outsized role in American politics.

In Political Godmother Meg Heckman looks at Loeb's rough-and-tumble political life against the backdrop of the right-wing media landscape of the late twentieth century. Heckman reveals Loeb as a force of nature, more than willing to wield her tremendous clout and able to convince the likes of Pat Buchanan to challenge a sitting president. Although Loeb initially had no interest in the newspaper business, she eventually penned more than a thousand front-page editorials, drew political cartoons, and became a regular on C-SPAN.

A fascinating look at power politics in action, Political Godmother reveals how one woman ignited conservatism's transformation of the contemporary Republican Party.

 
Praise For Political Godmother: Nackey Scripps Loeb and the Newspaper That Shook the Republican Party…
"Both Loebs represent a foreshadowing of Trump world. Meg Heckman's finely crafted study helps us to appreciate that, and more."—Michael J. Birkner, New England Quarterly

"An underacknowledged newspaper publisher and conservative activist receives her biographical due."—Kirkus Reviews

"Heckman doesn't pull any punches here. This is a portrait of a publisher whose deeply conservative political attitudes polarized voters in the 1980s and 1990s and, no doubt, will continue to either anger or inspire readers today. . . . [Heckman] does a brilliant job in characterizing Nackey Scripps Loeb as an activist committed to limiting the power of the federal government, protecting private property, and stopping the spread of Communism. This was a woman with an 'America First' bumper sticker on her wheelchair and a powerful voice in the creation of today's Republican Party."—Molly McClain, author of Ellen Browning Scripps: New Money and American Philanthropy

"We're all familiar with the story of how Katharine Graham became the first woman to run the Washington Post. But few of us know the story of an equally influential newspaperwoman—Nackey Scripps Loeb, a guiding force for conservative newspapers like her own New Hampshire Union Leader. Regardless of whether you agree with her conservative political leanings, this is an important chronicle of a woman who overcame significant personal trials—and the male-dominated journalism world of her time—to advance her goal of making an impact on conservative political thinking."—Joanne Cronrath Bamberger, editor of Love Her, Love Her Not: The Hillary Paradox
Potomac Books, 9781640121935, 200pp.
Publication Date: June 1, 2020
About the Author
Meg Heckman is an assistant professor of journalism at Northeastern University, Boston. She worked as a reporter and editor for the Concord (NH) Monitor for more than a decade. Her recent work has appeared in the Columbia Journalism Review, the Boston Globe, Media Report to Women, and USA Today.