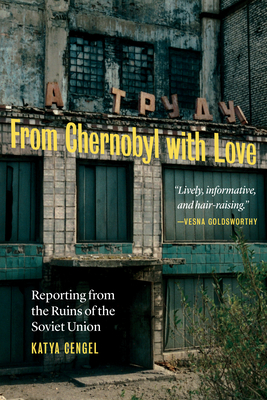 From Chernobyl with Love
Reporting from the Ruins of the Soviet Union
Hardcover

* Individual store prices may vary.
Other Editions of This Title:
Paperback (6/1/2023)
Description
2019 Foreword INDIES Award, Gold for Autobiography & Memoir
Bronze Medal winner in the Independent Book Publishers Awards

In the wake of the fall of the Berlin Wall, the late twentieth century was a time of unprecedented hope for democracy and freedom in Eastern Europe. The collapse of the Soviet Union left in its wake a number of independent countries where the Scorpions' 1990 pop ballad "Wind of Change" became a rallying cry. Communist propaganda was finally being displaced by Western ideals of a free press.

Less than two decades ago, young writers, journalists, and adventurers such as Katya Cengel flocked from the West eastward to cities like Prague and Budapest, seeking out terra nova. Despite the region's appeal, neither Kyiv in the Ukraine nor Riga in Latvia was the type of place you would expect to find a twenty-two-year-old Californian just out of college. Kyiv was too close to Moscow. Riga was too small to matter—and too cold. But Cengel ended up living and working in both. This book is her remarkable story.

Cengel first took a job at the Baltic Times just seven years after Latvia regained its independence. The idea of a free press in the Eastern Bloc was still so promising that she ultimately moved to the Ukraine. From there Cengel made several trips to Chernobyl, site of the world's worst nuclear disaster. It was at Chernobyl that she met her fiancé, but as she fell in love, the Ukraine collapsed into what would become the Orange Revolution, bringing it to the brink of political disintegration and civil war. Ultimately, this fall of idealism in the East underscores Cengel's own loss of innocence. From Chernobyl with Love is an indelible portrait of this historical epoch and a memoir of the highest order.
 
Praise For From Chernobyl with Love: Reporting from the Ruins of the Soviet Union…
"Cengel demonstrates a knack for finding compelling stories, including an on-the-ground report from Chernobyl at a time when engineers were still working to cap off the reactor with a cement sarcophagus. . . . The author has a fine eye for the details of newsroom politics back when newspapers were read and newsrooms were packed with offbeat characters. Sometimes gonzo, sometimes hard-charging—a welcome report from the front lines in a time of torment and hope."—Kirkus Reviews

"Cengel ably captures a complicated region in which citizens make do with few resources, where phones are tapped and many workers aren't paid, and where the people encountered sometimes seek bribes, are pessimistic, or are drunk. Cengel's language is precise, and her historical context invites readers in, regardless of their knowledge of former USSR countries. Big risks and moments of gravity make From Chernobyl with Love both human and heroic—a satisfying and gutsy memoir."—Meredith Grahl Counts, Foreword Reviews

"Katya Cengel's account of life in post-Soviet Eastern Europe is a joy to read: lively, informative, and hair-raising in equal measure."—Vesna Goldsworthy, author of the international best seller Chernobyl Strawberries
 

"Katya Cengel writes with a rare honesty. Her narrative voice is both plucky and vulnerable, a combination that allows readers to feel her excitement, fear, and hope as a young American reporting from the former Soviet Union."—Peter Nichols, best-selling author of The Rocks and A Voyage for Madmen
 

"Katya Cengel's From Chernobyl with Love is a charming, bittersweet story of young love and journalism. She deftly captures the chaotic environment, first in Latvia, then in Ukraine, as the newly independent countries struggle to find their footing."—Karol Nielsen, author of Walking A & P: A Vietnam War Memoir and Black Elephants: A Memoir
 

"Not too many young journalists would ditch the beaches of California for the cold, corruption, and chaos of Eastern Europe after the fall of the Berlin Wall. But Katya Cengel is no ordinary scribe. In her witty, insightful, and heartfelt memoir, From Chernobyl with Love, Cengel uncovers it all, from Latvian Nazis to Ukrainian uprisings to finding love in the land of nuclear disaster. From Chernobyl with Love is a rewarding blend of candid experiences and expert reporting from an important yet enigmatic part of the world."—Franz Wisner, New York Times best-selling author of Honeymoon with My Brother

 

"Cengel is a brave and beguiling guide through stories and countries often ignored by the West, writing with passion about the people of Latvia and Ukraine and the trauma etched on their psyches by oppressive governments, corruption, starvation, and nuclear disaster."—Jennifer Steil, author of The Woman Who Fell from the Sky: An American Woman's Adventures in the Oldest City on Earth
Potomac Books, 9781640122048, 304pp.
Publication Date: November 1, 2019
About the Author
Katya Cengel is a freelance writer based in San Luis Obispo, California, and lectures in the Journalism Department of California Polytechnic State University, San Luis Obispo. She was a features and news writer for the Louisville Courier-Journal from 2003 to 2011, and her work has appeared in the New York Times Magazine, the Wall Street Journal, the Washington Post, Marie Claire, and Newsweek. She is the author of Exiled: From the Killing Fields of Cambodia to California and Back (Potomac Books, 2018) and Bluegrass Baseball: A Year in the Minor League Life (Nebraska, 2012).