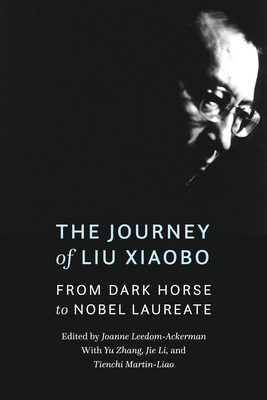 The Journey of Liu Xiaobo
From Dark Horse to Nobel Laureate
Hardcover

* Individual store prices may vary.
Description
An Authorlink Top Five Book of 2020

As a fearless poet and prolific essayist and critic, Liu Xiaobo became one of the most important dissident thinkers in the People's Republic of China. His nonviolent activism steered the nation's prodemocracy currents from Tiananmen Square to support for Tibet and beyond. Liu undertook perhaps his bravest act when he helped draft and gather support for Charter 08, a democratic vision for China that included free elections and the end of the Communist Party's monopoly on power. While imprisoned for "inciting subversion of state power," Liu won the 2010 Nobel Peace Prize. He was granted medical parole just weeks before dying of cancer in 2017.
              
The Journey of Liu Xiaobo draws together essays and reflections on the "Nelson Mandela of China." The Dalai Lama, artist and activist Ai Weiwei, and a distinguished list of leading Chinese writers and intellectuals, including Zhang Zuhua, the main drafter of Charter 08, and Liu Xia, the wife of Liu Xiaobo, and noted China scholars, journalists, and political leaders from around the globe, including Yu Ying-shih, Perry Link, Andrew J. Nathan, Marco Rubio, and Chris Smith illuminate Liu's journey from his youth and student years, through his indispensable activism, and to his defiant last days. Many of the pieces were written immediately after Liu's death, adding to the emotions stirred by his loss.

Original and powerful, The Journey of Liu Xiaobo combines memory with insightful analysis to evaluate Liu's impact on his era, nation, and the cause of human freedom.
Praise For The Journey of Liu Xiaobo: From Dark Horse to Nobel Laureate…
"One of the strengths of The Journey of Liu Xiaobo is the probity and conviction of its articles, all but five of which were translated from Chinese into English. Many of the authors didn't just know Liu intimately but clearly display a deep knowledge of Chinese politics and culture."—Ajay Singh, South China Morning Post Magazine

"This invaluable book shows the range and depth of Liu Xiaobo's interests, concerns, and thoughts. It helps us know this remarkable man intimately. As a document, this book bears another kind of witness, both personal and historical."—Ha Jin, author of Waiting, winner of the National Book Award

"The late Nobel Peace Prize laureate comes alive in these intimate recollections and thoughtful reflections, contributed by dozens of his friends and admirers—many of them, like Liu, heroes of the long, hard Chinese struggle for democracy."—Andrew J. Nathan, Class of 1919 Professor of Political Science at Columbia University

"Through this book Liu Xiaobo lives on and will surely have increasing impact!"—Jerome Cohen, senior fellow for Asia Studies, Council on Foreign Relations

"This collection reminds us of Liu's immense contributions to the cause of democracy and human rights in China. The Journey of Liu Xiaobo provides a moving and informative account of Liu's evolution from an iconoclastic literary critic to a noble political thinker and fearless freedom fighter."—Minxin Pei, Tom and Margot Pritzker '72 Professor of Government and George R. Roberts Fellow, Claremont McKenna College

"Provocative, challenging, elegiac: the essays in The Journey of Liu Xiaobo capture the intellectual and activist spirit of the late literary critic and democracy icon. With contributions from a Who's Who of China's democracy movement and its global supporters, the essays speak to Liu's role in political debates during his life and carry that legacy into the future. The collection is a fitting tribute to a man who hoped he would be 'the last victim of China's endless literary inquisitions.'"—Ken Roth, executive director, Human Rights Watch

"The Journey of Liu Xiaobo traces the life of the talented writer, thinker, and activist whose commitment to freedom for himself and his society set him at odds with the formidable Chinese regime. Through these essays of friends and scholars, the reader learns about Liu Xiaobo from his youth, follows his actions and his thinking as it develops into a commitment to nonviolent change. Though Liu Xiaobo is no longer with us, his ideas and his vision endure and will influence generations to come."—Jennifer Clement, president, PEN International
Potomac Books, 9781640122246, 544pp.
Publication Date: April 1, 2020
About the Author
Joanne Leedom-Ackerman is a novelist, short story writer, and journalist. She is vice president emeritus of PEN International and served as chair of PEN International's Writers in Prison Committee while Liu was imprisoned. Leedom-Ackerman later served as the International Secretary of PEN International in the same years Liu Xiaobo was president of the Independent Chinese PEN Center (ICPC).

Yu Zhang is a Chinese citizen based in Sweden. As a scholar, editor, and translator, he is the coordinator of the ICPC's Writers in Prison and the Freedom to Write Committee and served as secretary-general of the ICPC during the years Liu was president of the center.

Jie Li is a Chinese American librarian, editor of the Democratic China English website, and a former volunteer for the ICPC.

Tienchi Martin-Liao is a Chinese German author, editor, and translator and the president of the ICPC.