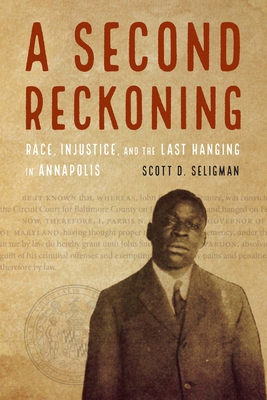 A Second Reckoning
Race, Injustice, and the Last Hanging in Annapolis
Hardcover

* Individual store prices may vary.
Description
2021 Best Book Awards Finalist in US History sponsored by American Book Fest

A Second Reckoning tells the story of John Snowden, a Black man accused of the murder of a pregnant white woman in Annapolis, Maryland, in 1917. He refused to confess despite undergoing torture, was tried—through legal shenanigans—by an all-white jury, and was found guilty on circumstantial evidence and sentenced to death. Despite hair-raising, last-minute appeals to spare his life, Snowden was hanged for the crime. But decades after his death, thanks to tireless efforts by interested citizens and family members who believed him a victim of a "legal lynching," Snowden was pardoned posthumously by the governor of Maryland in 2001.

A Second Reckoning uses Snowden's case to bring posthumous pardons into the national conversation about amends for past racial injustices. Scott D. Seligman argues that the repeal of racist laws and policies must be augmented by reckoning with America's judicial past, especially in cases in which prejudice may have tainted procedures or perverted verdicts, evidence of bias survives, and a constituency exists for a second look. Seligman illustrates the profound effects such acts of clemency have on the living and ends with a siren call for a reexamination of such cases on the national level by the Department of Justice, which officially refuses to consider them.


 
Praise For A Second Reckoning: Race, Injustice, and the Last Hanging in Annapolis…
"Calling for ongoing systemic change, this short book packs a big punch and will resonate with many in the 21st century."—Randall M. Miller, Library Journal

"In these pages we see ugly, abandoned skeletons of white supremacy, but we can also recognize racist practices still very much present today. Seligman's account is compelling, even-handed, and intelligent. It is meticulously sourced and artfully presented, a page-turner. Seligman makes a convincing argument that to achieve racial reconciliation we must correct the injustices of the past as well as those of the present."—Will Schwarz, president of the Maryland Lynching Memorial Project
 

"The death penalty in America has been plagued with racial bias since the days of slavery. Even still, data reveal that the race of the victim and the perpetrator matter when it comes to sentencing death penalty cases. With a storyteller's skill and a historian's eye for detail, Scott Seligman draws the reader into this controversial early twentieth-century death penalty case and tells us why it matters today."—Jamal Simmons, media commentator and political analyst
 

"A Second Reckoning is as haunting as it is relevant. Seligman crafts a well-written tale that both recounts and warns against the immediate and chronic damage that acts of legally sanctioned injustice can wreak on a community and a people. It is both stirring and alarming that John Snowden's fate in 1919 relates so directly to today."—Christopher H. Haley, director, Study of the Legacy of Slavery in Maryland, Maryland State Archives

"Seligman tells the story with careful historical accuracy, in superbly researched detail, and in a style that is clear, lively, colorful, and thoroughly engaging. . . . Seligman respects the reader throughout. He presents the evidence honestly and leaves to the reader the judgment of whether Snowden is guilty or not."—Michael Millemann, Jacob A. France Professor of Law, University of Maryland Carey School of Law
 
Potomac Books, 9781640124653, 288pp.
Publication Date: October 1, 2021
About the Author
Scott D. Seligman is a writer and historian. He is the author of numerous books, including The Great Kosher Meat War of 1902: Immigrant Housewives and the Riots That Shook New York City (Potomac Books, 2020), the award-winning The Third Degree: The Triple Murder That Shook Washington and Changed American Criminal Justice (Potomac Books, 2018), and The First Chinese American: The Remarkable Life of Wong Chin Foo.