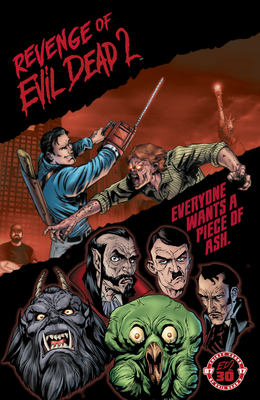 Evil Dead 2 (Paperback)
Revenge of Evil Dead
Space Goat Productions, Inc., 9781640170629, 140pp.
Publication Date: July 1, 2017
* Individual store prices may vary.
Description
Celebrate 30 years of Evil Dead 2 with this complete collection of Revenge of Evil Dead 2! Undead Nazis! Famous Deadites! Demons Galore! This tome brings all the excitement of action-packed carnage with only a small chance of unleashing hell on earth! This is the complete collection of all seven issues of the Revenge of Evil Dead 2 series, containing Evil Dead 2: Revenge of Hitler, Evil Dead 2: Revenge of Dracula, Evil Dead 2: Revenge of the Martians, Evil Dead 2: Revenge of Jack the Ripper, Evil Dead 2: Revenge of Krampus, and  Evil Dead 2: Revenge of Evil Ed parts 1 and 2.
About the Author
Ian Edginton is a British comic-book writer known for his streampunk/alternate history work. His long list of credits include HG Wells' The War of the World adaptation, Warhammer, and Terminator comic books for such publishers as 200AD, Dark Horse, and Boom! Studios. His work on Revenge of Hitler for Space Goat productions has lead to further Evil Dead 2 work with Space Goat Productions. 
Georgia Ball has been writing for an audience since 2004 when she launched a webcomic with her husband, artist Scott Ball. Scooter and Ferret ran until 2010 when she ended the strip to work on licensed comic books. Since then she's written for a variety of all-ages properties including Transformers, Scooby Doo, Disney Princesses, Strawberry Shortcake and Evil Dead 2. Recent projects have included Disney's Frozen Comic Collection from Joe Books, three Strawberry Shortcake graphic novels from IDW Publishing and two graphic novels for Scholastic's Graphix imprint. She is also the writer of Dark Lily from Space Goat Productions.
Tyrone Templeton is a Canadian comic book artist and writer who has drawn a number of mainstream titles, TV-associated titles, and his own series. He's written Batman & Robin Adventures, Batman 66,  The Simpsons, and The Batman Adventures. The latter of which won him the Joe Schuster "Outstanding Writer" award. Most recently, he's worked on Buffy the Vampire Slayer for Dark hours and Evil Dead 2 for Space Goat Productions.
Scott Peterson joined the staff of DC Comics as the assistant of Dennis O'Neil in 1991. He worked as an editor of Batman-related titles from 1991–1998 before becoming a freelance writer. Between 1999-2003 he wrote 42 issues of Batman: Gotham Adventures, a monthly comic book aimed at young readers. He has gone on to write several comic books and books for a wide variety of publishers, including Scholastic, Disney Press, and Sapce Goat Productions. He won a coveted Eisner in 1997 for his editing of Batman: Black and White. 
Dave Land has worked as a comics editor since 1996 including fifteen years as a Senior Editor with Dark Horse Comics, working on titles including Star Wars, Tony Millionaire's Sock Monkey, Sergio Aragonés' Groo, and Conan. Dave's books have won three Eisners and one Harvey and he has worked with two successive Russ Manning award winners, Jerome Opeña (2003) and Eric Wight (2004). He's worked with licensors including Lucasfilm, Fox, Blizzard, Pixar, and Disney as well as some of the world's best comics creators including the legendary Jerry Robinson, Al Williamson, and Carlos Meglia. Dave is also proud to have written the series Werewolves on the Moon: Versus Vampires with the Fillbach Brothers and the series Star Wars: Infinities — The Empire Strikes Back. Dave spends his time trying not to take life too seriously with his wife, daughter, and two cats in Portland, Oregon.
Praise For Evil Dead 2: Revenge of Evil Dead…
"The only downside of this book is that it serves as a one-shot. I wouldn't have minded seeing Ash whip Hitler's rear for a good four to six issues. Oh well, Hitler will probably find his way back to the living soon enough!" — Addicted to Horror Movies
"The damn near perfect adaptation of Ash and the Deadites makes for a breezy and entertaining light read." — That's Not Current
"I mean come on. It's Ash vs. Krampus. What's not to love?!" — Bloody Disgusting
or
Not Currently Available for Direct Purchase