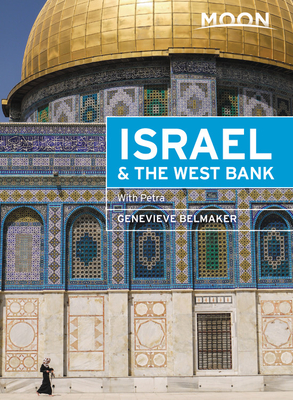 Moon Israel & the West Bank
With Petra (Travel Guide)
Paperback

* Individual store prices may vary.
Description
Ancient stories meet modern cities in this deeply significant region where the past is always present. Take the trip of a lifetime with Moon Israel & the West Bank. Inside you'll find:
Flexible itineraries including a week in Jerusalem, 3 days in Tel Aviv, and a month exploring the region plus excursions to the West Bank, the Dead Sea, and Petra
Strategic advice for foodies, pilgrims, beachgoers, archaeology buffs, and more
The top sights and unique experiences: Visit the Church of the Holy Sepulchre or pay respects at the Western Wall, and stop at holy sites throughout Northern Israel and the West Bank. Feast on falafel, hummus, and shaksuka and haggle for antiques at a market in Jerusalem. Bike through Tel Aviv's charming Neve Tzedek neighborhood or relax at one of its beaches. Float in the Dead Sea, watch the sun set over the massive Negev craters, or stay overnight in a Bedouin tent encampment
Local insight: Jerusalem journalist Genevieve Belmaker shares the history and culture of her beloved home
Full-color, vibrant photos throughout
Detailed maps for exploring on your own, and useful tips on border crossings and checkpoints
Thorough background information on the landscape, history, government, and culture
Handy tools including Hebrew and Arabic phrasebooks, health and safety tips, customs and conduct, and information for LGBTQ, female, and senior travelers, families with children, and travelers with disabilities
Focused coverage of Jerusalem, Tel Aviv, Haifa, the North Coast, the Galilee and the Golan Heights, the West Bank, Eilat and the Negev, and Petra, Jordan
Experience the best of Israel and the West Bank with Moon's practical advice and insider tips.
Moon Travel, 9781640490970, 368pp.
Publication Date: November 26, 2019
About the Author
Genevieve Belmaker is a Jerusalem-based American journalist, writer, and photographer. Born and raised in Olympia, Washington, she started traveling and living in new places at the age of 17.
In 2009, Genevieve met her future husband, an Israeli journalist, while he was visiting New York City. After traveling to Israel and working side by side as colleagues, they were married in 2010. In Jerusalem, Genevieve reported on settlements, small businesses in the West Bank, and local news and politics, and authored a weekly column for Epoch Times on her observations of the region.
Genevieve is a graduate of the University of Southern California with a BA in international relations and a minor in East Asian languages and cultures. She studied journalism through New York University's continuing education program. Her work as a writer and photographer has been published by Epoch Times, Poynter, PBS MediaShift, Nieman Reports, Quill, Draft, Images and Voices of Hope, and the Foreign Policy Association. Her reporting for Epoch Times on Hurricane Sandy victims in New York City received a Front Page Award from the Newswomen's Club of New York in 2013 and a New York Press Association award in 2014. She was a finalist for the prestigious Mirror Awards in 2015 for her reporting on the lives and work of two prominent journalists murdered by ISIS.
Genevieve lives with her husband and their two children in Jerusalem, Israel.