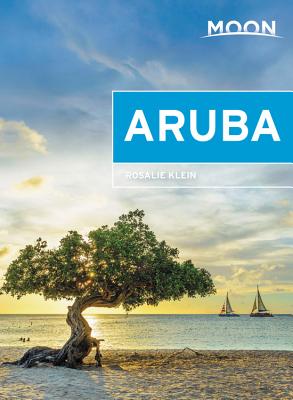 Moon Aruba (Travel Guide) (Paperback)
Moon Travel, 9781640491182, 264pp.
Publication Date: October 1, 2019
* Individual store prices may vary.
Description
Whether you want to dive in and explore a world underwater or just take it easy on the white sand, discover paradise with Moon Aruba. Inside you'll find:
Strategic itineraries covering the best beaches, the outback, and budget-conscious travel options, with ideas for honeymooners, scuba divers, families, and more
The top activities and unique experiences: Go off-roading through the outback, snorkel through the turquoise waters, or try your hand at windsurfing or parasailing. Explore geological formations and see birds with startlingly bright plumage at Arikok National Park or experience Carnival with the locals. Try traditional favorites like keshi yena (filled cheese) or cabrito stoba (stewed goat) or taste fresh ceviche while dining beachfront
Honest advice: Local author and former dive instructor Rosalie Klein shares her love of her adopted country
Full-color, vibrant photos and maps throughout
Helpful background on the landscape, culture, history, and environment
Handy tips for health and safety, transportation, LGBTQ travelers, families with children, and more
With Moon Aruba's practical tips and local perspective, you can plan your trip your way.
Looking for more fun in the Caribbean sun? Check out Moon Jamaica or Moon Dominican Republic.
About the Author
Though born in the United States, Rosalie Klein is proud to be thought of as an Aruban. After living on the island for more than 35 years, she is firmly entrenched in Aruban life.
Rosalie moved to Aruba in 1980 to work as the island's first female certified PADI open-water SCUBA instructor. Her writing career began in 2001 when she began submitting articles to local papers about tourism events. She worked as a journalist and photographer for English newspaper The News until 2009, and from 2010 to 2014 she has been the principal reporter and photographer for The Morning News.
Rosalie has published articles about Aruba's people, history, culture, and tourism services in dozens of publications, including Aruba Events, Aruba Experience, Destinations, House Complete, Chef's Menu and Recipe, On the Air, Island Gourmet, and Aruba Nights. Her photos have also been exhibited at the Aruba Numismatic Museum. In 2008, the Minister of Culture of Aruba recognized her for chronicling Aruba's cultural achievements and heritage. Rosalie currently lives in Oranjestad with two dogs and three cats.