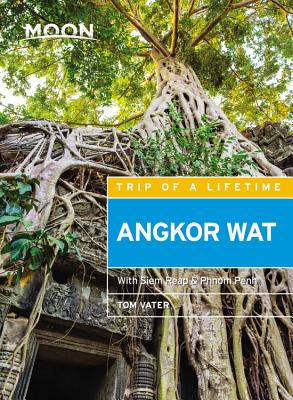 Moon Angkor Wat (Paperback)
With Siem Reap & Phnom Penh (Travel Guide)
Moon Travel, 9781640492493, 272pp.
Publication Date: October 2, 2018
* Individual store prices may vary.
Description
The ancient temples at Angkor Wat are unlike anything else on earth. Step back in time and take the trip of a lifetime with Moon Angkor Wat. Inside you'll find:
Strategic itineraries ranging from one to three days in Angkor to a week exploring the Khmer Empire, with suggestions on the most beautiful (and most secluded) temples to visit
Top sights and unique experiences: Explore the sublime forested temple ruins of Angkor, remnants of the ancient Khmer Empire. Marvel at Angkor Wat, the largest religious building in the world, get up close to Angkor Thom's carved bodhisattva, and wander among nearly 100 monuments deep in the jungle at Koh Ker. Immerse yourself in bustling city of Siem Reap, drink thick sweet coffee and sample barbequed meats from street carts in Phnom Penh, and stroll the colorful markets, quiet streets, and funky art galleries of Battambang
Tips for the best ways to tour the temples to get the most out of this sacred and awe-inspiring site
Focused advice and historical context from documentarian and journalist Tom Vater
Essential insight on trip planning, health and safety, reservations, transportation (by tuk-tuk, taxi, motorbike, or bicycle), and accommodations ranging from hotels to homestays with local families
Full-color photos and detailed maps throughout
In-depth coverage of Siem Reap, Angkor and all its temples, Phnom Penh, and excursions to other parts of Cambodia such as Banteay Chhmar, Sambor Prei Kuk, Preah Khan, Koh Ker, Preah Vihear, and Battambang
With Moon Angkor Wat's practical tips and an insider's view on the best things to do and see, you can plan the trip of a lifetime.
Exploring more of Asia? Check out Moon Vietnam or Moon Phuket & Ko Samui.
About the Author
Tom Vater has been working and traveling in Southeast Asia since 1993. He first visited Cambodia in 2001 to document the indigenous minorities in Mondulkiri for the British Library's International Sound Archive. He instantly fell in love with the country. A year later, Tom co-wrote and produced a documentary on Angkor for German-French television, which gave him the opportunity to spend several weeks among the temples. Since then, he has been back in Cambodia several times a year to cover the country's politics and culture for many different publications. On his journeys around the country, he has traveled with kings, pilgrims, soldiers, secret agents, pirates, hippies, policemen, and prophets.

Tom is the author of numerous nonfiction titles, guidebooks, and a novel, and has co-written several documentary screenplays for television and cinema. Tom's feature articles, mostly on Asian subjects and destinations, have been published by the Wall Street Journal, The Guardian, The Times, Marie Claire, and many other publications. He is the Daily Telegraph's Bangkok expert. His nonfiction book, Sacred Skin, published with award-winning photographer Aroon Thaewchatturat (who took many of the pictures in Moon Angkor Wat) was an international bestseller. Most recently he published Cambodia: A Journey Through the Land of the Khmer with renowned photographer Kraig Lieb. Tom is also the co-owner of the Hong Kong-based crime fiction imprint Crime Wave Press. Visit his website at tomvater.com.