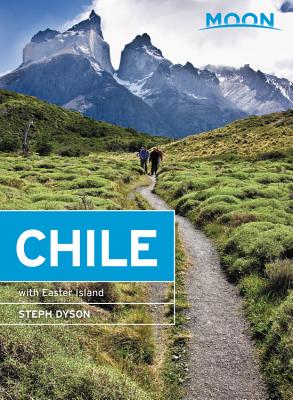 Moon Chile (Paperback)
With Easter Island (Travel Guide)
Moon Travel, 9781640492752, 500pp.
Publication Date: January 14, 2020
* Individual store prices may vary.
Description
Snow-covered mountains, bustling cities, temperate rainforests, and coastal wineries: get to know this country of contrasts with Moon Chile. Inside you'll find:
Flexible itineraries, from two days in Santiago to the two-week best of Chile, including a road trip along the Carretera Austral
Strategic advice for outdoor adventurers, backpackers, culture and history buffs, foodies, and more
Must-see highlights and unique experiences: Go skiing in the Andes, star-gazing in the Atacama Desert, or hiking in Patagonia's wild national parks. Summit active volcanoes, spot wild foxes and Humboldt penguins, or wander the enigmatic Easter Island. Explore the trendy restaurants and vibrant nightlife of Santiago and dance till dawn to bolero music. Sip your way through the vineyards of the Casablanca Valley, sample locally-made pisco, or stroll along golden beaches and order the catch of the day at tiny seaside restaurant
Detailed hike descriptions with individual trail maps marked with duration, elevation change, and difficulty level
Honest recommendations from seasoned explorer and Chile expert Steph Dyson on when to go, where to eat, how to get around, and where to stay
Full-color photos and detailed maps throughout
Reliable background information on the landscape, climate, wildlife, and history
Handy tips for families, seniors, students, and travelers with disabilities
With Moon Chile's practical tips and insider expertise, you can plan your trip your way.
Exploring more of South America? Try Moon Patagonia or Moon Buenos Aires.
About the Author
From hitchhiking along the Carretera Austral to sailing to the very ends of the earth in Tierra del Fuego, Steph Dyson has made it her mission to explore every nook and cranny of the thin, sinewy country that is Chile.
Arriving in Chile in 2016 after a year and a half of exploring South America, Steph discovered that Patagonia, despite its sheer mountains, plunging river valleys, and glaciers, felt a bit like home back in the UK (it was raining, mostly). Further north and able to recognize a good thing when she found it, including a city brimming with book shops and wine bars, she swapped her rucksack and hiking boots for a flat in Santiago, where she continues her love affair with the country.
A full-time freelance travel writer, blogger and former high school English teacher from Bath, UK, she's lived in three countries in South America and written about many more. A member of the British Guild of Travel Writers, she has published articles both online and in print for various regional and international outlets. Inexhaustibly itinerant, she spends most of her time on the road somewhere in South America, writing about her adventures on her travel blog, Worldly Adventurer.