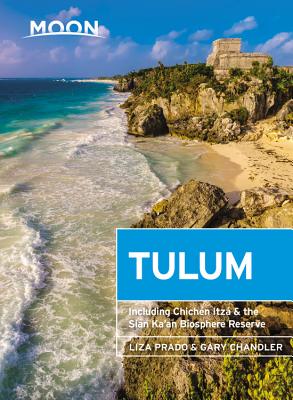 Moon Tulum (Paperback)
With Chichén Itzá & the Sian Ka'an Biosphere Reserve (Travel Guide)
Moon Travel, 9781640493353, 184pp.
Publication Date: February 19, 2019
* Individual store prices may vary.
Description
With idyllic beaches, rustic cabañas, and the turquoise sea, Tulum has all the makings of a perfect getaway. Immerse yourself with Moon Tulum. Inside you'll find:
Strategic itineraries for families, honeymooners, history buffs, adventurers, and more
The top attractions and unique experiences: Wander the ancient ruins of Chichén Itzá or climb the second-highest Maya pyramid at Cobá. Kayak through mangrove forests and snorkel the world's longest underground river system. See parrots, toucans, and even jaguars at the Sian Ka'an Biosphere Reserve, and bike from temple to temple on wide forest paths. Sunbathe by the pool or relax in an oceanfront cabaña with a beachy cocktail
The best spots for sports and recreation, including sailing, fishing, kayaking, mountain biking, kiteboarding, and diving or snorkeling along reefs and in underground cenotes
Expert insight from seasoned adventurers Gary Chandler and Liz Prado on when to go, how to get around, and where to stay, from charming seaside hotels to eco-friendly bungalows
Detailed maps and full-color photos throughout
Thorough information on the landscape, climate, wildlife, and local culture
Full coverage of Tulum, Cobá, the Costa Maya, Laguna Bacalar, Ek'Balam, Chetumal, the Sian Ka'an Biosphere Reserve, and Chichén Itzá
With Moon Tulum's practical tips and local insight, you can plan your trip your way.
Expanding your trip? Check out Moon Yucatán Peninsula, or Moon Belize.
About the Author
Gary Chandler grew up in a small ski town south of Lake Tahoe, California. He earned his bachelor's degree at UC Berkeley, and also studied abroad in Mexico City and Oaxaca. After graduation, Gary backpacked through much of Mexico and Central America, and later Southeast Asia, Europe, and the Caribbean. His first guidebook assignment was covering the highlands of Guatemala, which was followed by assignments in El Salvador, Honduras, Mexico, Brazil, the Dominican Republic, and elsewhere.

Gary has contributed to almost 30 guidebooks, many coauthored with wife and fellow travel writer/photographer Liza Prado. Between assignments, Gary earned a master's degree in journalism at Columbia University, worked as a news reporter and criminal investigator, and published numerous articles and blogs about travel in Latin America. He and Liza have two children and live in Colorado.

Liza Prado was working as a corporate attorney in San Francisco when she decided to take a leap of faith and try travel writing and photography. Ten years later, she has coauthored 20 guidebooks and written dozens of feature articles and travel blogs to destinations throughout the Americas. Her photographs have been published by Moon Travel Guides and websites like Gogobot and Away.com.

Since her first visit to the region in the early 2000s, the Riviera Maya has remained one of Liza's favorite places to travel. For this assignment, she dived on coral reefs and snorkeled through cenotes, climbed Maya ruins and toured monkey reserves, explored beach towns and fishing villages, caught a few local bands and listened to rock-star DJs - all with two kids in tow (well, at least part of the time).

A graduate of Brown University and Stanford Law School, Liza lives in Denver, Colorado, with husband and coauthor Gary Chandler and their children, Eva and Leo.