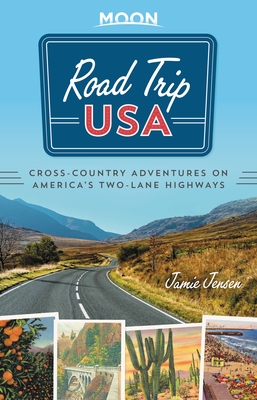 Road Trip USA (Paperback)
Cross-Country Adventures on America's Two-Lane Highways
Moon Travel, 9781640493841, 952pp.
Publication Date: March 27, 2018
* Individual store prices may vary.
Description
The Road Awaits!

Criss-cross the country on America's classic two-lane highways with Road Trip USA!

Inside you'll find:
11 of America's favorite road trips with a flexible network of route combinations, color-coded and extensively cross-referenced to allow for hundreds of possible itineraries
Mile-by-mile highlights celebrating the best of Americana, including roadside curiosities, parks, diners, and more
Local history that reveals the unique personalities of small towns and big cities across the country
Vintage snapshots, full-color photos, and beautiful illustrations of America both then and now
Over 125 detailed driving maps covering more than 35,000 miles of classic American blacktop
Expert advice from road-warrior Jamie Jensen, who cruised nearly 400,000 miles of highway in search of the perfect stretches of pavement
Road Trip USA celebrates the great American road trip, and gives you the tools, resources, and inspiration to make it your own. Hit the road!
About the Author
Jamie Jensen was immersed in road trip culture from an early age. He grew up in Southern California, back when freeways were new, cheeseburgers cost a quarter, and every beach had a beachfront amusement park. After a three-year stint bumming around the country, making hay in Kansas, and ghostwriting a book for the Grateful Dead, Jamie set to work researching and writing Road Trip USA. Since then he's traveled more than 400,000 miles in search of the perfect stretch of two-lane blacktop. When not crisscrossing the country by car, he rides his bike whenever possible. Jamie lives with his wife, Catherine, and twin boys, Tom and Alex, in New York City, at the east end of the Lincoln Highway.