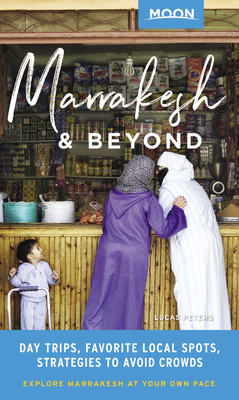 Moon Marrakesh & Beyond (Paperback)
Day Trips, Local Spots, Strategies to Avoid Crowds (Travel Guide)
Moon Travel, 9781640497948, 220pp.
Publication Date: February 25, 2020
* Individual store prices may vary.
Description
From embracing the frenzied souks of Marrakesh to camping in the otherworldly Sahara, experience Morocco at your own speed with Moon Marrakesh & Beyond.
Explore In and Around the City: Wander Marrakesh's most interesting areas like the medina and Ville Nouvelle or head to Toubkal National Park or Casablanca
Go at Your Own Pace: Choose from multiple itinerary options with ideas for foodies, souk shoppers, hikers, and more
See the Sights: Haggle at a souk marketplace, stroll through the colorful Majorelle Gardens, wander down a trendy street in the Ville Nouvelle, or admire the intricate woodcarvings at Bahia Palace
Get Outside the City: Stay in an overnight desert camp like Erg Chigaga, hit the slopes in Toubkal National Park, and take a Moroccan cooking class in Casablanca
Savor the Flavors: Try traditional Moroccan cuisine like couscous and tagine, sip mint tea in a courtyard café, and stop at a street cart for hoomus or bissara soup
Experience Morocco After-Hours: Relax in a hammam, take in the magic of the Jemaa el-Fnaa plaza at night, or stay in a unique riad guesthouse
Get to Know the Real Marrakesh: Author Lucas Peters shares his love of his former home, with tips for supporting local businesses and respectfully engaging with culture
Full-Color Photos and Detailed Maps
Handy Tools: Background information on Marrakesh's history and culture, plus tips on ethical travel, what to pack, where to stay, and how to get around
Day trip itineraries, favorite local spots, and strategies to skip the crowds: Take your time with Moon Marrakesh & Beyond.
Extending your adventure? Check out Moon Morocco.
About the Author
Having spent the better part of ten years living in different parts of Europe and the U.S., Lucas Peters thought it was time for a change. In 2009, he took a job in Morocco teaching literature and composition at a college in a small town atop the Middle Atlas Mountains outside of Fez. When his plane landed he found that all of his luggage was lost. Two weeks later his luggage was returned, but Lucas had already had to shop at the local markets for food, clothing and other basic necessities without speaking a word of the local dialect. His unexpected immersion in Moroccan life made him fall in love with the country.
Over the next six years, Lucas traveled throughout Morocco, from the date groves of the Sahara to the fishing villages along the Atlantic Coast. He's dined at Rick's Café in Casablanca, caught a ride on the Marrakesh Express, gotten lost in the labyrinthine maze of the Fez medina, and followed the Beats in Tangier. Along the way, he picked up some of the language, made a few friends, and married his wife, a Tanjaioua from Tangier.
Today, Lucas lives in Paris with his wife and son. Together, they continue to explore Morocco: the small towns dotting the national roads, the difficult-to-access mountain villages, and tucked-away beaches.