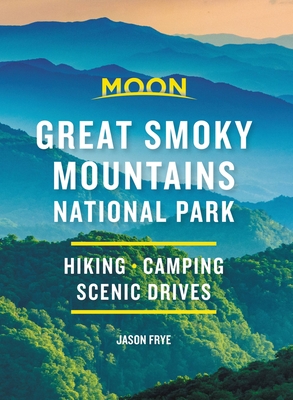 Moon Great Smoky Mountains National Park (Paperback)
Hike ¿ Camp ¿ Scenic Drives (Travel Guide)
Moon Travel, 9781640498457, 192pp.
Publication Date: April 21, 2020
* Individual store prices may vary.
Description
From majestic mountaintops to lush forests and untouched wilderness, take in the best of the Smokies with Moon Great Smoky Mountains National Park. Inside you'll find:
Flexible Itineraries: Unique and adventure-packed ideas ranging from one day in the park to a week-long trip
The Best Hikes in the Great Smokies: Detailed hike descriptions with mileage and elevation gains, individual trail maps, and backpacking options
Experience the Outdoors: Cruise along Newfound Gap Road for epic views and scenic overlooks, try your hand at fly-fishing, and enjoy the refreshing solitude of a night camping under the stars. Trek a segment of the Appalachian Trail, catch a glimpse of the buzzing fireflies, and sample a little local moonshine. Visit remnants of the region's historic settlements, spot local wildlife like black bears and elk, or stop for a craft beer in trendy Asheville
How to Get There: Up-to-date information on gateway towns, park entrances, park fees, and tours
Where to Stay: Campgrounds, resorts, and more both inside and outside the park
Planning Tips: When to go, what to pack, safety information, and how to avoid the crowds, with full-color photos and detailed maps throughout
Expertise and Know-How: Explore the park with nature lover and Smoky Mountains expert Jason Frye
Find your adventure in Great Smoky Mountains National Park with Moon.
Hitting more of North America's national parks? Check out Moon USA National Parks. Road-tripping? Try Moon Drive & Hike Appalachian Trail or Moon Blue Ridge Parkway Road Trip.
About the Author
Though Jason Frye calls the coast of North Carolina home, his heart is with the mountains. Born and raised in the rugged Appalachian foothills in southern West Virginia, he developed an affinity for hiking and exploring the woods, coves, and hollows of the hills. His family vacationed in Great Smoky Mountains National Park.
His love for this landscape deepens with each visit. Jason and his wife Lauren spend as much time as possible exploring the outdoors: wandering the woods and wilds, kayaking the marshes and waterways, and even hang gliding.
Jason is the author of several Moon guidebooks, including Moon North Carolina and Moon Blue Ridge Parkway Road Trip. He also contributes to Salt magazine, AAA Go!, Our State and Our State Eats food blog, the Wilmington StarNews, where he is a features contributor and dining critic, the Raleigh News and Observer, the Charlotte Observer, the blog of Virgin Atlantic Airlines, and a number of other print and online publications.