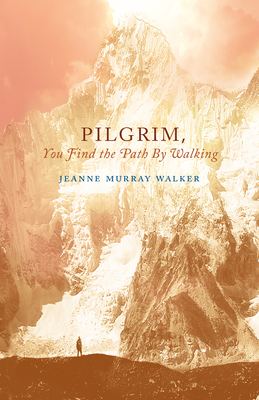 Pilgrim, You Find the Path by Walking
Poems (Paraclete Poetry)
Paperback

* Individual store prices may vary.
Description
Sonnets are familiar to us, but not relevant. What do they have to do with our fast-paced, tech-driven, ever-shrinking contemporary world? But what if the sonnet—invented 700 years ago—could come back like a cat with nine lives?  A sonnet in the twenty-first century might serve as a sacramental form, calling us from our work-mad lives to quietness and reflection.  
 
In Pilgrim, You Find the Path by Walking, Jeanne Murray Walker invites the reader to join her on a journey told in 58 colloquial sonnets, beginning in the slangy streets of New York and ending in the holiness of silence and praise. Stops on the journey include reflections on death and grief, but also praise for a migrating butterfly, a knock on the door, the astonishing ocean.  This book is designed to be used as a devotional and read slowly; to be both a book of poetry and a spiritual companion.     
 
Praise For Pilgrim, You Find the Path by Walking: Poems (Paraclete Poetry)…
"Jeanne Murray Walker's wondrous new collection attests to the enduring value and relevance of poetic form. This is poetry we need today, this is poetry for always. Here are poems where ear and heart are wed, poems that leap, because form—in this case the sonnet—is both nature's mountain and a human fence: to be climbed—in hardiness and awe—and to lean pensively against. Yet, these quoted lines with the image they evoke sum up my thoughts this hour: the poet falling into the sonnet's arms, the sonnet falling into her own, and both begetting new, journeying words: discovery, discernment, delight. Take heed; read deeply, be blessed." —Sofia Starnes, past poet laureate of Virginia and author of The Consequence of Moonlight

"These compelling poems teach us to see, as if sight were new to us, and to hear the Creator's answers to our complaints in the particular beauties of this world. Murray Walker proves that the sonnet form can provoke new levels of meaning, enrich language usually unheard, and uncover images invisible to the casual viewer. We find a universe of colors we have never imagined and questions we have hardly dared to ask. With this book she reinvigorates the sacramental." —Jill Baumgaertner, poetry editor for The Christian Century

"There is a rock-solid belief in the mystery of beauty in these poems, and in the perpetual creation of a God always creating; and there is an equally foundational belief in form and how the sonnet form itself can give rise to a seemingly infinite variety of permutations.  These poems are themselves pilgrims that find their path by trusting in their exuberant runs of diction—pizzazz of memory; the wigged-out chug of a bass viol; the dimmer switch of sun dialed down—in the freshness of their images ("a white poodle strolling like a plume of breath in winter") and in their endlessly inventive structures, use of dropped lines, and fresh rhymes. And, of course, behind all these poems is Jeanne Murray Walker the pilgrim—our witty, wise, honest, faithful fellow traveler on the path that can be found only in its walking." —Robert Cording, poet and author of Only So Far: Poems

"Form befuddles some poets; to others it grants poise and piquancy and perspective. Jeanne Murray Walker is a spirit of the latter kind, and in these sonnets she has cobbled a diamond light into her work. Let her help you find your path by walking her most welcome lines, wrought with love to make a way for us to follow." —Paul J. Willis, author of Deer at Twilight: Poems from the North Cascades
Paraclete Press, 9781640600089, 96pp.
Publication Date: April 16, 2019
About the Author
Jeanne Murray Walker was born in a village of 900 people in northern Minnesota. She was first published by The Atlantic Monthly at age 19. Today she's the prize-winning author of nine books of poetry. Jeanne serves as a Mentor in the Seattle Pacific University low residency MFA Program and travels widely to give readings and workshops.