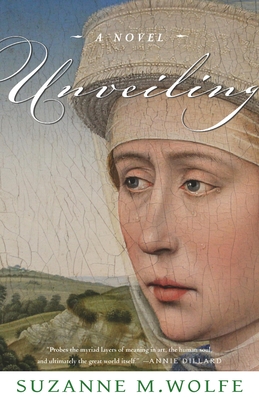 Unveiling (Paperback)
A Novel (Paraclete Fiction)
Paraclete Press, 9781640600621, 192pp.
Publication Date: April 10, 2018
Other Editions of This Title:
Paperback (3/1/2005)
* Individual store prices may vary.
Description
Rachel Piers, a brilliant young conservatrice at a Manhattan art gallery, is given the dream assignment of restoring a mysterious medieval painting in a church in Rome. She seizes the opportunity to advance her career in one of the most inspiring and romantic cities in the world, leaves behind a bitter divorce and painful childhood incident. As Rachel meticulously restores the damaged artwork, she uncovers layers of her soul that she would rather be kept hidden. Written in descriptively sumptuous prose, Unveiling brings the ancient city of Rome vividly to life and reveals a courageous woman coming to terms with a tragic past.

From the author of Confessions of X, this is a new, thoroughly revised edition of the author's debut novel which was first published to critical acclaim over 14 years ago. Readers of Suzanne M. Wolfe's fiction, prose, essays and blogposts will welcome the introduction to this work, now back in print.
About the Author
Suzanne M. Wolfe grew up in England and read English Literature at Oxford University, where she co-founded the Oxford C.S. Lewis Society. Wolfe is the author of The Confessions of X: A Novel, winner of Christianity Today's 2017 Book of the Year Award. Along with her husband, Gregory Wolfe, she co-founded Image, a journal of the arts and faith, and has co-authored many books with him on literature and prayer, including Books That Build Character: How to Teach Your Child Moral Values Through Stories (with William Kirkpatrick), and Bless This House: Prayers for Children and Families. Her essays and blog posts have appeared in Image and other publications. Wolfe is currently writing a series of mystery novels set in Elizabethan London, forthcoming from Crooked Lane Books. She and her husband are the parents of four grown children. They live in the Pacific Northwest. 
Praise For Unveiling: A Novel (Paraclete Fiction)…
Winner of Christianity Today Award of Merit for Fiction

"Written by English teacher Suzanne M. Wolfe, Unveiling is a Christian novel about a divorced woman working on an art restoration project. As she removes layers of grime from what may be a lost Flemish masterpiece of the Crucifixion, she gradually uncovers the misery that has been obscuring her soul - repressed emotion concerning not only her divorce, but also past sexual abuse and a forced abortion The burdens of the past weigh upon her, but the dawning of faith and understanding help her in her search to restore what time, neglect, and harm have defiled, both externally and internally. A passionate and powerful novel especially recommended for readers of faith." —Midwest Book Review

"This auspicious debut novel is recommended for adult readers who enjoy informative, intelligent fiction combined with satisfying elements of romance and mystery." —St. Anthony Messenger

"If you can't get to Rome this summer, take a little armchair trip with this compelling story of love, pain, healing and art history." —Lisa M. Hendey, founder of CatholicMom.com