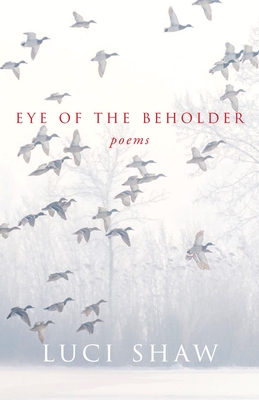 Eye of the Beholder (Paraclete Poetry)
Paperback

* Individual store prices may vary.
Description
Luci Shaw is now 90 years old. The author of more than 35 collections of poetry and creative non-fiction over the last five decades, she describes her dedication to this art as a burden to "speak into a culture that finds it hard to listen." This collection of new poems—all composed over the last two years—is in many ways the culmination of a stunning career.
 
The joy and responsibility of the poet is to focus on particulars within the universe, finding fragments of meaning that speak to the imagination. Ordinary things may reveal the extraordinary for those willing to take time to investigate and ponder. In this fresh collection of poems, Luci Shaw practices the art of seeing, and then writing what she sees, realizing that beauty is often focused in the Eye of the Beholder.
 
Eye of the Beholder is meant to awaken in readers awareness of the extraordinary in the ordinary. They will find in this collection a focus for meditation and be excited into their own imaginative writing.
 
Praise For Eye of the Beholder (Paraclete Poetry)…
"Luci Shaw crafts her poems in the way that she sees God's creation is crafted—seamlessly and with enviable freshness. Always honest with herself and her readers, she writes movingly about poetry and prayer and growing older. She has written some of the best recent poems I have read about aging. Aging itself may not be marvelous, but Luci Shaw's are marvelous poems. It is always a pleasure to spend time with her work." —Mark Jarman, author of The Heronry
 
"These are poems that find their beginnings in small, but particular details that catch what Hopkins once called the 'inscape' of things, and then climb upward into the air, trusting words, arranged into poems, to come together to say something beyond what they can say. Throughout Luci Shaw's Eye of the Beholder, there is the steadfast belief that there is an intimate connection between the writer, words, and a meaningful cosmos. She trusts that the universe can be 'psalmed', that words, especially when the writer is 'radiant with assent', can, and do, stitch a narrative together, a narrative that connects the beholder to what is beheld, that seeks and often finds the 'pulse of the world,' and, in so doing, demonstrates how gratitude and praise are essential to happiness and contentment." —Robert Cording, poet and author of Walking with Ruskin and Only So Far
 
"Luci is like the great oak tree she describes, her poetry an abundance of acorns, and we the harvesters, squirreling away the treasures. One of the most generative poets of living memory, and this among her finest collections yet." —Sarah Arthur, author of A Light So Lovely: The Spiritual Legacy of Madeleine L'Engle
  
"In Eye of the Beholder, we are asked to behold the eye of the beholder, and in Luci Shaw, that eye is lovely to the last. 'Who am I to psalm the universe?' she asks.  Yet there she stands and there she speaks, exchanging a 'dialogue of glances' with 'a squander of bright wind,' and then, finally, inviting us into 'a small / house in the forest, with a stream running past, / and odd poems happening.'" —Paul J. Willis, author of Deer at Twilight: Poems from the North Cascades
 
"Eye of the Beholder is a collection that not only distills a lifetime of spiritual reflection and poetic craft but also launches with the author's characteristic boldness into new, uncharted, liminal spaces. Like the lavender that Luci Shaw breathes in, her poetry 'is itself a prayer, / a reaching, a receiving...breathing what God is telling me.' To which grateful readers can only say: 'Thanks be to God.'" —Gregory Wolfe

"Eye of the Beholder awakens awareness of the extraordinary in the ordinary...Shaw's poems are reminders of daily divinity: the wonders we might see if only we look closely enough, long enough." —Nick Ripatrazone, The Millions
Paraclete Press, 9781640600850, 96pp.
Publication Date: October 16, 2018
About the Author
Luci Shaw was born in London, England, in 1928. A poet and essayist whose writing has appeared in numerous literary and religious journals, in 2013 she received the tenth annual Denise Levertov Award for Creative Writing from Seattle Pacific University. The author of over thirty-five books of poetry and creative non-fiction, since 1986 she has been Writer in Residence at Regent College, Vancouver. She lives with her husband, John Hoyte, in Bellingham, WA.