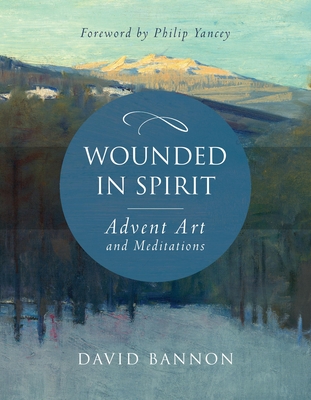 Wounded in Spirit (Hardcover)
Advent Art and Meditations
Paraclete Press, 9781640601451, 176pp.
Publication Date: October 30, 2018
* Individual store prices may vary.
Description
Foreword by Philip Yancey

Christmas can be a time of joy but also of tears, memory and prayer. Celebration does not always come easily.

In twenty-five illustrated daily readings we commune with Scripture and the wounded artists that gave the world masterpieces of hope: Gauguin, Tissot, Caravaggio, Tanner, Delacroix, van Gogh, Dürer. We've heard the names. We recognize the paintings. But do we know the artists? They were flawed and often troubled people: a widower that saw a vision of Christ; a murderer who painted himself as Peter; a grieving father that drew his sons as Jesus and John; an orphan who saw his salvation in the Holy Family. Despite their wounds—perhaps because of them—these artists achieved the sublime. Their humanity inspires us. Based on the latest research in history and grief, Wounded in Spirit returns us to where Christian art began. From mourning in Roman catacombs to works of the masters, we join the world's great religious artists on their pilgrimages of hope and brokenness. In their wounds, in our wounds, we may once again encounter "God with us."
About the Author
David Bannon taught college for many years and publishes on art, history, culture, and translation. He has appeared on The Discovery Channel, A&E, and The History Channel and has been interviewed by NPR, Fox News and The Wall Street Journal. He has lectured at libraries and museums and was curator of Asian art for the Florence Museum of Art and History in South Carolina. The present book is a result of the author's own brokenness, wounds and grief: he was convicted on felony charges in 2006; his daughter, Jessica, died in 2015. David currently lives in South Carolina with his wife and their cat, Yeti.
 
Praise For Wounded in Spirit: Advent Art and Meditations…
"For those who are hesitant to leap into the good news too quickly, David Bannon's book of Advent art and reflections will be a valuable resource. 'We are so accustomed to rushing through life,' says the author in the introduction. Bannon, who has a felony conviction and whose adult daughter died in 2015, has lived through the realities of failure and grief. In this book, he intersperses carefully curated photos of Christian art with his own reflections on the artists—their lives, their tragedies, and their persistent hopes. Bannon also evokes an honest grappling with grief by including brief quotations from a variety of thinkers: Carl Jung, Annie Dillard, Terence Fretheim, Isabel Allende, Elie Wiesel, Julian of Norwich, Simone Weil, N.T. Wright, and Søren Kierkegaard make appearances. Particularly evocative are the excerpts from Friedrich Rückert's poems, which Bannon translates here into English for the first time: Do not wrap yourself around the night, / bathe it in eternal light. / My tent is dark, the lamp is cold, / bless the light, the Joy of the World!" —Elizabeth Palmer, Christian Century

"This glorious full-size hardback book (with a wonderful foreword by Philip Yancey) is the most beautiful devotional book of the season. Each meditation is paired with a moving reproduction of classic art, nicely reproduced on rich, glossy paper.  In this mature and artful presentation, it reminds us of the early (now out of print) Paraclete classic God With Us. (That is still available in the "readers edition" that omits the artwork and remains one of our best-sellers in recent years with its literary ruminations and poetry and mature reflections.) Like that one, this is a treasure to behold. Wounded in Spirit stands out not only because of the subtly lavish design but because of its amazing content and spirit. David Bannon writes from profound personal experience, offering ways to commune with God through Scripture. He also tells some poignant stories of artists who lived through great pain. He himself has gone through some very odd stuff, and much grief. His adult daughter died of a drug overdose even as his own professional life was in difficulty. I could review this book in great detail, but I suppose you get the picture – it is very handsome, mature, thoughtfully spiritual and honest about the great brokenness of our lives, of our society, of our times. This book will inspire in the deepest, truest sense of the word as it evokes ways to be honest about our sadness and helps us find God's comfort (and joy) in this season. That is uses artwork to help us get there is such a blessing as sometimes words just fail. This book is a gift for the hurting, but a gift for any of us who feel what we feel these days." —Byron Borger, Hearts and Minds Books (Dallastown, PA)

"'Christmas can be a time of joy but also of tears, memory and prayer. Celebration does not always come easily.' So describes Wounded in Spirit: Advent Art and Meditations, a gorgeous full-color art book to help the grieving get through the season...If you like art and find that it feeds your soul, and you are struggling with grief as Christmas approaches, this may be the Advent book for you. Every day there is a new artist, with one or two examples of their work and several quotations about grief and loss and love. Here's a two-page spread of a typical day's meditation. The liturgical season of Advent begins this Sunday, December 2, but the book is organized by the month of December, with the daily reflections beginning on December 1 and ending on Christmas Day. Instead, the book focuses on what was going on in the lives of the artists themselves. The answer: a world of pain. Some of the artists profiled here are famous for their suffering, like Vincent Van Gogh, whose infamous ear mutilation happened the day before Christmas Eve. But many are painters I've never heard of, and their stories are heartbreaking...As Richard Rohr puts it in one of the book's well-chosen quotations, 'I think your heart needs to be broken, and broken open, at least once to have a heart at all or to have a heart for others.' This Advent, may you work through grief and beauty simultaneously. God is good." —Jana Riess, author of Flunking Sainthood, Religion News Service

"This book summons an almost visceral response in its brilliant counterpoint to the customary understanding and celebration of Advent and Christmas. In the arena of wounds and griefs, though each experience is unique, we are joined in our humanness, finding common ground. The word sympathy means being together in profound distress. Art makes such anguish visible. Commentary penetrates and elucidates. These meditations and images are a marvelous gift."—Luci Shaw, Writer in Residence, Regent College, author and poet 

 "Wounded in Spirit has become my guide." —Philip Yancey