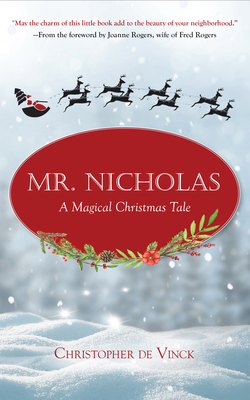 Mr. Nicholas
A Magical Christmas Tale
Hardcover

* Individual store prices may vary.
Description
A story that helps us see the unique goodness in each person.
Every town has its secrets. When it becomes known that Mr. Nicholas, the eccentric owner of the local hardware store, is somehow involved with reindeer, toys, and children, the town becomes more and more suspicious that this man is more than just a clerk on Main Street.
JB, a clever, open ten-year-old boy with Down syndrome, is able to figure out the secret from the first time Mr. Nicholas gives him a chocolate deer wrapped in gold foil. 
JB's father and mother, both cynical and on the brink of divorce, follow the adventures of JB as he flies on the back of a reindeer, feeds Mister Rogers's fish, and defines what can be forgotten by those who are too busy to remember the magic of Christmas, cuckoo-clocks, and love.
Praise For Mr. Nicholas: A Magical Christmas Tale…
Praise for
Mr. Nicholas
"In this book about Christmas, written by one of Fred Rogers' closest friends, you will see how 
Mister Rogers' Neighborhood 
spoke to the broken parts of who we are and how it guided us to see the unique goodness in us all. May its charm add to the beauty of your neighborhood." —
Joanne Rogers
"In Christopher de Vinck's novel
Mr. Nicholas
, a hardened newspaperman's life is rocked by a small boy's love and an encounter with a mysterious old man. On his way to interview a beekeeper, Jim sees Anna's car clinging to the edge of the road. He stops to help, and they connect—as if each were tapped into the same current. But once married, their differences open a gap between them. Anna suggests that a baby could bridge that gap. But when JB is born with Down syndrome, Jim's rejection of his son leads Anna to file for separation. Jim feels disappointed in his career; he faces a sad and lonely Christmas. Gradually, though, the time he spends with his son opens his eyes to a world in which magic is real and everyone is worth loving. Anna cannot see the changes in Jim, and when JB goes missing, she blames him. She suspects that JB's friend, Mr. Nicholas, a scavenger and owner of a hardware store that hides a mystery, is responsible, too. Told in Jim's voice, this is a story about the power of a boy's relentless love. Tense and stressful at first, it makes the changes in Jim palpable through his inner reflections, his conversations with others, and through small actions that reveal his growing love for his son. Suspense grows as Mr. Nicholas comes under investigation for JB's disappearance. Jim questions the old man, who asks him some probing questions in return. In the book's satisfying conclusion, Jim realizes the importance and beauty of the ordinariness that makes life worth living and gives Christmas its true meaning. Sensitive and heartwarming, Mr. Nicholas is a magical Christmas story in which lives and hearts are changed by a small boy's unconditional love." —
Foreword Reviews
(September / October 2021)
"Sensitive and heartwarming,
Mr. Nicholas
is a magical Christmas story in which lives and hearts are changed by a small boy's unconditional love." —
Episcopal Journal
  "I just finished reading 
Mr. Nicholas
. I found it to be an endearing story and one which touched my heart. JB's character, with his freedom, imagination, trust, and uncomplicated love, teaches readers, and his parents, the relevance of Jesus' exhortation to "turn and become like children" (Mt 18:3). And, this is most definitely a story of turning. I really appreciate the way in which JB and Mr. Nicholas intuitively work as a team to open the eyes of Jim and Anna and to help them grasp the unifying power of love — JB's love, their own love. Jim's tears at the end of Chapter 15 are the realization of the turn. I hope many families will enjoy this wonderful tale. And, I would not be surprised if it has a healing effect for some in fractured relationships." —
Stephen Dalton
, Head Librarian, Theology and Ministry Library at Boston College 
Praise for Christopher de Vinck
"De Vinck's point of view about life and love and children and teachers is important for the world at this near end of a sorry century. I would like as many people as possible to know his work." —Madeleine L'Engle
"Chris de Vinck is a blessing through his writing and his person. I'm grateful for his simple wonders, and the great wonders of our lifelong friendship." —Fred Rogers (Mister Roger's Neighborhood)
"We sometimes fall into the habit of thinking that the weakest among us, like your brother Oliver, are a burden we must stoically bear. But you show that they can teach us the deepest lessons of love. Your writing will help many people to recognize this truth." —President Ronald Reagan (Unsolicited letter from the President when he was in the White House)
"Christopher de Vinck's love of family and respect for its values shine out of every page he writes. I recommend his thoughtful, generously caring essays to every person who is looking for reassurance that the virtues and verities of the committed life are still alive and well in America." —Eunice Kennedy-Shriver
"Excellent and often very moving essays." —John Updike 
"For years I've been reading Chris de Vinck's essays in newspapers, magazines, journals and books. Here at last is de Vinck—father, teacher, dreamer—under one roof! Now, instead of spending all that time photocopying his articles for friends, I can just send the book." —Jim Trelease
"Christopher de Vinck's writings are widely and wisely attentive; they neglect neither the failures and anguish nor the compassion and hope of this world. They are elegant. They give insight and comfort. They cannot help but nurture the spirit." —Mary Oliver 
"Christopher de Vinck has the insight and the courage to speak for those small devotions, dangerously unfashionable in our time, by which a human community lives." —Wendell Berry
"In a time of great international upheaval, full of violence and war, Chris de Vinck's reflections are like a little oasis of peace. More that any other author I know, Chris has the unique gift of revealing the beauty of the ordinary, the truth hidden in the small events of life, and the light shining through the brokenness of our daily existence. This book is a true gift of peace and an urgent call to discover that peace right where we live." —Henri Nouwen
"Christopher is the rare combination of art and innocence. He's ever the sophisticated artist and he is even the person whose innocence belies our common conception of artists. Few spiritual writers write with as much literary talent and as much care for the literary quality of what they are doing." —Ron Rolheiser
"Chris de Vinck's real subject is magic, the magic to be found in ordinary life, in a conversation with a child, in the unexpected sighting of a school of dolphins. Such magic is there for all to see, but I don't know of another writer who sees it so wholly, with such consistency, and respect, and sweetness. He is like a miner who digs where others see no gold, and who each day finds riches." —Peggy Noonan
"These are the wonderful, thoughtful and sensitive and lyrical and personal reflections of a teacher, a poet, an essayist, but most of all a wise and human pilgrim who has a lot to offer the rest of us, his fellow pilgrims." —Robert Coles
"Charles Lamb comes to mind when I think of Christopher de Vinck. Here is a true affinity across more than a hundred years. Who today but de Vinck has that charm, delightful humanity, laughter and wisdom? Rare the writer who does, so we must treasure Christopher." —May Sarton
Paraclete Press, 9781640607354, 160pp.
Publication Date: September 28, 2021
About the Author
Christopher de Vinck, husband, father, and grandfather, earned his doctoral degree from Columbia University and devoted 40 years to his career in public education. He is the author of countless essays for the New York Times, Wall Street Journal, Chicago Tribune, National Catholic Reporter, Dallas Morning News, USA Today, Reader's Digest, and Good Housekeeping, and thirteen books including the bestselling The Power of the Powerless: A Brother's Lesson of Love about his severely disabled brother Oliver and the difference Oliver made in this sometimes jaded world. 
De Vinck's books have won two Christopher Awards, the 2021 Illumination Book Award's Gold Medal in the category of Christian Living, and "Best Column" by the National Catholic Press Association. He still believes in Santa Claus.