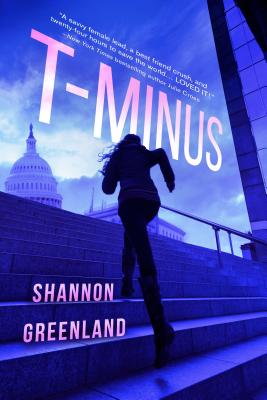 T-Minus (Paperback)
Entangled: Teen, 9781640636644, 320pp.
Publication Date: August 6, 2019
Other Editions of This Title:
MP3 CD (8/27/2019)
Compact Disc (8/27/2019)
* Individual store prices may vary.
Description
"A savvy female lead, a best friend crush, and twenty-four hours to save the world… LOVED IT!" —New York Times bestselling author Julie Cross
I am the daughter of the first female POTUS, and today is about to become the longest day of my life…
24 hours—that's how much time I have to save my mother before terrorists assassinate her. But now my father and brother are missing, too. This goes deeper than anyone thinks. Only someone on the inside would know how to pull this off—how to make the entire First Family disappear.
I can't trust anyone, so it's up to me to uncover the conspiracy and stop these madmen. Because little do they know, they picked the wrong person to terrorize.
My name is Sophie Washington, and I will not be a victim. No one, I repeat no one, is taking me or my family down. But the clock is ticking…
About the Author
Shannon Greenland, or S. E. Green, is the award winning author of the teen thriller, Killer Instinct, a YALSA Quick Pick for Reluctant Readers; the teen horror, Ultimate Sacrifice, a #1 Amazon bestseller; the teen spy series, The Specialists, a National Reader's Choice recipient; the teen romance, The Summer My Life Began, winner of the Beverly Hills Book Award; and the teen romance, Shadow of a Girl. Shannon grew up in Tennessee where she dreaded all things reading and writing. She didn't even read her first book for enjoyment until she was twenty-five! When she's not writing, she works as an adjunct math professor and lives on the coast in Florida with her very grouchy dog.
https://shannongreenland.com/