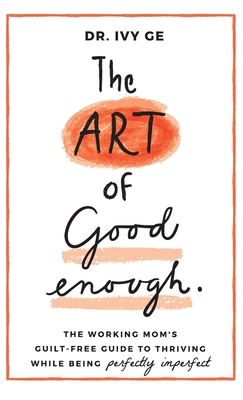 The Art of Good Enough
The Working Mom's Guilt-Free Guide to Thriving While Being Perfectly Imperfect
Hardcover

* Individual store prices may vary.
Other Editions of This Title:
Paperback (1/7/2020)
Paperback (1/7/2020)
Description
★
2020 Readers' Favorite International Book Award Silver Medal Winner ★You Don't Have to Be Perfect to Be Happy.
What if there are proven methods to prevent you from feeling depleted, anxious, and unsatisfied in times of crisis? Imagine you become confident about your ability to handle stress and pressure, know how to make wise decisions, and find solutions to your problems.
From an aspiring actress to becoming a pharmacy professor, Dr. Ivy Ge has transformed her life while balancing her role as a working mother. Using her life lessons as a new mom juggling work and school, she helps you navigate the complexity of motherhood in simple, meaningful ways. Read the reviews from working moms and see how they have benefited from Dr. Ge's real-life examples, great advice, and steps for applying that advice effectively.
If you have trouble handling difficult emotions or improving your situation, read this book to discover the answers featured on PBS, Thrive Global, Working Mother magazine, Parentology, and The Times of India.
In this book, you'll learn:
*How to overcome difficult emotions and make wise decisions
*How to handle adversity and overcome your obstacles using your hidden strengths
*How to look and feel your best regardless of your size and age
*How to simplify your life and get more done in less time
*How to raise self-reliant children and resolve tension in your relationship
*How to reverse engineer your life by going from where you want to be to where you are now... and much more.
The secret to living your best life is to focus on your strengths, not your weaknesses.
GRAB A COPY FOR A FRIEND AND SHARE THE JOURNEY TOGETHER
Author Academy Elite, 9781640859524, 182pp.
Publication Date: January 7, 2020