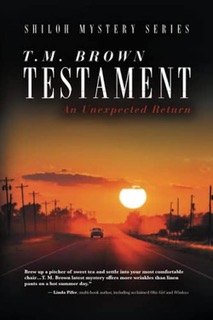 Testament, An Unexpected Return (Paperback)
Palmetto Publishing Group, 9781641110846, 302pp.
Publication Date: February 17, 2018
* Individual store prices may vary.
Description
"Brew up a pitcher of sweet tea and settle into your most comfortable chair. You won't want to put T. M. Brown's latest book down... Testament, An Unexpected Return offers more wrinkles than linen pants on a hot summer day." -- Linda Pifer, acclaimed author of Ohio Girl and Windows trilogy
The testament of a man lies not in the magnitude of possessions and property left to his heirs, but the reach of his legacy long after his death. -- Theo Phillips
In this sequel to Sanctuary, A Legacy of Memories, Theo and Liddy are finally sinking deep roots into their new hometown of Shiloh. Friendships are blossoming as Liddy ponders an offer to become the new art teacher at Shiloh High while Theo sends off his manuscript for Jessie's Story to be published. Life appears to be settling down, but ominous shadows from the town's past herald more tragedy lie ahead in little old Shiloh. More than Theo's reputation is at stake this time as he gets drawn into more Archer family drama after Dixie, Harold's estranged wife, arrives in town after abandoning her family twenty years ago. Though Dixie's mysterious arrival appears to be good for Harold's ailing health, others in town become unsettled by the events that unfold as Dixie's desperate scheming come to light.
T. M. Brown once again captures the flavor of a small Southern town and realistically portrays the suspense and drama when the town's past surfaces to protect its legacy.
"T. M. Brown has delivered another novel with plenty of mystery and intrigue, filled with good plot twists that will keep you guessing until the end." -- Lee Gimenez, best-selling author of the J. T Ryan Thriller series.
The Shiloh Mystery Series - Book 1, Sanctuary, A Legacy of Memories; Book 2, Testament, An Unexpected Return; Book 3, Purgatory, A Progeny's Quest, Spring 2020.
About the Author
About the Author T. M. Brown is a Southern boy at heart, although he's lived and traveled in many states far removed from his beloved boyhood roots in Georgia and Florida. He returned to his Southern roots several years ago while his two sons were still in school and regularly traveled throughout the South before returning to college shortly after his youngest son graduated. In the last fifteen years he has preached, taught and coached in Alabama, Georgia and Florida until his wife and he moved outside of Atlanta and retired to write, travel, and spoil grandchildren.
Praise For Testament, An Unexpected Return…
"In this wonderful sequel to his novel Sanctuary, T. M. Brown takes his readers on another exciting roller coaster ride."
-- Dana Ridenour, award-winning author of Behind the Mask and Beyond the Cabin

"Testament offers an intriguing, page-turning suspense novel with well-paced plot twists, descriptive narratives, and complex characters that draw you in so deeply you won't be able to put the book down."
-- Helene Furst, Book Reviewer and Author, MorningBeansBlog.com

"T. M. Brown has delivered another novel with plenty of mystery and intrigue, filled with good plot twists that will keep you guessing until the end."
-- Lee Gimenez, best-selling author of 13 novels, including FBI Code Red, a J. T. Ryan Thriller
"Brew up a pitcher of sweet tea and settle into your most comfortable chair. You won't want to put T. M. Brown's latest book down... Testament offers more wrinkles than linen pants on a hot southern day."
-- Linda Pifer, multi-book author, including acclaimed Ohio Girl and Windows