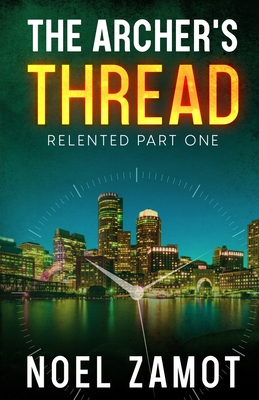 The Archer's Thread
Paperback

* Individual store prices may vary.
Description
Gold Medal, 2021 Florida Book Awards for Popular Fiction
"With the precision of a needle pointer preparing a stitch, Zamot pens a physical, emotional, and almost, spiritual piece of prose that blinds its reader to any distraction, even hunger pains shooting through her or her belly."
"Immersive and addictive"
" S]trong female characters who are beyond intelligent; comrades in arms beyond loyal and enemies beyond reach. ."
"An exciting, original paranormal thriller."
"I lost many hours of sleep. . ."
Simon Lyons hasn't been himself lately. He has a nasty case of synesthesia: he can see seconds into the future as if it were another sense.
The condition is useful at work: quiet negotiations with some of the worst people you've never heard of. His employers think he's quite valuable, and tolerate his abrasive personality. Simon is bored by everyone and everything he can predict. He does his best to hide the truth from everyone: the condition is slowly driving him insane.
Desperate to change his life he runs away to Boston, the last place he remembers as "home." He spends his days brutalizing street punks, drinking to excess, and failing to kill himself. That's when he meets a young mathematics professor with an unexpected gift: around Doctor Kelly Austin, the chaos of a thousand possibilities dies away, leaving behind clarity, presence, and peace. Rediscovering this sense of normalcy is intoxicating, and rekindles his hope for a cure. Simon uses all of his skills to enter's Kelly's life, find the secret, and leave.
That's when someone from his past returns, stopping at nothing to hide his identity, the truth about his accident and the extent of his "skill." When shadowy figures discover that Kelly Austin may be the key to controlling the most dangerous person on earth, Simon must choose: return to a short and brutal life of violence, or risk everything for the terror of redemption.
Even if you can see the future, you can never escape your past.
Readers who imagine how VE Schwab would've written a Jack Reacher novel will devour this genre-bending thriller about sacrifice, secrets, and redemption.
Palmetto Publishing, 9781641115896, 476pp.
Publication Date: August 10, 2021