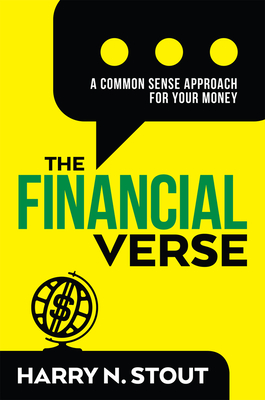 The FinancialVerse
A Common Sense Approach For Your Money
Paperback

* Individual store prices may vary.
Description
MOST PEOPLE live in a world of financial anxiety and stress. In most cases, they don't fully understand what decisions they need to make and where to get help making these decisions. ‑ The FinancialVerse - presents in a straight forward, easy to read style - what the reader can expect at each stage of their financial lives and offers ideas and resources to assist decision making. ‑ The FinancialVerse is made up of the knowledge, decisions, resources, risks, and tools that an individual encounter in life's financial journey. ‑The book has been written to help people reduce their levels of financial anxiety and stress. Authored by financial services leader Harry N. Stout, The FinancialVerse provides a much-needed roadmap of what to expect in our financial lives. ‑ is starts in our Adulting Stage, to working in the Striving Stage to the final or returning Stage of Fulfilling life. Harry acts as your guide and spells out, in a very understandable way, what the risks, opportunities and key decisions the reader will need to make as they move through each stage. He explores what it is like to make decisions influenced by today's technology, economic trends, and work opportunities. Harry believes that most people, regardless of their family's economic background and level of education, do not fundamentally understand the key financial decisions and risks they will face in life. He believes improved financial education and literacy are needed as our lives become increasing more complex driven by technological innovation.
Vertel Publishing, 9781641120180, 140pp.
Publication Date: October 9, 2019
About the Author
Harry N. Stout is an acknowledged senior leader in the global financial services business with experience in all key business areas with particular expertise in personal finance, product innovation, and business management. He has over 25 years of financial services industry experience in the U.S. and abroad, working in Europe, Northern Asia, Africa, New Zealand, and Australia. He is a governance fellow with the National Association of Corporate Directors. He is a past director of the National Association for Fixed Annuities, the Financial Services Council of Australia, the Insurance Marketplace Standards Association, and the Life Insurance Marketing and Research Association. Harry's experience includes serving as Managing Director of Investments and Insurance with Australia and New Zealand Bank (ANZ), where he was based in Sydney and ran the Australian life insurance, investment, retirement services, general insurance and advice businesses for this large regional Australasian bank. During his time in Australia, he was also Managing Director and Chief Executive Officer of ING's Australian insurance, advice, investment, and retirement services businesses. His U.S. business experience includes serving as President of Voya's U.S. Retail Annuity Business Group, where he directed the fixed, indexed, and variable annuity businesses. He also spent over a decade with Fidelity & Guaranty Life Insurance Company where he served as Chief Executive Officer and President as well as holding key senior leadership roles for its parent companies USF&G Corporation, Travelers Corporation, and Old Mutual U.S. Holdings, Inc. He has also been a corporate officer or Board member of several insurance marketing organizations. Harry, a Certified Public Accountant by training, began his career in public accounting with KPMG where he spent 10 years working primarily with multi-national enterprises. Harry is a nationally known speaker and author on life insurance and annuities.
or
Not Currently Available for Direct Purchase