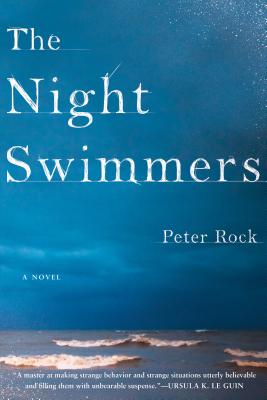 The Night Swimmers
Hardcover

* Individual store prices may vary.
Other Editions of This Title:
Digital Audiobook (3/11/2019)
Paperback (2/11/2020)
Compact Disc (3/12/2019)
MP3 CD (3/12/2019)
Description
"Swimming at night, to compare its slipperiness to that of a dream would be to ignore the work of staying afloat, the mesmerism brought on by the rhythm, the repetition of the strokes."
 
Beneath the surface of Lake Michigan there are vast systems: crosscutting currents, sudden drop-offs, depths of absolute darkness, shipwrecked bodies, hidden places. Peter Rock's stunning autobiographical novel begins in the '90s on the Door Peninsula of Wisconsin. The narrator, a recent college graduate, and a young widow, Mrs. Abel, swim together at night, making their way across miles of open water, navigating the currents and swells and carried by the rise and fall of the lake. The nature of these night swims, and of his relationship to Mrs. Abel, becomes increasingly mysterious to the narrator as the summer passes, until the night that Mrs. Abel disappears.
 
Twenty years later, the narrator—now married with two daughters—tries to understand those months, his forgotten obsessions and dreams. Digging into old notebooks and letters, as well as clippings he's preserved on the "psychic photography" of Ted Serios and scribbled quotations from Rilke and Chekhov, the narrator rebuilds a world he's lost. He also looks for clues to the fate of Mrs. Abel, and begins once again to swim distances in dark water.
Praise For The Night Swimmers…
Finalist for the 2020 PEN/Faulkner Award for Fiction
Finalist for the 2020 Oregon Book Awards
A Powell's Books Pick of the Month March 2019 

Praise for The Night Swimmers

"Quiet, moody, and beautiful."
—BuzzFeed Books 

"Among the many pleasures of this riveting book is its intertextual nature: stitched through the story are old letters to a past lover, new emails from the past lover, the diary of a dead painter, a literary rejection note, and other bright scraps. The Night Swimmers is a beautiful delving, a rapturous dive into the mysteries of ordinary life."
—Leni Zumas, author of Red Clocks

"Peter Rock has written a weird and haunting story about a younger man and an older woman who like to swim in the dark. Happily The Night Swimmers is no male coming of age story. Instead their secret nightly practice in a dark and foreboding lake shimmers as a queer refusal for either of them to grow up right."
—Eileen Myles, author of Afterglow

"I sat down to read Peter Rock's new novel, The Night Swimmers, and didn't get up again until I'd finished, heart in throat, tears in eyes, mind spinning with all the things this kaleidoscopic book is about."
—Susan Choi, author of My Education

"A novel unlike any other I've read: a mosaic of uncanny photographs and rediscovered diaries, fresh correspondence between ex-lovers, meditations on childhood and parenthood, an amphibious dance between the past and the present. Rock returns to the worlds and selves he once inhabited—and still does—on some ghostly, subaqueous frequency."
—Karen Russell, author of Swamplandia! 

"Otherworldly . . . With provocative and elegiac prose, Rock pulls his reader into the depths of this story."
—Shelf Awareness  

"Haunting, elegiac . . . the book's moody sense of hidden depths and dangers will intrigue those open to an atmospheric and contemplative novel."
—Publishers Weekly

"Part page-turner and part aesthetic treatise, Rock's (Spells, 2017, etc.) latest is, like the currents of the Great Lakes, subtle and haunted, deeply complex and 'quietly . . . sinister'; his readers, like his swimmers, ought to know 'that the currents of the subsurface are likely to be moving.'"
—Kirkus Reviews

"An undeniably lovely novel."
—Booklist 

"The turbulent and unpredictable Lake Michigan where the pair swim is an apt metaphor for this heavily atmospheric novel. Those who love enigma will love this."
—Library Journal  

"A grand chance to go along on an intensely personal journey into the mind and past of an accomplished writer...this novel has as many layers, drop-offs, storms, wrecks and submerged themes as the great Lake Michigan itself."
—Book Reporter

"[A] strangely mesmeric new novel . . . Peter Rock does dazzling things with meta-crypto-autobiography in The Night Swimmers, playfully commingling curation and creation, and wrestling with a writer's compulsion to resolve past mysteries that leak into the present."
—New York Journal of Books

"Peter Rock's gorgeous exploration of his young adulthood in Wisconsin in the summer of 1994 is perfectly realized in his autobiographical novel . . . Beautifully done, The Night Swimmers is a complex, layered coming-of-age tale that digs deep to deliver its hard-fought wisdom. Brilliant."
—Powell's Books (Portland, OR)

Praise for the work of Peter Rock

"This beautiful, strange novel takes us into the foreign country where those called homeless are at home, the city is a wilderness, and the greater wilderness lies beyond. Fascinating and moving, it tells us with great tenderness how human love goes wrong."
—Ursula K. Le Guin
              
"An electrically charged, bone-deep, and tender tale of loss and partial redemption. Surreal, haunting, elegiac."
—James Ellroy

"Peter Rock is one of the most talented writers around."
–Dan Chaon
 
"A stunning novel about faith and disillusionment and the lingering power of the past. In spare, lyrical prose, and with immense compassion, Peter Rock illuminates a strange and little-known chapter in American religious history."
—Tom Perrotta

"So haunting and elliptical, it takes you over like a fever."
—The New York Times
 
 "Riveting . . . impossible to stop reading."
—Cleveland Plain Dealer
 
"[A] remarkable, empathetic exploration of the nature of faith, meaning and happiness."
—Salon
 
"Original, unusual, and addictive."
—Oregonian
 
"Lyrical, mystifying, and wrenching."
—The Boston Globe
 
"Riveting, suspenseful . . . Achieves a unique harmony between otherworldly beliefs and earthly realities."
—San Francisco Chronicle

Soho Press, 9781641290005, 272pp.
Publication Date: March 12, 2019
About the Author
Peter Rock is the author of nine previous works of fiction, including My Abandonment, which won the Alex Award and was adapted into the film Leave No Trace. He is the recipient of a Guggenheim Fellowship and a National Endowment for the Arts Fellowship, and is a professor of creative writing at Reed College. He lives in Portland with his wife and two daughters.
or
Not Currently Available for Direct Purchase