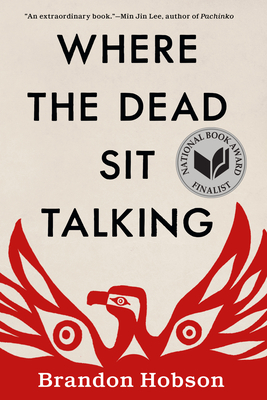 Where the Dead Sit Talking
Paperback

* Individual store prices may vary.
Other Editions of This Title:
Digital Audiobook (2/27/2018)
Hardcover (2/20/2018)
Compact Disc (2/28/2018)
MP3 CD (2/28/2018)
Compact Disc (2/28/2018)
Description
2018 NATIONAL BOOK AWARD FICTION FINALIST

Set in rural Oklahoma during the late 1980s, Where the Dead Sit Talking is a stunning and lyrical Native American coming-of-age story.

With his single mother in jail, Sequoyah, a fifteen-year-old Cherokee boy, is placed in foster care with the Troutt family. Literally and figuratively scarred by his mother's years of substance abuse, Sequoyah keeps mostly to himself, living with his emotions pressed deep below the surface. At least until he meets seventeen-year-old Rosemary, a troubled artist who also lives with the family.

Sequoyah and Rosemary bond over their shared Native American background and tumultuous paths through the foster care system, but as Sequoyah's feelings toward Rosemary deepen, the precariousness of their lives and the scars of their pasts threaten to undo them both.
Praise For Where the Dead Sit Talking…
Finalist for the 2018 National Book Award for Fiction
Finalist for the 2019 SFC Literary Prize
Longlisted for the 2020 International Dublin Literary Award
Longlisted for the 2019 Aspen Words Literary Prize
NPR's Code Switch Best Books of 2018
A Kirkus Reviews Best Book of 2018
A Southern Living Best Book of 2018
2018 Reading the West Book Award Winner for Fiction
2019 In the Margins Book Award Top Fiction Novel

Praise for Where the Dead Sit Talking

"Set in rural Oklahoma in the 1980s, Hobson's tale reverberates with the hope of connection as it explores Native displacement and loss."
—The New York Times

"An extraordinary book."
—NPR's Code Switch

"A strange and powerful Native American Bildungsroman . . . this novel breathes with a dark, pulsing life of its own."
—The Tulsa Voice​

"Soulful."
—Dallas Morning News

​"​This is a dark story that depicts the loneliness and pain of unwanted children and the foster care system where they end up​ . . . ​authentic and humane.​"
—​The Oklahoman ​ 

"A dark, twisting, emotional novel about a teenage Cherokee boy dislocated in the foster care system . . . The novel holds a difficult dialogue on intergenerational trauma, the effects of separating children from their Nations, and the perilous outcomes if we do not make urgent changes to the systems forcing American Indians to assimilate and disconnect. This may be set in the past, however, the same cycles exist today, showing that we have not yet learned the necessary lessons to interrupt the trauma."
—Electric Literature

"A powerful testament to one young Native American's will to survive his lonely existence. Sequoyah's community and experience is one we all need to know, and Hobson delivers the young man's story in a deeply profound narrative."
—KMUW Wichita Public Radio

"I was really struck by the intelligence of the book, as well as the significance of the story that he's telling, about what it's like to be a modern Indigenous person in this country, as a Native American, and to be in the foster care system. I was very struck by the plot of it—it's very well written, it's very propulsive, it's very readable for literary fiction, and I would recommend it heartily to book clubs."
—Min Jin Lee, author of Pachinko

"Imagine a plot hybrid of Dickens and George Saunders​."
—The Brooklyn Rail​

​"Dreamlike prose​ . . . ​ Where the Dead Sit Talking is an exploration of whether it's possible for a person to heal when all the world sees is a battlefield of scars.​"
—​San Diego CityBeat ​

"The latest from Hobson is a smart, dark novel of adolescence, death, and rural secrets set in late-1980s Oklahoma. Hobson's narrative control is stunning, carrying the reader through scenes and timelines with verbal grace and sparse detail. Far more than a mere coming-of-age story, this is a remarkable and moving novel​."
—​Publishers Weekly, Starred Review

"A masterly tale of life and death, hopes and fears, secrets and lies."
—Kirkus Reviews, Starred Review

"Hobson's eloquent prose and story line will keep literary and general fiction readers turning pages. Its teen protagonists offer interest for young adults."
—Library Journal  

"[A] poignant and disturbing coming-of-age story . . . Hobson presents a painfully visceral drama about the overlooked lives of those struggling on the periphery of mainstream society."
—Booklist

"Hobson's gift to the reader is the hopeful persistence he instills in Sequoyah, despite his challenges with identity and belonging. He is a young man who is clearly scarred but thankfully not defeated."
—Shelf Awareness

"In Where the Dead Sit Talking, Hobson is once again in fine form, delivering a lyrical, somewhat brutal, and very touching coming of age story set in rural Oklahoma in the late 1980s. At once elegant and straightforward, poetic and cold in a way that approximates noir . . . a beautifully written novel."
​​ —Vol. 1 Brooklyn 

​​"Intriguing . . . Hobson has written here a dark and arresting tale."
—Literary Hub
​
"Where the Dead Sit Talking is a sensitive and searching exploration of a youth forged in turbulence, in the endless aftermath of displacement and loss. Sequoyah's voice is powerfully singular—both wounded and wounding—and this novel is a thrilling confirmation of Brandon Hobson's immense gifts on the page."
—Laura van den Berg, author of Find Me

"Weird and intimate, like Ottessa Moshfegh's Eileen, Where the Dead Sit Talking takes us to a strange, dangerous place normally kept hidden. From the opening hook, with the unhurried authority of a master, Brandon Hobson initiates the reader into the secret lives of lost and unwanted teenagers trying to survive in an uncaring world. Creepy, sad, yet queerly thrilling."
—Stewart O'Nan, author of The Speed Queen

"Where the Dead Sit Talking is a tender and unflinching look at shell-shocked young lives as they try in the eddies of foster care to keep their heads above water. Hobson writes with a humane authority but without giving his characters any alibis. What we have instead is a careful look at what it means to be physically and psychically scarred, abandoned by parents, Native American in a white world, haunted by death, and on the verge of becoming an adult. A wonderful, harrowing novel."
—Brian Evenson, author of The Open Curtain

"I fear and ferociously admire everything Brandon Hobson creates. He is the only person who can describe the way an object becomes whole when we have enough time to look at it or the presence of a loved one in the air even after she is gone. In this heartbreaking and vital novel there is an unconfessable world of pain, desire, and longing. A careful oscillating dance around avoiding the pangs of abandonment and wanting to go through them all at once to get the suffering over with. Sequoyah, his scars, and eye makeup will leave you with wide eyes and a brimming heart."
—Chiara Barzini, author of Things That Happened Before the Earthquake

"One of those novels that comes around rarely in Native American letters, one that quietly changes everything."
—Anomaly 

Praise for Brandon Hobson

"Restrained, dark, and strangely silent . . . If you've ever had a homecoming laced with sadness and longing, you'll relate to [Deep Ellum]."
—Ottessa Moshfegh, New York Times bestselling author of Homesick for Another World
  
"[Deep Ellum] stands out as a miniature masterpiece of mood."
—San Diego City Beat 

"Hobson has a remarkable ability to travel deep into a very dark place and come out plausibly on the side of light."
—Dawn Raffel, Reader's Digest

"Hobson writes novels that are very bright and incredibly dark, surprisingly funny and wonderfully complex."
—Vol. 1 Brooklyn
 
"With Deep Ellum, Hobson establishes a city that is as lively as Twin Peaks, a Walden that offers little peace, no meditation, a reversal of transcendentalism."
—Electric Literature 

Soho Press, 9781641290173, 288pp.
Publication Date: June 4, 2019
About the Author
Brandon Hobson is a recipient of a Pushcart Prize, and his writing has appeared in such places as Conjunctions, NOON, The Paris Review Daily, and The Believer. He is the author of Desolation of Avenues Untold, Deep Ellum, and The Levitationist. Beginning Fall 2019 he will be an Assistant Professor of Creative Writing at New Mexico State University. He is an enrolled member of the Cherokee Nation Tribe of Oklahoma.
1. Sequoyah is a man looking back on a short period in his life when he was a youth in foster care. How is his voice different than a fifteen-year-old telling the story? What details does he add or leave out that a teenager might tell differently?
2. How does Sequoyah's difficult home life affect his relationships with the people he meets?
3. Sequoyah says he would like to be Rosemary and even finds himself sneaking into her room and into her closet to explore. What feelings do you think he is experiencing regarding his own gender or identity?
4. How does displacement serve as a central theme to the book? Do foster children like Sequoyah mirror the way Cherokees and other tribes were forced out of their land in the late 1800s before walking the Trail of Tears?
5. Is Sequoyah a reliable narrator? Why or why not?
6. How does Sequoyah change from the beginning of the book to the end?