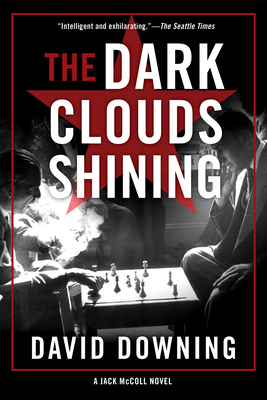 The Dark Clouds Shining (A Jack McColl Novel #4)
Paperback

* Individual store prices may vary.
Other Editions of This Title:
Hardcover (4/10/2018)
Description
In the fourth and final installment of David Downing's spy series, Jack McColl is sent to Soviet Russia, where the civil war is coming to an end. The Bolsheviks have won but the country is in ruins. With the hopes engendered by the revolution hanging by a thread, plots and betrayals abound.

London, 1921: Ex–Secret Service spy Jack McColl is in prison serving time for assaulting a cop. McColl has been embittered by the Great War; he feels betrayed by the country that had sent so many young men to die needlessly. He can't stomach spying for the British Empire anymore. He's also heartbroken. The love of his life, radical journalist Caitlin Hanley, parted ways with him three years earlier so she could offer her services to the Communist revolution in Moscow.

Then his former Secret Service boss offers McColl the chance to escape his jail sentence if he takes a dangerous and unofficial assignment in Russia, where McColl is already a wanted man. He would be spying on other spies, sniffing out the truth about MI5 meddling in a high-profile assassination plot. The target is someone McColl cares about and respects. The MI5 agent involved is someone he loathes. With the knowledge that he may be walking into a death trap, McColl sets out for Moscow, the scene of his last heartbreak. Little does he know that his mission will throw him back into Caitlin's life—or that her husband will be one of the men he is trying to hunt down.
Praise For The Dark Clouds Shining (A Jack McColl Novel #4)…
 A LitHub Most Anticipated Crime, Mystery, and Thriller Title of 2018
A CrimeReads Best Espionage Novel of 2018

Praise for The Dark Clouds Shining

"Downing is a meticulous researcher of the period . . . A joy of reading both Downing and Kerr is being transported back to a place and time. I certainly wouldn't want to ride in a Russian tank today, but in a fantasy I might."
—Margaret Cannon, The Globe and Mail

"Intelligent and exhilarating."
—The Seattle Times

"Downing is a master at recreating historical and political detail. People, places, clothing, and manners are so accurately depicted the reader comes to feel as if they were living in the early 1920s."
—Deadly Pleasures Magazine

"For years now, Downing's historical espionage novels have been some of the most transporting stories around, full of finely observed everyday details that make the reader feel as though they're at the very center of world historical events and yet also in a familiar, lived-in space."
—CrimeReads

"[A] fitting conclusion to [Downing's] superior quartet of WWI-era spy thrillers . . . As always, Downing's intelligently constructed characters complement a plausible and pulse-pounding plotline." 
—Publishers Weekly, Starred Review

"Ending his series on a perfect tonic chord, Downing masterfully combines high adventure, Doctor Zhivago–caliber romance, and just the right amount of Graham Greene ambiguity."
—Booklist, Starred Review

Praise for the Jack McColl novels

"[Downing] is a master at bringing the past to life through the careful and often
loving observation of even minor players and through the artful deployment of specific detail. In addition, Jack McColl's debut has a zest, an exoticism and a joie de vivre well-suited to an era when best sellers were being written by Zane Grey, suffragettes were demanding the vote, and opium parlors were a readily accessible temptation."
—The Wall Street Journal

"[A] splendid saga of espionage during the Great War . . . Downing is a master of action . . . [He] also slips in plenty of historical reality—women's suffrage, revolutionary hopes, progressive politics, Irish nationalism—without ever losing sight of the story."
—The Globe and Mail

"Engrossing . . . Comparisons to W. Somerset Maugham's classic stories about Ashenden, another gentleman spy, are well deserved."
—The Seattle Times
 
"Downing reaffirms his place as one of the finest espionage writers with this engaging historical thriller."
—Bruce Tierney, BookPage, Top Pick in Mystery
 
"A brilliant historical portrait and a captivating love story to boot. A remarkably engaging world tour of pre–World War One espionage featuring an honorable protagonist begging for a long series."
—Lyndsay Faye, author of The Fatal Flame

"Moves along briskly and offers interesting facts about events now a century past.
It's always entertaining."
—The Washington Post
Soho Crime, 9781641290203, 384pp.
Publication Date: March 12, 2019
About the Author
David Downing grew up in suburban London. He is the author of three previous Jack McColl novels, Jack of Spies, One Man's Flag, and Lenin's Roller Coaster; the thriller The Red Eagles; and six books in the John Russell espionage series, set in WWII Berlin. He lives with his wife, an American acupuncturist, in Guildford, England.