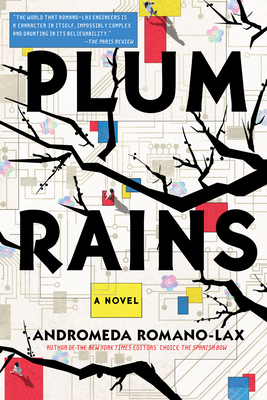 Plum Rains
Paperback

* Individual store prices may vary.
Other Editions of This Title:
Digital Audiobook (6/4/2018)
Compact Disc (6/5/2018)
MP3 CD (6/5/2018)
Hardcover (6/5/2018)
Description
In a tour-de-force tapestry of science fiction and historical fiction, Andromeda Romano-Lax presents a story set in Japan and Taiwan that spans a century of empire, conquest, progress, and destruction.
 
2029: In Japan, a historically mono-cultural nation, childbirth rates are at an all-time low and the elderly are living increasingly longer lives. This population crisis has precipitated the mass immigration of foreign medical workers from all over Asia, as well as the development of finely tuned artificial intelligence to step in where humans fall short.

In Tokyo, Angelica Navarro, a Filipina nurse who has been in Japan for the last five years, works as caretaker for Sayoko Itou, a moody, secretive woman about to turn 100 years old. One day, Sayoko receives a present: a cutting-edge robot "friend" that will teach itself to anticipate Sayoko's every need. Angelica wonders if she is about to be forced out of her much-needed job by an inanimate object—one with a preternatural ability to uncover the most deeply buried secrets of the humans around it. Meanwhile, Sayoko becomes attached to the machine. The old woman has been hiding secrets of her own for almost a century—and she's too old to want to keep them anymore.
 
What she reveals is a hundred-year saga of forbidden love, hidden identities, and the horrific legacy of WWII and Japanese colonialism—a confession that will tear apart her own life and Angelica's. Is the helper robot the worst thing that could have happened to the two women—or is it forcing the changes they both desperately needed?
Praise For Plum Rains…
A 2019 Sunburst Award Winner for Excellence in Canadian Literature of the Fantastic 
A Book Riot Best Book of 2018

Praise for Plum Rains

"In Plum Rains, the world that Romano-Lax engineers is a character in itself, impossibly complex and daunting in its believability."
—The Paris Review 

"​Plum Rains is a blistering social commentary of what the not-so-distant future of the world's fastest-ageing society will look like—told with quiet contemplation and a lot of heart.​"
—The Straits Times​  

"A masterpiece . . . This brilliant, character-driven novel examines individual reactions to threats to survival and autonomy . . . all too relevant to our present-day world."
—Sunburst Award Committee 

"​In this profoundly inquisitive and compelling novel, Romano-Lax sets timeless human dilemmas involving love, racism, misogyny, violence, grief, and dissent against environmental decimation, the daunting ethical questions raised by burgeoning AI, and consideration of the very future of humanity."
—Booklist, Starred Review ​
​
"Andromeda Romano-Lax's near-future novel, Plum Rains, gracefully explores ethical questions around artificial intelligence with refreshing humanity. Romano-Lax's latest novel is a gift. Through its beauty and devastation, its speculation and its certainty, it will force audiences to confront the truest places within themselves—the spaces where artifice will never suffice."
​​—​Foreword Reviews, Starred Review  
​
"The secrets we keep and the prejudices we navigate rise to the surface of Andromeda Romano-Lax's lovely, heartrending near-future novel . . . Dark realities (including human trafficking) loom, but it's the vulnerable-but-tough and irreplaceable characters who stick with you."
—Book Riot

"[Romano-Lax's] spin on the genre focuses on an elderly woman and a male android, a dynamic that provides the novel with its most original and engaging material. The thoughtful depictions of old age, memory, and trauma are refreshing. This is a compelling, enjoyable addition to the genre. A well-written, entertaining novel that both enacts and subverts the tropes of android fiction."
—Kirkus Reviews

"This quietly thoughtful read sits at the crossroads of literary and speculative fiction and will attract readers of both genres, especially those interested in exploring the consequences of present-day policies and the boundaries of artificial intelligence and human/robotic relationships."
—Library Journal 

"Romano-Lax proves herself a gifted writer, creating beautiful imagery . . . ​A story of human connection and finding joy after trauma."
—Publishers Weekly

"The writing is so subtle, so effortless, that your heart doesn't break so much as quietly dissolve into tears."
—Strange Horizons

Praise for Andromeda Romano-Lax

"Impressive and richly atmospheric."
—The New York Times Book Review
 
"Riveting."
—People Magazine
 
"With great care and skill, Romano-Lax teases out the human complexities, exploring the differing values, desires and fears of the various characters while creating [an] atmosphere of chilling menace and threat."
–Sydney Morning Herald
 
"Both shocking and thought-provoking; and the intimate struggles of a woman weighing her value, utility, and satisfaction both within and outside the home certainly resonate today." 
—The Boston Globe 
 
"Scorching . . . By detailing how the study of human behavior differs from understanding people, and how smart women can miss the obvious and make mistakes, Romano-Lax sheds a harsh yet deeply moving light on feminism and psychology, in theory and in practice."
—Publishers Weekly, Starred Review
Soho Press, 9781641290258, 408pp.
Publication Date: May 14, 2019
About the Author
Andromeda Romano-Lax is the author of The Spanish Bow, a New York Times Editors' Choice that has been translated into 11 languages, The Detour, and Behave, as well as numerous works of nonfiction. She teaches creative writing and is a co-founder of 49 Writers, a statewide literary organization. She lives on Vancouver Island.
or
Not Currently Available for Direct Purchase